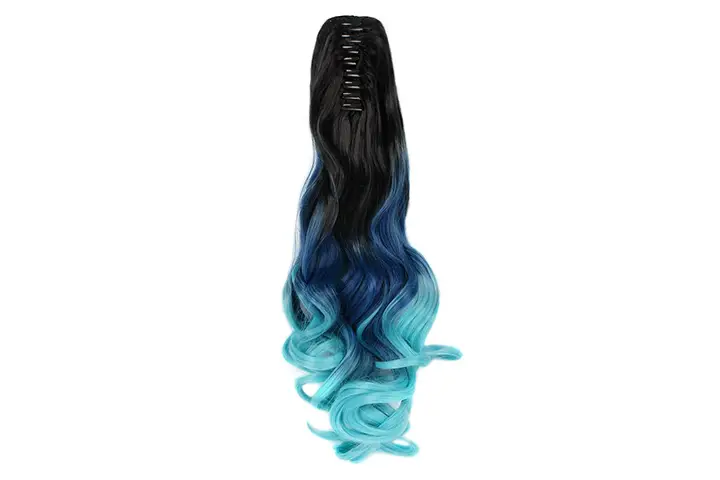 To give a special look to your hair in parties, weddings or any special occasion pick your favorite Neverland Beauty hair extensions. They give more style to your hair.
This synthetic curly, wavy ponytail hair extension looks like human hair and it will accord more attraction to you and to your hair.
Neverland Beauty 22″ Claw on Triple Ombre Three Tone Synthetic Curly Wavy Ponytail Hair Extensions Black to Blue to Sky Blue
How it Works:
Hair extensions help to add length and volume to your hair that is naturally thin. It gives you a healthy, nourished and natural look.
An adhesive weft tape or a clip claw will be attached to the hair extension.
wearing is very easy. It is a three tone ombre color and thick hair ponytail looks so silky and smooth.
Pros:
Hair extensions can hide our hair problems like split ends, dryness etc.
You can choose the best hair extensions of your favorite color.
They can add length and more volume.
They are easy to use and they will not damage your hair.
You can transform your hairstyle instantly.
Cons:
Don't give pressure to your roots by tugging heavy hair extensions.
Extensions don't last for a long time.
Rating: 3.8 out of 5
Hair extensions make any hair more beautiful and interesting. Give a special look to your hair with a Neverland hair extension.
Frequently Asked Questions (FAQ's)
Q. Can you dye these hair pieces?
Ans: NO. You cannot dye synthetic hair.
Q. Is this clip or draw string?
Ans: It is a clip.
Q. Is the blonde close to white color?
Ans: No, it's blonde, not close to white at all.
Alternate Products:
You Might Also Like: