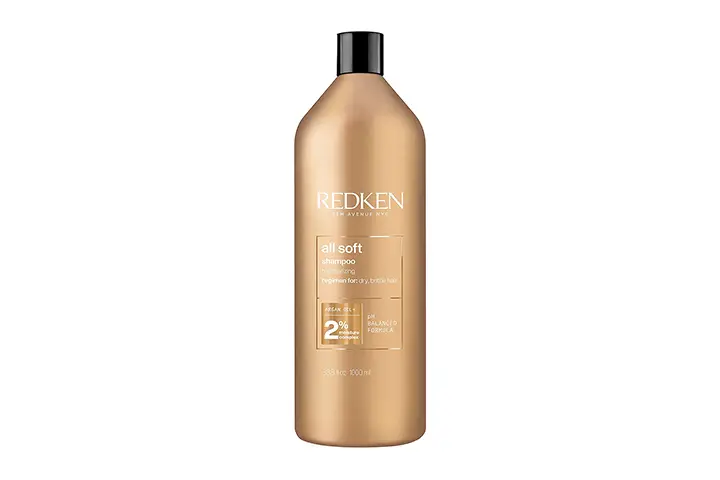 There are many reasons why our hair becomes dry and brittle. Dry hair doesn't absorb or retain moisture to keep its texture. Do away with such problems with Redkin all soft shampoo.
It provides intense softness and shine to your hair. This professional product provides 15x more conditioning when used with the complete all soft hair care system.
Redken All Soft Shampoo
How it Works:
It is formulated with Argan oil to soften and moisturize hair from root to tip.
And it penetrates into the scalp and gives the most extreme sustenance and care.
This shampoo fights with the dryness and leaves hair silky soft.
So that if we touch our hair it feels better.
It works effectively and also brings up the soft strands.
How to Use:
Apply the shampoo to wet hair.
Gently massage into a lather
Rinse with more water.
Follow with all soft conditioners.
Pros:
It is a good conditioner for dry hair that needs moisture.
Detangles and provide intense softness.
This product contains argan oil for nourishment.
It helps to keep your hair styled longer.
Cons:
Infrequent hair-washing can cause dandruff and scaly skin.
Rating: 4.8 out of 5
Redkin all soft shampoo is specially formulated with Redkin moisture complex with Argan oil to soften and moisturize your hair. It is the best shampoo for intense softness and shine.
Frequently Asked Questions (FAQ's)
Q. Is this bottle gold or red?
Ans: All soft shampoo is in a gold bottle.
Q. Is this good for men?
Ans: Absolutely good for men.
Q. Is this shampoo safe to use with grey hair?
Ans: It will not harm grey hair. It just makes your hair shiny.
Q. Does the 33.8oz bottle come with a pump?
Ans: No it does not come with a pump.
Alternate Product:
You Might Also Like: