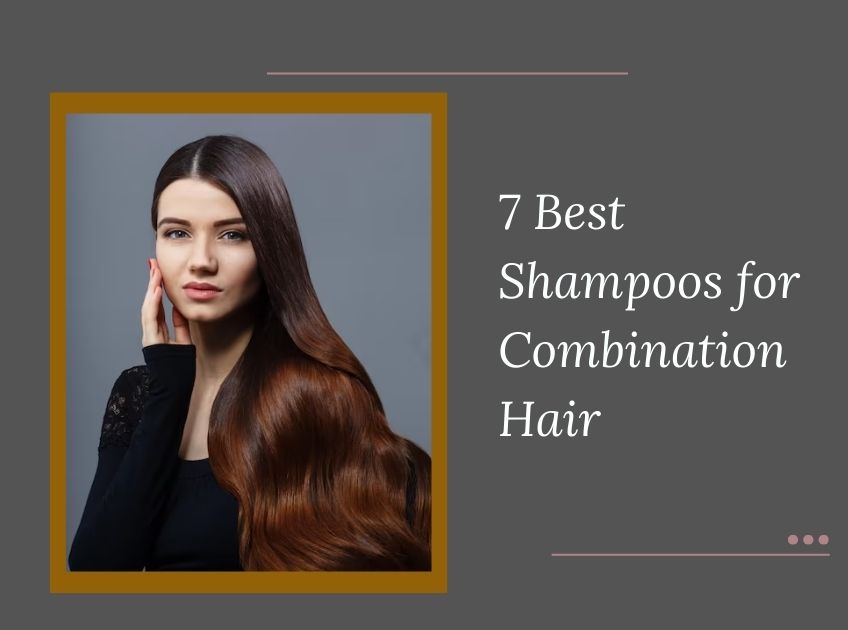 Like our scalp, our skin can also become excessively oily, excessively dry, or both. Even though this commonly occurs, it is nevertheless very upsetting, especially considering the numerous external variables that work against our attempts to maintain balanced, healthy-looking hair.
It can be confusing to purchase a shampoo that fits combination hair. How do you link the terminology on the bottle with the hair on your head? Together with you, we're trying to figure things out while hydrating, fortifying, smoothing, color-safe, and thickening. Finding the ideal one, though, might make you feel as though you've struck the lottery. And if you know what you're searching for, it doesn't have to be a mental exercise.
Combination Hair
So, here is your best chance to strike it rich (for your hair, of course) by finding the right shampoo that suits your hair while also providing nourishment and growth. It is categorized to meet your needs and preferences. Scroll down to learn more!
7 Best Shampoos for Combination Hair
1. For daily use: KERASTASE Specifique Bain Divalent Shampoo
This clarifying shampoo from Kérastase is a must-try if you have oily roots and are looking for the best shampoo for combination hair.
This shampoo does the job without stripping because it is designed to offer a deeper cleanse to the scalp and roots.
In addition to purifying, the formula also nourishes thanks to vitamin B6 enhancement.
The purpose of Spécifique Bain Prevention is to prevent hair loss while texturizing the fibre for an immediate volumizing effect.
What We Don't Like: It may not work for some people.
[ Read: 5 Best Homemade Hair Conditioners: Benefits + Use ]
2. Argon Oil Infused: REKDEN All Soft Argan-Oil Enriched Shampoo
Choose a shampoo that fills the roots with intense nourishment, like this one from Redken, if your hair has a combination of dry scalp and oily ends.
Argan oil, a skincare staple that softens and provides some supple-looking shine, is a component of the conditioning shampoo.
It also deep cleanses the root of all the product built-up and promotes deep nourishment to the scalp and hair root.
Leaves hair smooth, manageable, and shining after gently cleansing and softening it.
What We Don't Like: It does not lather, so you need to use a lot of shampoo each time.
3. Deep clean: REKDEN Deep Clean Dry Shampoo
This powerful formulation targets roots that enjoy a little too much grease, absorbing those oils and leaving the hair looking renewed.
As it can help keep strands fresh for up to four days, this is a perfect option for anyone who has issues with washing their hair once a week.
It is also a must for someone who has combination hair.
What We Don't Like: It becomes stiff in the hair.
4. For Hair growth: LAPCOS Dr.14 Vital Care Shampoo
Strong, thick, shiny, and voluminous locks are nourished, and the scalp is given incredibly nourishing care.
It has 14 active ingredients that have been demonstrated to stop hair loss and improve scalp and hair loss.
The treatment's pH-balanced formula cleanses the scalp and hair gently while also giving them vital nutrients.
Its cooling menthol sensation and soothing, creamy foam texture soothe irritation and manage oil production.
What We Don't Like: It leaves a grease residue on the hands.
[ Read: 7 Best Shampoos For Thick Hair ]
5. Brand Value: IGK LEGENDARY Dream Hair Shampoo
No matter if your hair is a combination hair, the shampoo from IGK will increase its moisture content, gloss, and elasticity.
Prebiotics are used to protect and balance the scalp, and red sea algae are added for hydration and shine.
It has an amazing fragrance of Bergamot and Lemon Zest that keeps our hair fresh and lively.
All hair types can benefit from this multi-tasking formula, which gives hair a healthier appearance, adds shine and manageability, and leaves hair feeling soft and silky.
What We Don't Like: It is worth every penny.
6. For curly hair: Maui Moisture Curl Quench + Coconut Oil Shampoo
Nothing works better to treat combination hair, which includes curly hair, than this shampoo.
This shampoo contains only pure coconut water, which helps to define, soften, and detangle curly hair.
Along with keeping our hair fresh and the scalp revitalized all day, it also has an amazing scent.
What We Don't Like: The coconut smell can be overpowering for some.
[ Read: 5 Best Shampoo For Your Pretty Curly Hair ]
7. Best value: Living Proof Full Shampoo
Living Proof's shampoo will accomplish your goal of having full hair in every way.
Its mild formulation has the capacity to remove buildup and residue, the ability to fend off dirt and oil, and assurance of maximum fullness and body.
Apply to wet hair, lather, rinse, and finish with full conditioner are all that is required.
What We Don't Like: This is an excellent value for the money, with nothing to dislike.
Conclusion
Although all these shampoos work well on curly hair, whether straight or coloured, you should be aware that it's crucial to carefully check the contents. Always keep a list of the things that can nourish your head and the things that can trigger allergies on your scalp. Try it out first with test bottles to see whether it works better, and if you experience an allergic response, consult a dermatologist right away.
You Might Also Like: