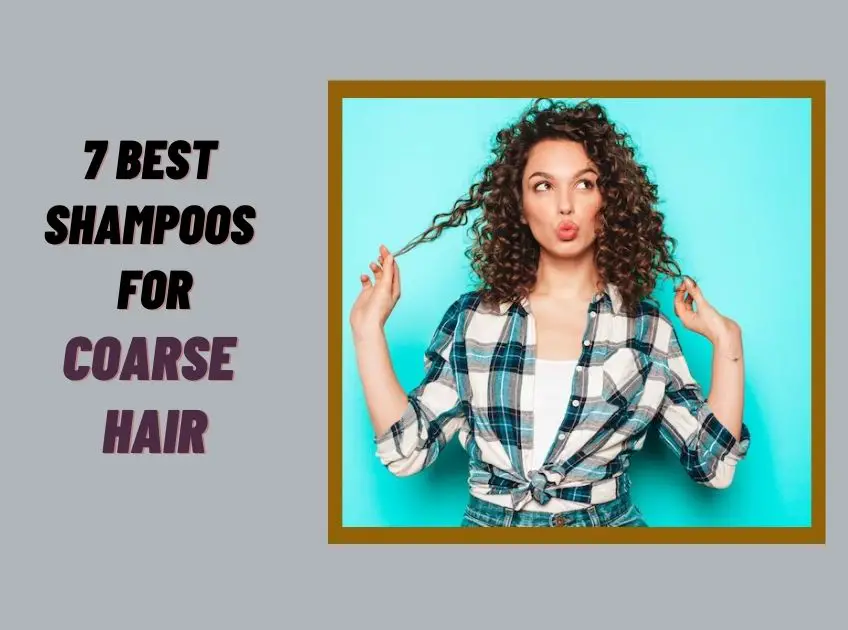 Think again if you believed that only hair with curls qualified as coarse. All hair types, including straight, wavy, and curly hair, can exhibit coarse hair, or hair that has a thicker shaft. What is the best way to locate shampoos for coarse hair?
Although each hair type is different and needs routine oiling and cleansing, coarse hair needs a bit more sensitive loving care to be manageable. This hair type is known for its dull appearance and frizzy, dry texture. It is crucial to hydrate your thick hair well if you want to give the strands new life and bounce.
Coarse Hair
Here is a curated list of the best shampoos that are developed keeping in mind the coarse. It has been categorized for you to provide an in-depth understanding of every product. Scroll to know more!
7 Best Shampoos for Coarse Hair
1. For dry scalp: Paul Mitchell Tea Tree Lavender Mint Moisturizing Shampoo
To calm down dry and tough hair, use tea tree Lavender Mint Moisturizing Shampoo.
It is a hydrating shampoo that refreshes the senses with calming lavender, organic tea tree extracts, and cooling peppermint.
This shampoo has conditioners and amino acids to improve the hair's shine, tenacity, and manageability.
These ingredients together thoroughly clean and rehydrate dry, damage hair.
What We Don't Like: It may cause hair fall to some people.
[ Read: 7 Simple Home Remedies For Dry Itchy Scalp ]
2. Professional's Choice: Redken Frizz Dismiss Shampoo
It is a sulfate-free shampoo, works equally well on curly hair as it does on straight hair.
In order to provide all-day humidity protection against frizz, Redken combined its unique smoothing compound with babassu oil in this solution.
While keeping the moisture in your hair, helps to provide a controlled texture.
Increases hair smoothness and radiance.
What We Don't Like: It is not best for thinning hair.
3. For coloured hair: Wella Professionals Invigo Colour Brilliance Shampoo
It is a pH-optimized shampoo made especially for coarse coloured hair.
It contains lime caviar, which deeply moisturises your strands, and is specifically designed for coloured hair that is coarse from dehydration.
After colouring, it seals the cuticle, extending the colour's longevity.
This product also aids in preventing split ends, giving your hair a healthier appearance.
What We Don't Like: It may produce an itchy scalp.
4. The Best Set: Pantene Hydrating Glow Shampoo & Conditioner Set
Its ingredients include panthenol and baobab seed oil, which has natural vitamin E that nourished your hair from the core.
The conditioner contains water-soluble silicone that is simpler to remove than usual non-soluble silicones, and the shampoo is free of silicones and sulfates.
This is one of the companies that has produced inexpensive, healthier-for-your-hair shampoos and conditioners.
What We Don't Like: It tends to dry out the hair, leaving it prone to breakage.
[ Read: 7 Best Shampoos for Hair Smoothening ]
5. Protection from UVA-UVB: ColorProof SuperRich Moisture Shampoo
It has a potent mixture of botanical products that repairs, moisturizes, and strengthens hair giving them shine and a lustrous glow.
The UVA and UVB protection provided by this ultra-repairing shampoo helps the colour remain longer on your color-treated hair.
The sulfate-free shampoo's mild and lightweight formula revitalises and hydrates the hair, and it smells like gingered amber.
provides a light moisture boost, vibrancy, and a radiant shine.
What We Don't Like: It may dry the scalp for some customers.
6. For curly hair: SheaMoisture Coconut & Hibiscus Curl & Shine Shampoo
While clearing your hair and scalp of pollutants, this sulfate-free hair care product produces a creamy lather with a wonderful scent.
Has some of the ingredients that rehydrate your hair and increase its elasticity, smoothness, and shine include shea butter, coconut oil, hibiscus flower extract, and hydrolyzed silk.
It is a cruelty-free shampoo, contains fair-trade shea butter, and the business has earned B Corporation status for its dedication to ethical social and environmental practices.
What We Don't Like: It leaves a greasy residue on the hair.
[ Read: 7 Best OGX Shampoos For Curly Hair ]
7. For straight hair: Color Wow Color Security Shampoo
The lightweight moisturisers used in this shampoo's formulation, like hydrolyzed wheat protein, can add volume and increase the elasticity of your hair.
Suitable for every type of hair, encourages healthy hair growth and excellent scalp and hair conditions.
While this specific shampoo was created for color-treated hair, you can use it if you dye or highlight your hair because none of them contain color-robbing sulphates.
Does not contain silicones, thickening, conditioning, or anti-frizz substances that leave hair weigh down, dull, irritate, or even cause hair loss.
What We Don't Like: It may dry out the hair.
Conclusion:
It can be difficult to maintain coarse hair that is thick and full, often known as type 4 hair. Regular maintenance and lubrication are insufficient. Our top-rated shampoos for coarse hair revitalise your lifeless hair and give it back its bouncy, healthy appearance. These shampoos are colour-safe and paraben-free. It is best to avoid products that could irritate the scalp and leave residue.
You Might Also Like: