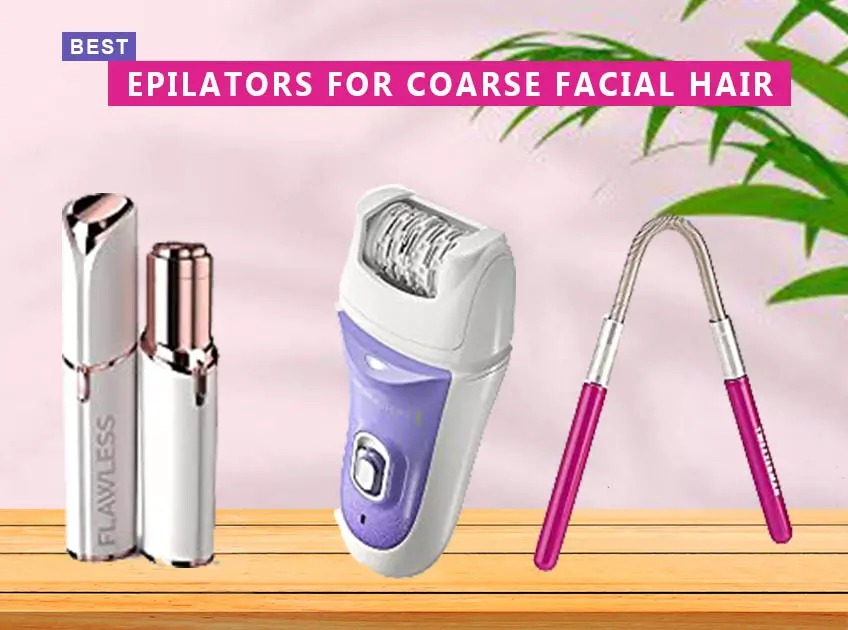 Epilators have become the most useful device to eliminate unwanted body hair. They are handheld hair removal devices with a rotating head equipped with numerous tweezers that pull out unwanted hair from the root. Since they are small, they are easy to carry and use anywhere and anytime.
Epilators
When it comes to coarse hair, only a few epilators can work efficiently without causing pain or irritation on the skin. If you are looking for the best epilators for coarse facial hair, we have listed the same for you based on performance, quality, and user reviews.
Check them out!
7 Best Epilators For Coarse Facial Hair
1. Best For All: Braun Silk-Epil 9 9-579 Wet & Dry Epilator
A wider head allows more surface area with each pass and more hair removal
Easy to use as tweezers are longer, wider, and reach deeper to short and stubby strands
Two different speed settings give greater control over the device
Can be used wet or dry, thus easy to handle even in the shower or bath
It comes with a shaver head, a massager, a shaver and two exfoliating brushes
The run time is 50 minutes
What We Don't Like: It is pricey.
[ Read: Does Waxing Help With Ingrown Hairs? ]
2. Effective and Affordable: Remington Smooth & Silky Deluxe Rechargeable Epilator
It consists of 40 tweezers for quick hair removal and stays gentle on the skin
Two different speed settings are the plus point of the device
It can be used on dry and skin
Head glides easily and stays close to the skin for easy and painless hair removal
The massaging cap consists of aloe vera to soothe and calm redness
What We Don't Like: Run time is less than 30 minutes.
[ Read: 10 Best Facial Hair Trimmer For Women ]
3. Suitable for Face and Upper Lip: Tweezerman Smooth Finish Facial Hair Remover
Gentle and doesn't inflame or irritate the face's thin skin
It mimics the process of threading and helps eliminate even the tiniest peach-fuzz hairs without snagging
It features coiled middle that picks the hair and pulls them out from the root
It is a manual device and can be used anywhere, anytime
What We Don't Like: Aiming hair is a bit tricky in this hair remover tweezer.
[ Read: How to Remove Facial Hair Naturally ]
4. Travel Friendly: Finishing Touch Flawless Women's Painless Hair Remover
It is a small, travel-friendly device that efficiently removes even tiny hair with ease
The process is quick and painless by an effective spinning head
Suitable for facial hair and works on all types of hair- thick, coarse, fine
It is dermatologist-approved and hypoallergenic, so it's suitable for sensitive skin types
The run time is three hours.
What We Don't Like: You need to use this more frequently than other epilators, as the results are not long-lasting.
5. Best for Underarms: Panasonic Cordless Shaver Epilator
Efficiently removes underarms hair with great tenderness and stays gentle on the skin
It features a dual-disc head, three-speed settings, and 60 rotating tweezers
Effectively reaches even hard-to-reach hair and removes them with no pain
Consists of a sensitive skin cap that protects the skin from irritation for a targeted epilation
Flexible pivot design helps easy hair removal
The run time is 30 minutes
What We Don't Like: It takes time to charge and is difficult to clean.
[ Read: Lemon Juice for Dark Underarms ]
6. Best for Sensitive Skin: Philips Satinelle Essential Epilator
It works best for sensitive skin as it treats it gently with hygienic discs and a cap
Keeps irritation at bay and takes utmost care of the delicate areas
Two-speed settings make switching between thinner and thicker hair easy
It has an ergonomic grip so that you can hold it comfortably
The run time is 40 minutes
What We Don't Like: Multiple passes will help to remove hair completely.
[ Read: Is It better to Shave or pluck facial hair? ]
7. Best for Novice: Braun Epilator Silk-Epil 5 5-620
It uses exclusive micro-grip tweezer technology and high-frequency pulsation that helps remove every hair in its path precisely with no pain.
Features four attachment heads that perform different functions
It can do the shaving, trimming, and massaging while taking care of sensitive skin areas
It is easy to use and suitable for beginners
The run time is 30 minutes.
What We Don't Like: The tweezers can dull with time.
Conclusion
Getting rid of coarse facial hair could be daunting, but with the use of the right epilator, it can be a cakewalk. Get any of the epilators we have mentioned, as they work best for facial hair.
You Might Also Like: