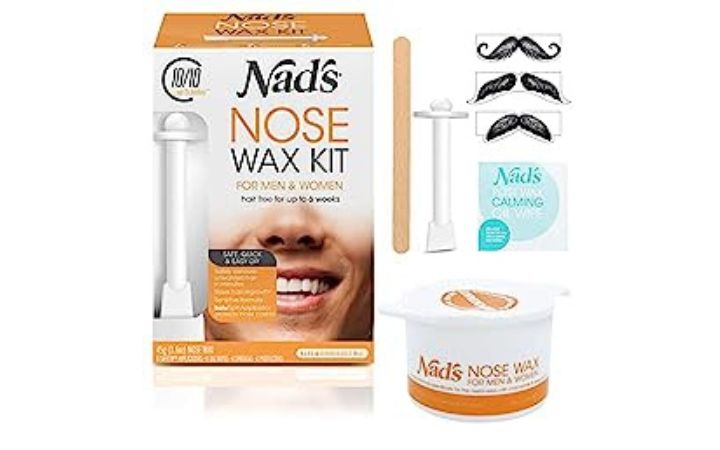 Sometimes it takes a lot to deal with little problems, and getting rid of nose hair is one of them. Many people have no idea where to start and how to remove nose hair safely.
Here we will learn about removing nose hair with the help of nose wax. It is considered one of the best ways to eliminate pesky nose hair and make it look clean and tidy.
Even though trimming nose hair is also one feasible method, it is time-consuming, and the results are not always satisfactory. You always end up getting a few nose hair untrimmed that look even worse. Therefore, nose wax seems more promising.
Nose Wax Kit For Hair Removal
You can find different types of nose wax in the market, which is when the real dilemma starts. Nose waxes are of different shapes and sizes, and deciding which one is the best suited for you takes time.
So, let's check out the best nose wax kits and how they work.
5 Best Nose Hair Wax Kits For Hair Removal
1. Wokaar Nose Wax Kit
It is one of the tried, tested, and best nose wax kits containing everything you need to make the nose hair removal process safe.
The wax present in this kit has an effective formula that removes hair properly, leaving it soft and clean. It works by sticking the wax precisely to the nose hair, not the skin. It ensures you will not feel pain during waxing.
The kit consists of-
one measuring cup
10 disposable paper cups
100g hard wax
multifunctional applicators
mustache protectors.
You can also use this wax for upper lips and eyebrows.
To use this product, melt the wax inside one of the paper cups in the microwave. Dip the applicator in the wax and pick the desired amount to apply around the nose hair. Once ready, rip it out to remove the hair.
[ Read: How To Heal Ripped Skin From Waxing ]
2. Charmonic Nose Wax Kit
Giving quick results, this is a great option for those looking for the best nose wax kit. It is easy and comparatively painless to remove hair inside the nose.
The wax in this kit is made from beeswax and infused with aloe vera extracts to nourish the skin. It is not scented and stays gentle on the nose skin. At the same time, it adheres to the skin effectively for hair removal.
This nose kit comes with-
applicator tools
wax beads
measuring cup
You can use this product 10 times to remove nose hair. So, if you use this kit once a month, it can last probably for a year. The applicator tools you get in this are designed to safely apply wax on the edge of the nostrils. Moreover, the tool's grip is good enough to remove the nose hair.
It ensures a painless nose hair removal and can be used by both men and women at home.
3. NAD's Nose Wax For Men And Women
It is one of the complete DIY kits to remove nose hair and is available in different sizes to suit your needs.
The kit's applicator is safe for applying to the visible hair on the edge of nostrils and removing them. At the same time, it ensures that the essential hairs located on the inside are not touched.
Another feature that makes this the best nose wax kit is its formulation, making it feasible to remove blackheads. The results of this nose wax kit last for four weeks.
The kit includes the following-
1 Nad's nose wax
8 safe tip applicators
4 wooden spatulas
4 mustache stencils
4 antibacterial wipes
4 post wax calming wipes
Wax is infused with chamomile and aloe that nourishes the skin simultaneously, making it suitable for people with sensitive skin. It takes less than 1 minute for the wax to get hard, which you can remove with the applicator.
4. Kenashii Nose Wax Kit
Kenashii claims to be the best nose wax kit as it removes unsightly nose hair without pain. The wax in this kit is hypoallergic, doesn't brittle when cold, and is suitable for sensitive skin. It doesn't cause skin irritation or inflammation, unlike many other waxes.
The kit comes with-
100g of wax
24 removal sticks
12 balm wipes
12 mustache guards
Instruction booklet
The result of this nose wax kit is claimed to last for up to 5 weeks. All you need is to work as per the instruction and get the most satisfying result.
5. Oakeer Nose Wax Sticks
These are nose wax sticks, highly convenient and easy to use. They are minimalist and effective in helping one get rid of nasty nose hair. One package comprises 40 applicators that can easily last for over six months.
You can also grab other packages with a different number of applicators in them. Each applicator is lead-free, non-toxic, and made with premium ABS.
You can buy wax from any company and use these nose wax applicators to complete the hair removal work.
Final Words
Nose hair is natural and acts as a defense system in the nose. They aid in keeping away the debris, dirt, and grime from entering the system. Also, they maintain moisture from the air we breathe through the nose.
However, nose hair on the edge of nostrils looks bad; therefore, removing them with the best nose wax kit is the right choice.
You Might Also Like: