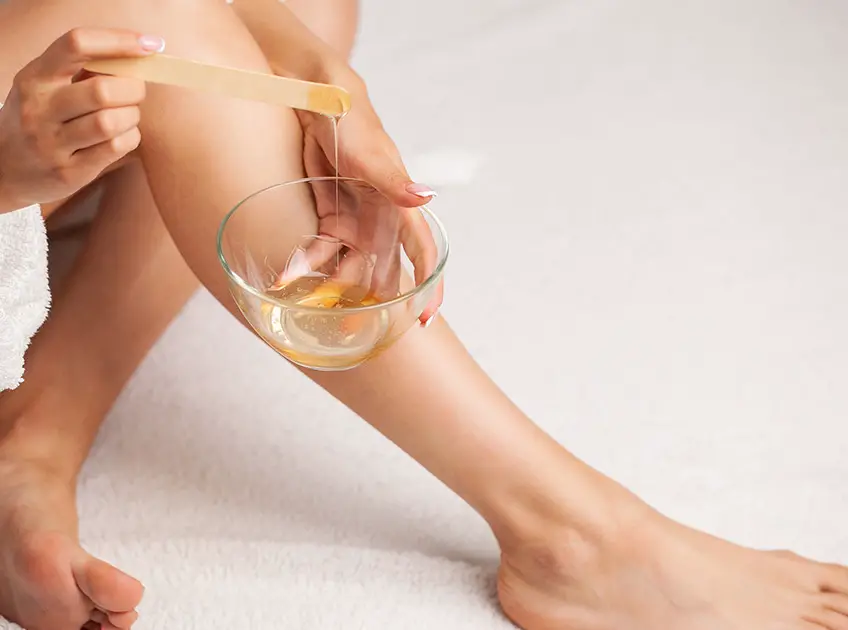 One of the worst outcomes of skin care treatment is causing more damage to the skin. Here's how to heal ripped skin from waxing. Before we move in, let's know the dangers of waxing.
Dangers of Waxing
Skins ripped from waxing are one of the painful moments in life. Yes, waxing your skin comes with risks when your technician has poor waxing methods. It may end up with ripped skin, burned skin, etc.
Even though you go with a professional waxing technician, you may face these potential issues. This is because applying exfoliants and chemical peels will be the main cause and rip your skin during waxing.
If you have sensitive skin, waxing can cause problems to your skin. So, do you hurt with your waxing process? Does your skin rip from waxing? Don't worry. It's time to heal your ripped skin. How?
How To Heal Ripped Skin From Waxing?
1. Clean & Disinfect
The most basic step is: Clean and Disinfect the area where you find the ripped skin.
Use a gentle cleanser and disinfect the area with natural disinfectants, including apple cider vinegar and alcohol.
2. Use Antibacterial
Try applying natural Antibacterial. This will ensure that your infection doesn't set in.
A concoction of garlic, honey, and coconut oil packs will give more effect on your skin.
Apply it before your bedtime and let it set overnight.
3. Moisturize
Always keep the area moisturized with lotion, cream, or plant-based oil.
Coconut milk or any kind of natural oil is good for better healing.
4. Stay out of Sun
Sun tends to make your wound worse.
Avoid sunlight if you wish for a faster healing process.
5. Be Patient
Patience is everything. Time is the best medicine for a good healing and repair process.
Hence, give some time for the healing process.
There are other ways to heal ripped skin from waxing. Here are the other home treatments to heal your skin. Here we go.
Methods To Treat Ripped Skin From Waxing
Well, one of the worst side effects of waxing is skin damage. It may occur if the wax is applied on the skin when it is hot. It may lead to pain and flaw in the skin. If you are experiencing this issue, follow the steps for a speedy recovery.
1. Cool Your Skin
Drown your ripped or burn skin in cool water. Else, pour the cold water on the affected region for more than 20 minutes.
If you have ripped skin or burn on your face, soak a flannel in cold water and apply it to the affected area. Furthermore, you should allow it for at least 20 minutes for an effective result.
2. Ice Cubes
Avoid using the ice cubes directly on the ripped or burned skin is always advisable. Instead, wrap the ice cube in a soft cloth and apply it over the affected skin. Doing this will reduce swelling, soothe the pain, and treat the damaged area on your skin.
3. Aloe Vera
Aloe vera is one of the magical ingredients to treat burns. Pure aloe vera gel is one of the best options to treat the skin. It acts as a healthy product with no additives. Hence, regularly cleaning the affected skin with aloe vera gel helps improve healing progress.
4. Use A Bandage If Necessary
Try bandaging your damaged region to avoid skin infection, especially if you feel the area is susceptible to bacteria. If your wound is facial or too large to dress, be conscious of keeping it away from dirt and chemical products. Keeping it clean is always a good choice to go.
5. Treat The Pain
You cannot avoid the pain. But you can reduce it with effective tools to treat ripped skins from waxing.
The tips and steps mentioned above will be more effective in treating your ripped skin from waxing.
[ Read: How To Get Rid Of Redness After Waxing ]
How Long Do Wax Burns Last?
Wax Burns Last depends on the damage. If you have minor skin burns or scars, the complete healing process takes around 1 to 2 weeks. However, fading may take a bit longer for those who have sensitive skin.
Whether you go for hot or cold wax, it is recommended to ensure the temperature of the wax before applying it to the skin. It will help you to avoid further skin damage.
Wrap up
Whether new to waxing or not, always try applying a small portion of wax on thicker skin. That is, either in the arm or thigh. This will help you to know the temperature of the wax. This will help you avoid waxing burns in the future.
You Might Also Like: