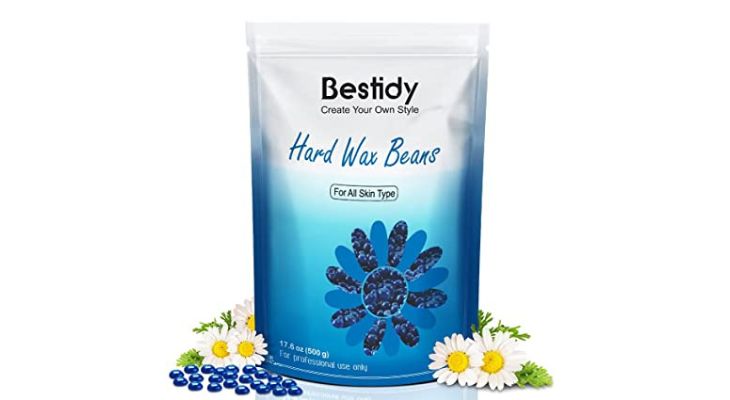 Waxing is one of the most effective ways to eliminate unwanted body hair. Even though it removes the body hair from the roots and offers long-lasting results, the process could be painful if it is thick and coarse.
Using normal wax to remove hair from areas where the skin is thick and coarse may cause extreme pain, huge irritation, and discomfort. Therefore, using wax that adheres properly to the skin and removes hair effectively helps give the best result.
Waxes For Coarse Hair
If you have a hard time removing coarse hair, it's time to start using different wax made specifically for thick hair. Here, we have selected the 7 best waxes for coarse hair that stay gentle on the skin and adhere tightly to the hair so that removing hair does not become painful.
At the same time, using these wax will ensure coarse hair won't grow back quickly.
Check out the best wax for coarse hair and make your skin free of unwanted hair with no hassle.
7 Best Waxes For Coarse Hair
1. Tackles Stubborn Hair: KoluaWax Hard Wax Beans
It helps to remove the thickest hair with ease
It is made from Brazilian carnauba palm wax
It contains little blue beads that are strong enough to remove hair in the bikini area, the chest, and back
It gives over 40 waxes and comes with ten disposable wax spatulas.
It is easy to use and remove for a painless wax removal session.
Also, it does not crumble, crack or stick.
What We Don't Like: It might need multiple tries for a clean finish.
[ Read: 7 Best Hair Waxes For Men ]
2. All-purpose Wax: Cirepil Peel Off Wax Beads
It has a special blue formula designed for sensitive and dry skin
Able to remove unwanted hair from the face, eyebrows, private areas, legs, and armpits
It is tough on thick and coarse hair but stays gentle on the skin
It stays gentle on the skin and does not cause any pain or discomfort while peeling off
Also, it is dermatologist tested and approved
Ensures long-lasting results and is suitable for professional use
What We Don't Like: It takes time to melt due to its thick texture.
3. Best for Sensitive Skin: Rose Hard Wax Beans
It helps to deliver smooth, shining, and glittering skin
The results last for over eight weeks
It doesn't require strips to remove the unwanted coarse and thick hair
Suitable for all skin types, including sensitive skin
Works well on the legs, armpits, eyebrows, face, arms, bikini area, and nose
Does not cause irritation, pain, or clumping of the wax
What We Don't Like: It also takes time to melt.
[ Read: 5 Best Nose Wax Kit For Hair Removal ]
4. Effective for Thickest Hair: DepilSpa Hard Wax Beads for Coarse Hair
It is infused with titanium dioxide and mica
The wax beads are gentle enough to soothe and calm the skin after each wax session
It helps cool the skin and refresh and rejuvenate the waxed areas
Suitable for intimate areas and every other area with coarse hair
One application of the wax per session is enough to remove all the hair in the targeted area
The wax adheres to all the hairs effectively for a nearly pain-free experience
It ensures long-lasting results and a cooling effect
What We Don't Like: You need a wax pot to melt the wax. Also, according to some users, it has an unpleasant smell.
5. Quick and Easy: Body Wax Strips
These are quick and easy wax removal strips that do not require melting.
Made using natural beeswax, thus stays gentle on the skin.
The strips are made with innovative contour weave paper technology, making them flexible to contour the body's natural curves better.
Suitable to use on the body, including the face, legs, arms, underarms, and bikini
The results last for a longer time, and the hair is removed right from the roots.
What We Don't Like: It will require multiple tries to remove all the hair.
[ Read: How to Wax Your Legs at Home ]
6. Best Easy-To-Use: Bestidy Wax Beads
Formulated for all skin types and helps remove coarse and soft hair, equally
It features honey-like consistency and works well for full-body waxing
The special formula consists of chamomile, rosin, beeswax, and other safe ingredients
The low melting point makes it easy to use at home at a comfortable temperature
It ensures a painless hair removing experience
It is quick drying and beginner-friendly wax
What We Don't Like: It can be messy, especially if you are doing it for the first time.
7. Best for Sensitive Skin: GiGi Hard Wax Beads
It is formulated especially for problematic skin as it contains natural ingredients
The presence of azulene and chamomile essential oil helps soothe and moisturize the skin
It keeps skin smooth and irritation-free
It can be used on the legs, back, chest, arms, face
The ability to extract stubborn hair from the roots makes it the best wax for coarse hair
It works well on low melting points and enables working at a comfortable temperature
What We Don't Like: The application may feel messy.
Conclusion
So, these are the best wax for coarse hair. Use them, remove unwanted body hair whenever required, and enjoy clean, smooth, and soft skin.
You Might Also Like: