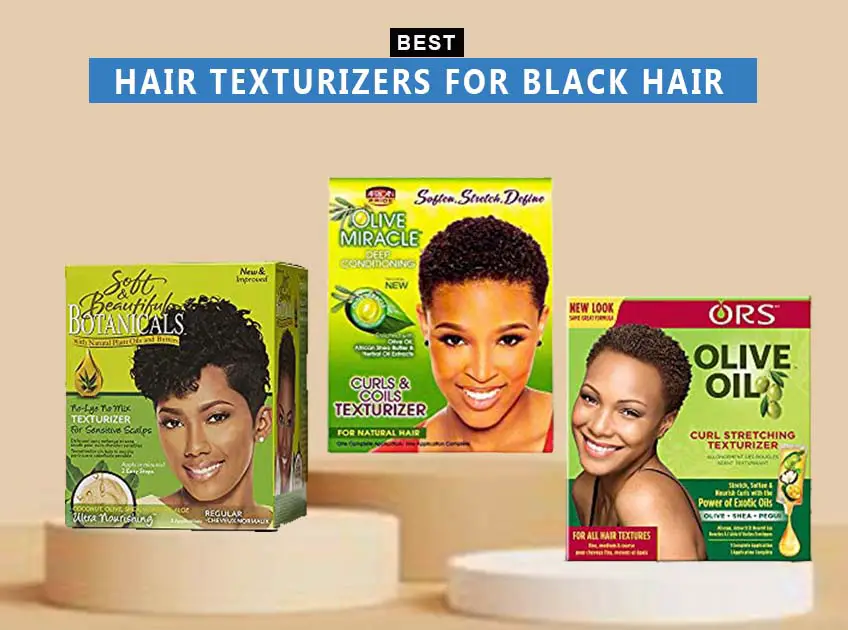 Since you can find plenty of haircare products, finding the best hair texturizer for black hair becomes tricky. It is mainly because black hair requires special care and attention. A good texturizer can make black hair more manageable and bouncy.
Black or afro hair is generally categorized in the 4C hair category due to its extremely curly and coily pattern. It means you need some special product to tame it. Extremely tight curls seem to cling to each other; therefore, using the right texturizer can only help.
Often texturizer is confused with relaxers. Relaxers can completely loosen the tension in curls and straighten them out. Texturizers, on the other hand, are like mild relaxers that simply reduce the tension in tight curls and make them bouncy.
Here we have selected and listed the 7 best hair texturizers for black hair based on quality, performance, and users' opinions. So, without wasting time, let's jump straight to the hair texturizers.
7 Best Hair Texturizers For Black Hair
1. Complete Care: Organics Texture My Way Texturizing & Softening System
Features herbal conditioning formula that allows controlling the desired texture
It comes with other essentialities like a pre-texturizing application, a texturizing creme, a shampoo, a conditioner, and a texturizing hair lotion
Easy to use formula so that you can use them hassle-free
No lye, no mix, and time-saving product giving the desired texture in 20 minutes
What We Don't Like: It might cause hair fall in certain types. Also, it is more like a relaxer, loosening the tension.
[ Read: How To Improve Your Hair Texture Naturally ]
2. Anti-Frizz: Neuma NeuStyling Texturizer
Allows separating each strand, leaving them soft with a natural shine
The flexible fiber formula molds and holds your style while leaving your hair with an adaptable movement
It resists humidity, thus taming frizzy hair and flyaways
With its use, it becomes easy to get any hairstyle
Works best for both dry and damp hair
Free of synthetic fragrance, phthalates, and parabens
What We Don't Like: It may feel slightly heavy on the hair
[ Read: 15 Best Sweet 16 Hairstyles For Black Hair ]
3. Best for All Hair Types- ORS Olive Oil Curl Stretching Texturizer Kit
It helps stretch natural curly and coarse hair, making them suitable for restyling
Packed with African Shea, Olive Oil, and Egyptian Black Seed Oils
Provides hair with a superior conditioning experience
Replenish the moisture in the strands, making them soft and easily manageable
What We Don't Like: It makes hair greasy.
[ Read: 7 Best Shampoos for Coarse Hair ]
4. Curl Defining: African Pride Olive Miracle Curls & Coils Texturizer
Infused with aloe vera, castor oil & biotin to condition and define hair
It also contains antioxidant-rich ingredients that protect hair from cell damage
The presence of shea butter makes hair soft and supple
It helps define curls and elongate them, replenishing the moisture content of hair
What We Don't Like: It is slightly heavy on the hair.
[ Read: 15 Hair Care Tips to Include in Your Hair Care Routine ]
5. Plant Based: Soft & Beautiful Botanicals Regular Texturizer
Due to the presence of plant-based ingredients, it is beneficial and effective for sensitive scalp
Works well on all types of hair- soft, curly and natural
Enriched with the benefits of natural plant oils and different kinds of butter
No Lye No Mix Texturizer protects hair and scalp at the same time
It is a unisex product suitable for both men and women
What We Don't Like: According to some users, the smell is not pleasing.
[ Read: How to Detox Your Scalp for Healthy Hair at Home ]
6. Softer and Shinier Hair: Luster, Hair S Curl Text Super
Infused with two healthy hair oils- olive oil and argan oil that make hair healthier, soft, and supple
Easily manages 'hard to comb hair and makes detangling a hassle-free process
It makes hair manageable, soft, and shinier and protects it from any damage
The kit consists of Texturizer Cream and Neutralizing Shampoo. Styling Gel, Spray, and a Hair Lotion
Suitable for 4C hair
What We Don't Like: Not suitable for fine or thin hair.
[ Read: 7 Best Shampoos for Black Hair ]
7. Best for Waves and Curls: Luster's SCurl Comb Thru Texturizer Kit
It is infused with olive oil and argan oil that offers intense nourishment to hair strands
Suitable for textured waves and curly hair
The kit comes with all the essential products you need to get the right texture
It makes hair shiny, silky, and soft textured
What We Don't Like: It could be slightly heavy on the hair.
Conclusion
Now that you know the best hair texturizers for black hair, it's high time you should start using them to reduce the tension in tight curls and make them bouncy.
You Might Also Like: