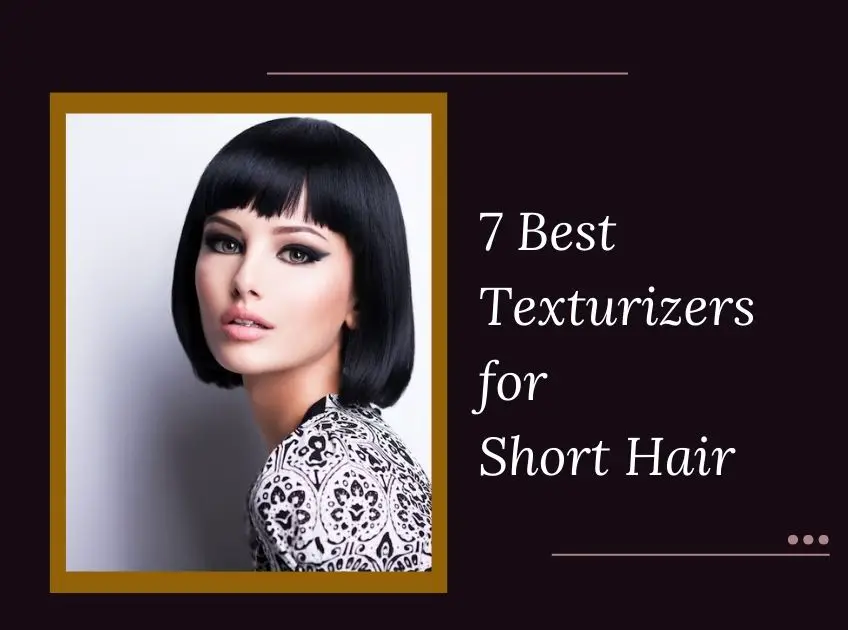 Some trends never go out of style, this is especially true for flaunting short hair. Short hair demands way less upkeep and certainly looks sleek on almost all face shapes.
Short hair is also way easier to style, just knowing which product suits your hair type is the key here. Some hair styling products gets the job done better than others, keep on experimenting with different styles to find that perfect look.
Texturizers
Our team of experts has compiled this list of the best texturizers for short hair so that you don't have to go through the hassle of filtering the best options available.
Each texturizer is unique in terms of its formulation, ease of use, and holding strength. A great texturizer simply elevates your styling game and makes the process much easier and quicker. Try a few of the available options and select the best one based on your hair type.
7 Best Texturizers for Short Hair
1. Luster's S Curl Texturizer
It is a texturizing relaxer with a cream base. For hair that is curly or wavy, this cream works best.
Despite being advised for short hair, it also works well on medium-length hair.
It functions by enhancing the existing, natural curl or wave patterns in your hair.
It takes less time, applying the cream to your hair for just a few minutes produces fantastic effects.
It works quickly, gives hair definition, and has a long-lasting effect on curly hair.
What We Don't Like: If left on the skin for too long, it might irritate it.
2. Amika Un.done Volume & Texture Spray
With no crunchy or stiff residue, this thin spray enhanced volume and provided texture.
Amika does natural smells better than few hair care companies, and they are renowned for their captivating olfactory qualities.
Post-spray combing will be simple and will not cause any breakage.
This spray is sexy-in-a-bottle for instant volume and perfectly-imperfect texture.
What We Don't Like: It is a bit expensive.
3. Neuma NeuStyling Texturizer
Fiber paste that is non-greasy, light, and flexible offers definition and texture that is simple to style.
This flexible fibre formula shapes and holds your style while yet allowing your hair to move freely.
Stretchable fibres are prepared to generate separation and texture thanks to mouldable texture cream. It also tames and manages flyaways.
It is an excellent frizz-controller and styler. When applied to damp hair, you can scrunch your hair to keep the waves in place all day.
What We Don't Like: It weigh hair down.
4. Ors Olive Oil Curl Stretching Texturizer Kit
This one-of-a-kind recipe hydrates and softens your hair with Mediterranean olive oil, Brazilian pequi oil, African shea oil, and Egyptian black seed oil.
It also strengthens the roots and softly lengthens those valuable curls.
It is excellent for naturally curly hair and enhances the manageability of tight curls.
It makes it simple to reorganise curls and can be used as a texturizing treatment.
What We Don't Like: It may not work on colored hair.
5. Moroccanoil Dry Texture Spray
Long-lasting hold with touchable texture and volume. Increases grit for a non-slip finish.
A dry argan oil-infused spray for easily undone looks that aren't sticky or stiff. It can also be used as a pre-styling tool to make no-slip braids and updos.
The fragrance is pleasant but not overpowering, and the spray swiftly dries as the style settles.
It provides texture without leaving a residue and is incredibly volumizing.
What We Don't Like: It may dry out ends.
6. Herbal Essences Tousle Me Softly Tousling Spray Hair Gel
This lightweight spray gel, scented with hibiscus essences, provides strong, level 3 hold without being sticky.
It is a color-safe, pH-balanced formula with no parabens, colorants, or mineral oil. Simply spray damp hair and scrunch to achieve a touchably soft, tousled look for your waves.
The castor oil in the formula prevents hair from becoming dry or hard.
No residue will leave behind, only moisturised and defined curls.
Tousle Me Softly Tousling Spray Gel by Herbal Essences is a messy-style master that removes frizz and gives a flexible hold.
What We Don't Like: The nozzle has potential to dispense more than planned.
7. Briogeo Blossom and Bloom Ginseng and Biotin Volumizing Spray
Contains natural hair thickeners and clarifying ingredients to absorb excess oil.
This dual-action hair volume spray promotes both immediate fullness and long-term thickness results.
It's perfect for fine, thin, or limp hair and contains natural clarifying agents, lemon and witch hazel, which absorb excess oil and allow you to go longer between blowouts.
What We Don't Like: It is most effective when used on damp hair.
Conclusion:
When it comes to haircare, we should strive to use as little chemicals as possible. Choose nutritious ingredients to which you are not allergic. Choose items that are devoid of silicones, phthalates, and parabens. These substances will gradually harm your hair. Choose a texturizer that will give volume to your hair without leaving it greasy or heavy. Colored hair, on the other hand, requires special care. Always consult a dermatologist if you face any allergy.
You Might Also Like: