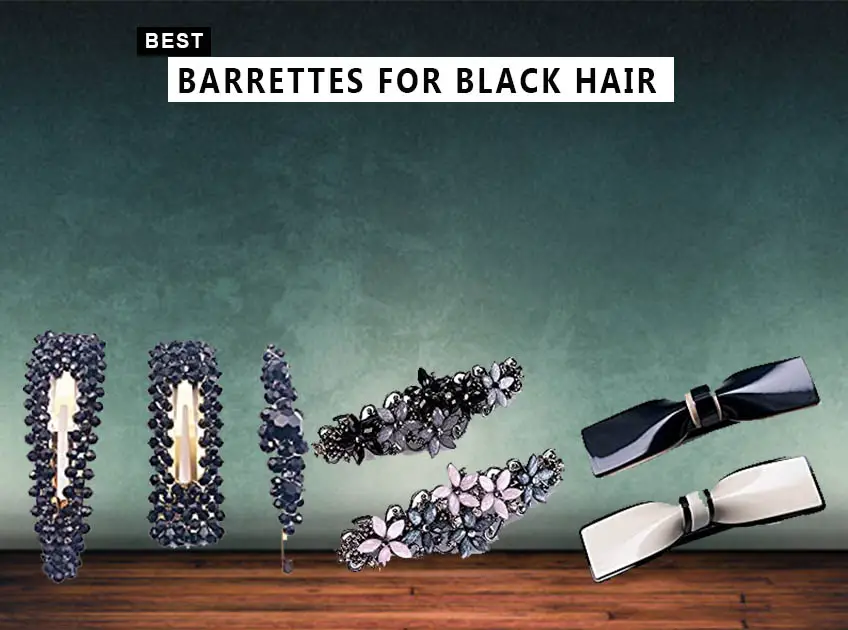 Barrettes are essential hair accessories, and women of all ages need them. Whether you are a college-going girl, need something for office wear, or have a little munchkin at home with long hair, a barrette is a necessity.
Best Barrettes
Even though you can find multiple barrettes, the one that suits your black hair will be the best option. Here, we have enlisted the top 7 best barrettes for black hair. From elegant barrettes to something for parties and outings, here you can find them all.
Use these beautiful hair barrettes on different occasions and manage your hair in whatever way you want.
7 Best Barrettes for Black Hair
1. Your Instant Fashion Statement: Messen Store Crystal Hair Barrettes
Simple and elegant, this beautiful clip set is suitable for all most all hairstyles
Crystal on the clips are manually connected by durable fishing lines, totally free of glue
Ideal for weddings, birthdays, pageants, dates, engagements, etc.
High-quality control is assured
What We Don't Like: Since this product is highly astounding, we would love it if there were more than three clips in the set.
[ Read: 7 Best Clip In Bangs For Thin Hair ]
2. Durable Barrettes for Everyday Wear: Tara Girls Self Hinge Plastic Bow Hair Barrettes
Specially designed to keep hair in place and out of your face
The pack features an assortment of colors to match many outfits
Great products for gifting
Made with high-quality plastic, ensuring it is durable
What We Don't Like: These barrettes for black hair are small in size; therefore not suitable for thick hair or older girls.
3. Stylish Barrette for Parties: NYKKOLA Women's Multilayered Barrette
Features beautiful rhinestone and pattern design that enhances the charms of any hairstyle
Extremely beautiful with unique Flowers and peacock tails with unique shapes, textures, and colors
Consists of Rhinestones, Epoxy Crystal Plastic, and Alloy
Durable and long-lasting
What We Don't Like: The barrette consists of stone that may fall off after many uses. Therefore, handling it with care is necessary.
[ Read: 7 Best Hair Texturizers For Black Hair ]
4. An Elegant and Minimalistic Design: Resin Hair Barrettes
Unique designed Japanese style hair accessories, crafted in beautiful and elegant Bow-Tie-shape
Made with high-quality acetate resin and metal materials and carefully polished
Features a smooth surface that does not damage hair
Smooth surfaces and no sharp ends
What We Don't Like: It looks elegant, but according to a customer's review, the clasp was not in the double-clicking class and didn't hold thick hair properly.
[ Read: How to Get Thick Hair Naturally at Home? ]
5. Sparkly Glitter Rhinestones Hair Barrettes: LINXUXIE Store Elegant Hair Clips
The surface has rhinestones as decoration, made of geometric cutting techniques, and then artificially polished
Made of zinc alloy material; therefore, good hardness, good wear resistance, is not easy to deform and is durable
Holds the hair firmly and at the same time, it is comfortable to wear and will not pull the hair
Ideal accessory for your hairstyle and clothing for different occasions
What We Don't Like: Everything about them is nice except the sparkly glitter, making the clips unsuitable for formal wear. They are good only for parties.
6. Shiny Black Tortoise Hair Barrettes: CEOZY Plastic Hair Clips
Strong and comfortable hair barrettes clip for thin hair
Stays gentle on your hair and does not hurt your hair
Comfortable to wear and holds fine hair back very nicely
Made with high-grade materials, therefore durable
What We Don't Like: This barrette is good only for thin hair, so if your hair is thick, this clip is of no use.
7. Your Winter Accessory: Guqqeuc Hair Bow Barrettes
More like a winter accessory for hair, making your look more elegant and beautiful
The elegant and classy design makes it suitable for all the occasions
Equipped with a metal hair clip to help you create a beautiful hairstyle by simply clamping part of the hair
Suitable for long hair or short hair, thin or thick hair
What We Don't Like: This barrette is cute but looks great only in winter, which is why the brand also categorizes it as a winter accessory.
Conclusion
We can't deny that good quality barrettes are needed for every woman with long hair. The barrettes we have enlisted look great on black hair. At the same time, they help to hold the hair for a long duration.
So, select the one you like the most and flaunt your luscious locks with the best barrette.
You Might Also Like: