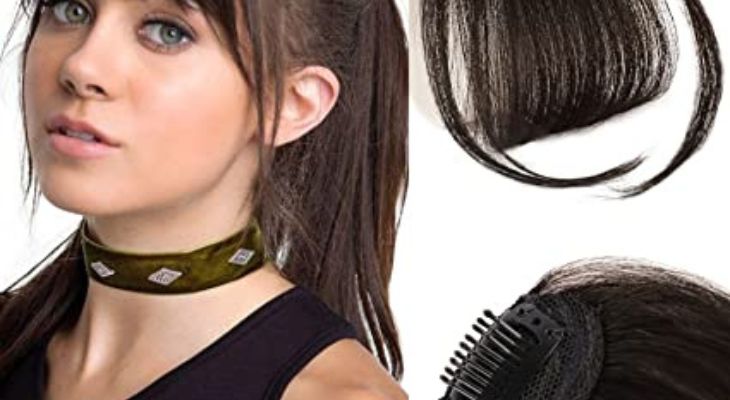 Bangs give you a cuter look, and believe me; it suits most face cuts. Since bangs always stay on trend and never go out of fashion, getting them gives you a statement look. At the same time, there are different types of bangs, such as side bangs, front bags, bags with flicks, and many more that you can style differently every day.
If you have thin hair and are in a dilemma about getting a hairstyle with bangs, you don't have to go to a salon. Also, you don't have to cut your hair. Wondering how to get the bangs, then? Well, you can buy the best clip-in bangs for thin hair that look as if you have them.
Clip In Bangs
Here we have listed the best clip-in bangs for thin hair that are easy to wear and look very stylish and natural. At the same time, most of them are easily customizable depending on your hair thickness and shape.
Check them out!
7 Best Clip In Bangs For Thin Hair
1. Cute Bangs: HMD Bangs Hair Clip in Bangs
It comes with a sewn-on comb clip that ensures properly securing the bangs in place
Easy to apply, secured underneath the hair, and looks like real hair
They are made with real human hair; thus, they are of high quality and look like you have your own bangs
It comes in multiple shades for you to choose from as per your hair color
What we don't like: You may need help for clipping it properly for the first time.
[ Read: 20 Cute Long Layered Haircuts With Bangs ]
2. Straight Fringe Hair: Dsoar Side Bangs Clip in Bangs
Suitable for those who want to give a fuller look to their face
Good for people with alopecia to help cover their baldness
Available in three different types- air side bangs, thick side bangs with the temple, and without the temple.
They are heat-resistant; therefore can be styled as curly or wavy side bangs
What we don't like: Keep the heat styling tools at a distant to avoid burning.
[ Read: 5 Best Hair oils to Treat Baldness Naturally ]
3. Wispy Bangs: HMD Bangs Hair Clip in Bangs
Made with human hair, thus looks and feels real
It appears gentle and mimics hair on the scalp
Easy to clip and remove
Good grip, ensuring it securely holds to a place and doesn't come out
Suits all face shapes- oval, round, heart, and square
What we don't like: It may feel less voluminous for people with thick hair.
[ Read: Long Hairstyles for Round Faces ]
4. French Bangs Fringe: FESHFEN Clip in Bangs
Created with 100% human hair and look real and stylish.
The sides are 10 inches, while the middle part is 5.5 inches long
Easy to clip on, and you can wear them quickly without any hassle
Suitable for all face shapes
It helps keep the hair looking trendy all the time
What we don't like: You may need to cut the bangs to make them suitable for your face shape.
5. Temple Wispy Bangs: HANYUDIE Clip in Bangs
Made from real human hair
Easy and comfortable to wear and gives a natural look
It blends well with real hair
Can be trimmed as per the desire
Perfect thickness and is thin enough to give a realistic look
What we don't like: They may look slightly small.
6. Front Neat Air Fringe: Sewy Clip in Air Bangs
It looks very relaxed as the hair is thin, ensuring the forehead stays light and neat
It consists of hair temples on both sides to give a more realistic look
Easy to wear and can be fixed like human hair
Gets mixed well with hair as they are easily customizable
What we don't like: These bangs may be too thin and fine for people with thick and coarse hair.
[ Read: 18 Best Fringe Hairstyle Ideas ]
7. Heat-resistant: REECHO Fashion Full Length Synthetic 1 Piece Layered Clip in Hair Bangs
It appears more like a wig with the bangs
It can easily be clipped
The sides are 10.6″ while the length is 6.7″, which can be trimmed as per the need
Heat-resistant, making it suitable to meet the different styling needs
What we don't like: It is not made of real hair.
Conclusion
Since all these clip-in bangs are made with real hair, no one would be able to differentiate. However, it would be best if you made sure to order in the same color as your natural hair.
Now getting the stylish look and creating cute bangs is a matter of seconds. Make some alterations to your natural hair without cutting them by using any of these best clip-in bangs for thin hair and flaunt your hairstyle.
You Might Also Like: