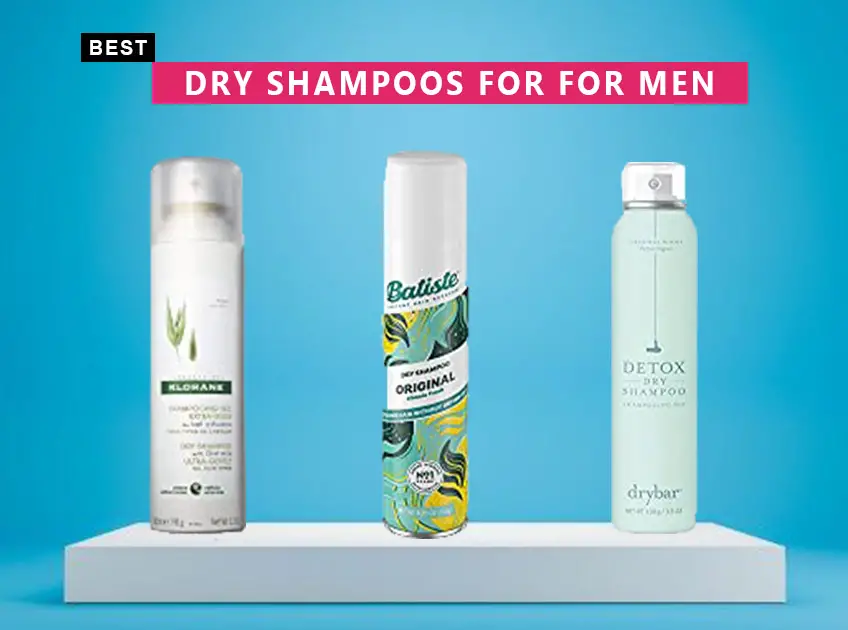 The dry shampoo leaves you smelling fresh while removing all the buildup of dirt and grime from the scalp and hair. While washing frequently may damage hair, dry shampoos add bounce and volume to hair without using water.
They also come in handy when you are on the go. You can find dry shampoos in different forms like powder, spray-on, pastes, tinted or clear. If you cannot find the right product, check out the list we have mentioned with the 7 best dry shampoos for men.
Dry Shampoos
All these products are tried and tested for their quality and performance. At the same time, we have included the user's rating to list the best dry shampoos. Check them out!
[ Read: 7 Best Men Shampoos for Dry Hair ]
7 Best Dry Shampoos For Men
1. Super Absorbent Formula: Drybar Detox Dry Shampoo
The super-absorbing formula eliminates all the excess oil and grime from the scalp and hair strands
It consists of micro rice powder that takes up impurities without stripping off the natural oils
It is a translucent powder that blends well and doesn't leave residue on hair
The presence of golden root extracts helps seal moisture, preventing hair issues like breakage and split ends
The pleasing fragrance of jasmine, sandalwood, and Madagascar vanilla makes it more tempting
What We Don't Like: It is expensive, and the fragrance may be overpowering to some.
[ Read: 10 Best Shampoo For Dry Damaged Hair With Split Ends ]
2. Refreshing and Texturizing: R+CO Badlands Dry Shampoo Paste
It absorbs excess oil and removes the entire buildup from the scalp and hair
Infused with healthy ingredients that keep hair safe and protected
The pleasing smell makes hair feel and smell good
It is free of harsh chemicals and other nasty ingredients that can harm hair health
What We Don't Like: It may feel slightly greasy on the hair.
[ Read: 15 Basic Hair Care Tips to Include in Your Hair Care Routine ]
3. Volumizing and Texturizing: BATISTE Dry Shampoo
It is formulated to eliminate excess oil and grease at the roots
Leaves hair feeling clean between washes
classic fragrance with a citrusy and refreshing burst of orange and bergamot, balanced by hints of rose, lily, lavender, and powdery musk
Waterless shampoo formula that is effective for several hair types and perfect for the girl-on-the-go
This dry-scented shampoo also removes oils to provide added hair texture and volume that gives the appearance of fuller hair
What We Don't Like: It may make the hair slightly stiff.
4. Effective and Affordable: Living Proof Perfect Hair Day (PhD) Dry Shampoo
It offers refreshed and bouncy hair immediately as it absorbs all the impurities in a jiffy
The pleasing scent that it offers brings good vibes
It removes the dirt as well as odor effectively from the fine hair
Silica and linalool are the active ingredients of this dry shampoo
Suitable for chemical processes and color-treated hair too
Free of silicones, SLES and SLS, parabens, phthalates, and gluten
What We Don't Like: It may be drying for some hair types.
[ Read: 7 Best Dry Shampoos For Fine Hair ]
5. Detoxifying Effect: BRIOGEO Scalp Revival Charcoal Biotin Dry Shampoo
It is a charcoal-infused dry shampoo that detoxifies, refreshes, and balances hair
The active ingredient is rice starch, that absorbs excess oil effectively
Witch hazel is also present that regulates oil production
Free of aerosol and other harmful ingredients
What We Don't Like: It feels slightly greasy on hair temporarily.
[ Read: How to Detox Your Scalp for Healthy Hair at Home? ]
6. High-quality and Performance: Klorane Dry Shampoo with Oat Milk
It is an award-winning dry shampoo with a highly effective formula that absorbs dirt and grime
It gives great shine, volume, and bounce to the hair
It stays gentle on the hair due to its plant-based ingredients infused with starch and silica
Tackles oils as well as odor with its highly effective oat milk that also soothes the scalp
What We Don't Like: You may temporarily feel white residue on your hair.
[ Read: How to Get Shiny Hair Naturally at Home ]
7. Plant-Based: Act+Acre Plant-Based Dry Shampoo
Due to the presence of botanical extracts, it is one of the safest and healthiest scalp cleansing products, suitable for hair extensions
It contains six types of organic plants that bring health and shine to the strands
It is detoxifying in nature, supplying natural nutrients to the scalp and hair, promoting their healthy growth
Contains rice and tapioca powder that absorbs grime, oil, and impurities from hair effectively
It also consists of Fulvic acid and 65 more minerals that are considered better than talc-based dry shampoo
Free of chemicals, alcohol, aerosols, and parabens
What We Don't Like: Hair may feel a little stiff temporarily.
[ Read: 7 Best Dry Shampoos For Extensions ]
Conclusion
Irrespective of hair type, these dry shampoos for men have proved to be highly beneficial. Get any of these and enjoy water-free cleansing of your hair.
You Might Also Like: