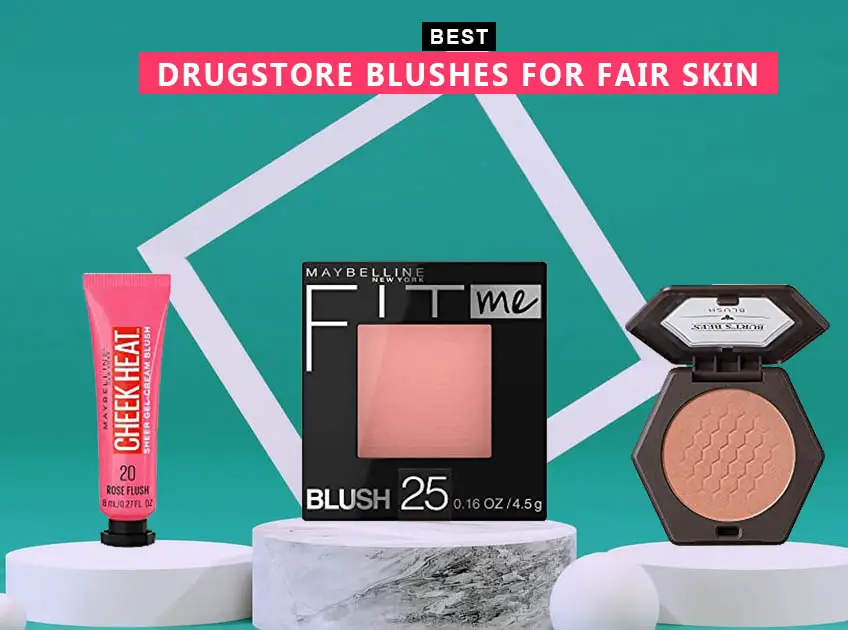 Blush can help your skin look younger and healthier. However, choosing the best blush for fair skin can be difficult because too little color can make you look washed out, while too much color can make you look like a doll.
Choosing the right blush for fair skin that blends well becomes tedious, so Select a blush with the same undertone as your skin.
Drugstore Blushes
If you choose a random blush shade, you may look too bold or have a patchy finish. Sheer coverage, sparkle, and glow are all factors to consider when selecting the right blush shade.
Hence we have listed some of the effective blushes to clear your confusion.
7 The Best Drugstore Blushes For Fair Skin
1. Baked Blush of Dolce Pink shade for fair skin: Milani Powder Blush
The cruelty-Free blush keeps skin safe from rashes and itching
Shapes the cheeks and Contour that highlights the Face
It gives a shimmery and Matte Finish to enhance the beauty
Dermatologically tested for positive results
What We Don't Like:
The blush fades away in a short period after coating on cheeks
[ Read: 7 Best Blushes For Fair Skin ]
2. Glowing Blush for fair skin tone: Cover girl natural blush
It is easy to blend on the skin and gives a natural look
The portable mini-compact blush fits in any baggage
Ensures sheer blush that stays true for hours
The blush is significant for fair skin that is weightless and true to colour
What We Don't Like:
Pigmentation varies based on the number of layers applied.
3. Healthy Skin Powder Blush Neutrogena: Makeup Palette
Illuminating Pigmented Blush with enriched vitamin C and Botanical Conditioners
It's easily Blindable and Buildable on the skin
The dermatologist tested for positive results
Designed to blend evenly and beautifully
Available in 5 beautiful shades from light blush to bronze matte for highlighting the cheeks.
What We Don't Like:
The powder blush is very fragile and dusty that stays only for a few hours
[ Read: 7 Best Bronzers for Fair Skin ]
4. Enhancing Makeup blush for fair skin : Maybelline Fit Me Blush
It's very Lightweight with a Smooth texture.
Effortless Blending is seen for, Long-lasting effect All-Day long
Enhances skin tone with a natural blush that True-to-tone colour blends seamlessly.
The Creamy finish is available in a collection of shades designed to complement the fair skin tone.
What We Don't Like:
The blush is lightly pigmented for some customers, even after three layers of coating.
5. Multi-Colored peach Blush for fair skin: Physicians formula blush for makeup
Sweep blush onto the apples of the cheeks from the cheekbones to the temples
This multi-coloured blush palette is a perfect blend of complementary hues to accentuate & enhance cheekbones.
Ensures fresh, healthy, natural-looking flush
Pressed powder blush to enhance skin tone and correct imperfections
What We Don't Like:
The blush gives more of a glittery shade than a matte finish
6. Cheek Gel-Cream Blush Makeup for fair skin: Maybelline make-up blush
It's lightweight and gives Breathable Feel.
The Sheer Flush of Colour on the cheeks looks pretty.
The Dewy Finish with Oil-Free, formula helps in hydrating the skin
The Rose Flush blends seamlessly
What We Don't Like:
The blush is slightly visible even after too much brushing. The color seems to be lighter on the skin.
[ Read: 10 Best Blushes For Mature Skin ]
7. Natural blush for fair skin tone: Bursts Bee peach blush
The warm peach hue is ideal for adding radiance to fair skin tones
100% natural and mineral makeup that evenly enhances the cheek's glow
The essential ingredients like Bamboo, Honey, and vitamin E nourish the skin
Formulated without parabens, phthalates, petrolatum, and synthetic fragrances
What We Don't Like:
The blush is powdery on arrival for some customers who seemed to have light pigmentation
Conclusion
Since all these drugstore blushes give an effective glow to your skin to make you look more gorgeous than ever, and if you are prone to allergies, go for a patch test before applying any blushes.
You Might Also Like: