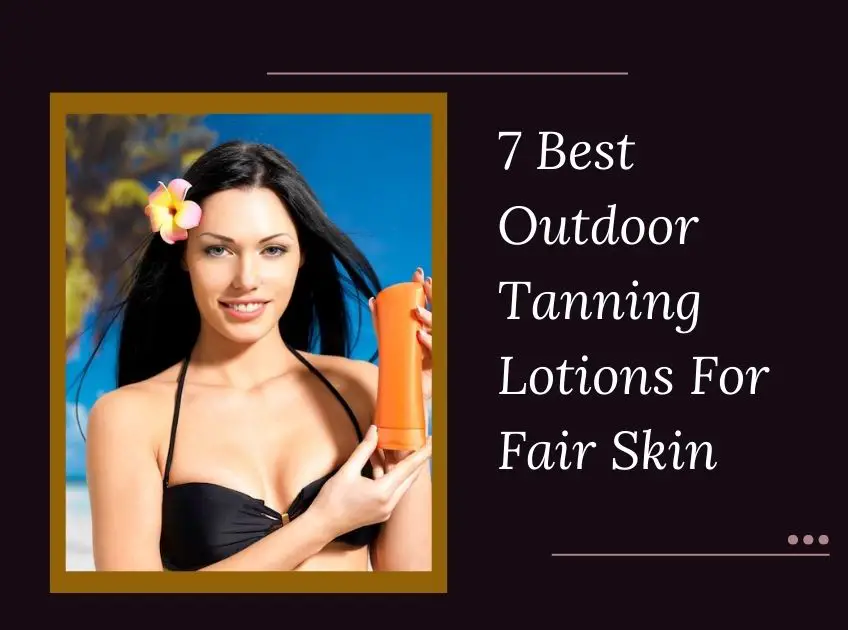 A tanned skin gives the impression that you had been just to a tropical island. Our skin gets naturally tanned by staying in the sun for a few hours, but not everyone would like that. Hence, the best solution to get tanned skin, especially for those with a fair skin tone is using an outdoor tanning lotion.
Outdoor Tanning Lotions
Such products impart an even bronze tan to the skin besides protecting it from the harmful cancer-causing UV-A and UV-B rays. Read on to check some of such best tanning lotions with various benefits for the skin.
7 Best Outdoor Tanning Lotions For Fair Skin
1. Somewhere on a Beach tanning lotion for sensitive skin
Why Do We Like It?
It has all-natural ingredients and is hence suitable for sensitive skin.
Shea butter nourishes and keeps the skin hydrated.
Imparts an amazing bronze look for attractive skin.
Matrixyl Synthe 6 in it helps in reducing wrinkles.
Protects the skin from harmful sun rays.
What Do We Dont Like About It?
It has a long-lasting fragrance which might not be liked by all.
[ Read: 5 Best Tanning Lotions For Sensitive Skin ]
2. Body Nutritive Tanning oil for a radiant long-lasting tan
Why Do We Like It?
Contains plant extracts such as avocado, kukui and hazelnut that are rich in vitamin, which nourishes the skin.
It keeps the skin soft.
Lightweight, non-greasy formula.
Gets absorbed in the skin easily.
Deep skin care because of vitamin E in it even prevents the ageing of the skin.
What Do We Dont Like About It?
Its fragrance could be too strong for some people.
3. Australian Gold, CHEEKY BROWN tanning lotion for a glamorous tan
Why Do We Like It?
It is an accelerator as well as a bronzer that imparts a beautiful tan.
The lotion has amazing moisturising qualities with healthy vitamins like vitamins A, and E as well as natural Australian oil.
It has tea tree oil and passion fruit's anti-oxidant power that hydrates the skin.
Protects the skin from harmful sun rays.
Has an amazing fragrance.
What Do We Dont Like About It?
The bottle could have been sturdier.
[ Read: 10 Best Face Tanner ]
4. Dolce Black Bronzer Tanning Lotion with natural oils for nourished skin
Why Do We Like It?
Imparts a subtle golden glow to the skin without any orange tones.
It dries quickly after application.
The lotion has a hydrating effect on the skin.
Natural oils in it keep the skin nourished.
Colour protectors are used in the lotion to keep the tattoo's colour intact.
It is a vegan formula free from any toxins.
Cruelty-free.
What Do We Dont Like About It?
Some might find the tanning extra dark.
5. Ed Hardy Coconut Infused Tanning Lotion that keeps the skin hydrated
Why Do We Like It?
Comes with a colour-fade protector.
Coconut milk and oil in it keep the skin hydrated.
It has the goodness of various exotic botanicals.
Reduces the toxins in the body, and boosts the firmness of the skin.
Prevents skin damage.
Light texture.
Reduces cellulite appearance in the skin.
What Do We Dont Like About It?
It has a peculiar smell which might be disliked by some.
[ Read: 10 Best Tanning Bed Lotion for Cellulite ]
6. Tanovations SUN DAY FUN DAY Tanning Cocktail for dry skin to achieve quick tanning results
Why Do We Like It?
Shea butter, coconut oil, cocoa, and vitamin E in it nourish the skin and keeps it hydrated.
Skin remains smooth and supple.
Slows the natural ageing process, hence the appearance of wrinkles and fine lines are reduced.
It has multiple accelerators that target the production of melanin.
Doesn't result in any orange tints.
What Do We Dont Like About It?
It doesn't have sunscreen in it.
7. Millennium Tanning Solid Black Tanning Lotion for long-lasting smooth tanned skin
Why Do We Like It?
It has anti-ageing properties because of coconut oil, camellia oleifera leaf extract, oleracea fruit oil, pecan seed and banana fruit in it.
Water-resistant.
Spreads easily because of thin consistency.
Also absorbed by the skin easily without a greasy feel.
It can be used on any type of skin.
Provides hydration for 24 hours.
Coconut milk, oil and cocoa butter keep the skin smooth.
What Do We Dont Like About It?
Avoid using it, if you have nasal allergies.
[ Read: How Long Will Tanning Lotion Last ]
Choosing The Best Outdoor Tanning Lotion:
If you have dry skin, opt for tanning lotions that have nourishing oils such as tea tree or coconut oil. Even shea-butter can be a great ingredient in this case.
Aloe should be the main ingredient in the lotion, in case you have oily skin. Also, it should be non-greasy.
If you are looking for a deep impact, go for products that have vitamin A. Even DHA can provide dark tanning.
Vitamin E has an anti-ageing impact on the skin, besides the potential to make the skin smooth and radiant.
Look for an outdoor tanning lotion that has SPF to protect your skin from harmful sun rays.
Conclusion
Everyone loves a healthy tan and the key to this lies in selecting the right product based on your skin type and the benefits you are looking for. Besides the look, the safety of the skin from harmful sun rays is the primary point that must not be forgotten.
You Might Also Like: