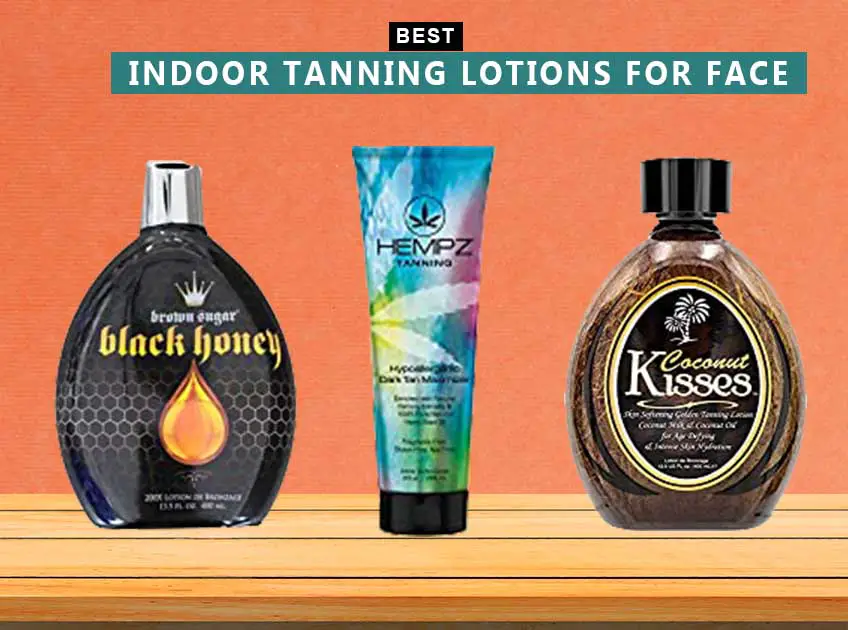 In order to develop a natural tan, you need to bask under the sun for many hours and switch sides after regular intervals. It is the only way to develop a natural tan. However, while pursuing a natural tan, you sometimes end up with sunburn and other skin concerns that come with harmful UV rays.
It is when indoor tanning and using indoor tanning lotion come in handy. While many tanning lotions make the skin prone to aging and dryness, some ensure skin stays hydrated, soft, and supple. It all depends on how well you keep your skin hydrated and what tanning lotions you use.
Indoor Tanning Lotions
If you are not able to find the best indoor tanning lotion for your face, fret not. Check out the list where we have shared the 7 best indoor tanning lotions that offer fake yet natural-looking tan without compromising skin health.
We have hand-picked these tanning lotions based on their quality and performance. So, check them out and get sun-kissed skin in the comfort of your home.
7 Best Indoor Tanning Lotions For Face
1. Plant-Based Extracts: Supre Snooki Get Real Tanning Lotion
It is packed with skin-friendly ingredients that keep the skin hydrated and well-moisturized
It helps develop dark from within as it is free of bronzer
It contains a powerful blend of gardenia, rose, and passionflower extracts to keep skin healthy and hydrated
The advanced formula aids skin firming and tightening
It also consists of skin-loving vitamins and minerals
Smoothens the skin and makes it buttery soft
What We Don't Like: Overpowering smell.
[ Read: 10 Best Indoor Tanning Lotion Without Bronzer ]
2. Bronzer-infused: Devoted Creations Blonde Obsession Lotion
It helps in building an attractive fake tan on the face
Develops a natural and effective tan that stays longer
Helps to increase melanin production in the skin to attain a darker hue faster
Reduces the appearance of fine lines and wrinkles
Also, it reduces cellulite to keep skin looking and stay younger
Creates a long-lasting tan
What We Don't Like: It has a strong and overpowering smell.
[ Read: Best Tanning Bed Lotion for Cellulite ]
3. Natural Tan: Sun Laboratories Self Tanning Lotion
It helps to achieve a dark skin tone in a jiffy without using bronzer
Easy to apply and achieve the gorgeous tan
Infused with skin-loving ingredients, thus, delivers a radiant glow on the skin with no hassle
Free of harmful ingredients that may make skin dry
Offers radiant glow
What We Don't Like: Highly unpleasing smell.
4. Long Lasting Tan: Brown Sugar Black Honey Tanning Lotion
Formulated to build tan that lasts longer
Makes skin smooth and firm
Reduces the appearance of wrinkles and fine lines
It also works like an anti-aging ingredient that helps you achieve a youthful look
The presence of silicone emulsion makes skin soft and healthy
It helps get a radiant glow
What We Don't Like: It may make skin feel oily.
5. Skin Nourishing: Hempz Dark Tan Maximizer Lotion
It provides deep nourishment to the skin
Infused with natural ingredients like mango seed butter and oatmeal
It makes skin soft, supple, and healthy
Suitable for all skin types, including sensitive skin, due to its hypoallergenic properties
Free of paraben, gluten, or phthalates
What We Don't Like: It takes time to develop the desired tan.
[ Read: 5 Best Tanning Lotions For Sensitive Skin ]
6. Best for Fair Skin: Ed Hardy Coconut Kisses Golden Tanning Lotion
Best for pale, fair, or pasty skin
It helps develop a natural-looking golden tan
Creamy texture and hydrating properties
Keeps skin soft and supple
It can be used as a daily moisturizer
Features silicone-based formula and offers anti-aging properties
It has a subtle aroma of vanilla and coconut
What We Don't Like: It may feel slightly sticky.
7. Lightweight and Effective: Pro Tan Radically Hemp Gelee Accelerator
It helps skin develop a natural tan gradually
Based on a proven tanning accelerator called Unipertan
Infused with sweet almond fragrance
Fast-absorbing and skin-soothing properties
Made from a blend of Monoi de Tahiti, aloe, and essential vitamins
What We Don't Like: According to some users, the fragrance of this tanning lotion is overwhelming.
[ Read: 7 Best Lotions For Crepey Skin On Arms & Legs ]
Conclusion
Now that you know some of the best and most high-rated indoor tanning lotions for the face, it's time to say goodbye to harmful sun rays. Get a gorgeous tan irrespective of weather and time, and look like a sun-kissed diva.
You Might Also Like: