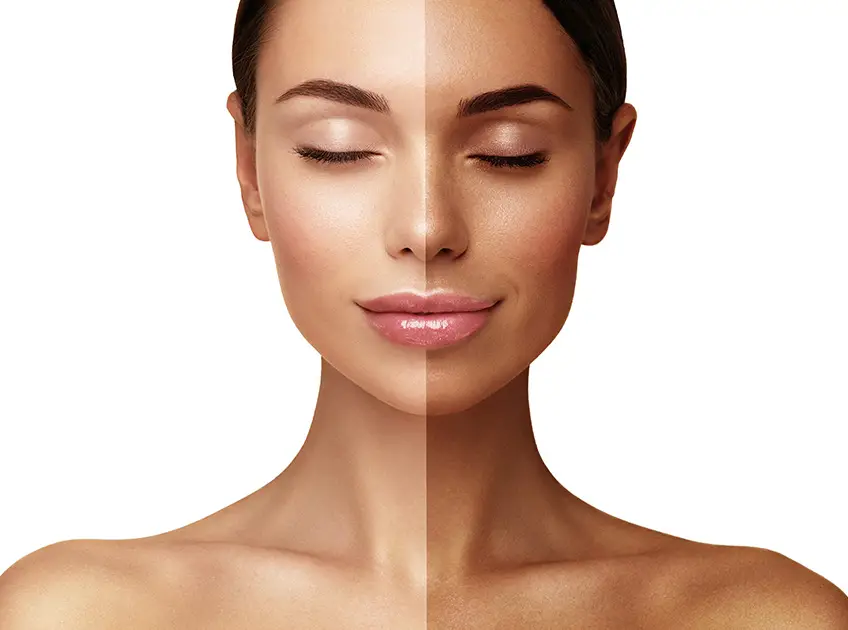 Be it cooking or health care or skin care, coconut oil is a versatile ingredient and has lots of healthy benefits. Now the world has started to acknowledge the advantages of this super medicine. Coconut oil produces very helpful benefits beyond cooking and tanning. You may hear that moisturized skin tan is far better than dry skin. So it is an excellent idea to get moisture using coconut oil before deciding to obtain a tan. With the hydrated skin, tan looks even and also lasts longer.
Coconut Oil Help You Tan
General Benefits Of Coconut Oil For Tanning
Coconut oil aids in obtaining a perfect tan and further maintains the hydration levels of your skin while sunbathing.
1. Coconut Oil Acts As A Moisturizer: For centuries, people are using coconut oil as a moisturizer for their skin. While on your tanning process, your skin is exposed to high levels of sunshine and noxious UV rays. The stable saturated fat in coconut oil forms a protective layer over your skin, as a result preventing your skin from sun damage. These saturated fats and healthy vitamins reduce the loss of moisture on your skin and restore the natural radiance of your skin.
2. Coconut Oil Makes It Easier To Assimilate Vitamin D: As vitamin D is vital to your body as well as to your skin, coconut oil consisting of SPF 4 allows your skin to quickly absorb the benefits of vitamin D and helps to get tan naturally. Meanwhile, it blocks the UVA rays by 75% which damages your skin.
3. Reduces The Inflammation Of Your Skin: Coconut oil is enriched with anti-inflammatory properties. The inflammations that are possibly caused due to burning sun, grime, and various other environmental factors, coconut oil helps soothe your skin furthermore preventing the flare-ups and giving an even tan over the body. Its high levels of polyphenols and fatty acids might act as a shield against inflammation. It also precludes your skin from cracking or peeling.
4. Coconut Oil Helps To Trigger The Production Of Melanin: Melanin is a substance in your body that is responsible for the darkening of your skin or the production of a bronzed look. The melanin process typically happens when you are exposed to the sun. However, coconut oil is capable of doing that even without wanting to step out in the sunlight. It facilitates achieving the tan faster and requires less sun exposure.
How To Use Coconut Oil For Tanning
Coconut oil is the naturally available product that helps you to attain the tan efficiently. Here is the step-by-step process on how to use coconut oil for tanning
Step 1: Massage some coconut oil all over your body covering every bit of your exposed skin to hydrate and tan evenly.
Step 2: Make sure to wear your hat and sunglasses because your eyes and skin around them are highly fragile and sensitive to UV rays. Also, remember not to fall asleep outdoors with your sunglasses, as this may cause unsightly tan marks on your face.
Step 3: Enjoy soaking up in the sunlight. Don't stay in direct sunlight for more than 20 minutes. Depending on your skin type, the effects may vary. Hence stick around for 15-20 minutes a day to attain the bronzer look.
Coconut Oil Assists Faster In The Tanning Process
Most of the people have doubts about coconut oil that, is this oil will help fastly for tanning? of course yes, coconut makes the tan faster compared with other tanning oils. The skin has different layers and the upper layer is said to be melanocytes, which is purely responsible for melanin production. When the skin is exposed to Ultra Violet rays from the sun, these melanocytes produce melanin in order to prevent the skin cells. If the cells obtain the melanin pigment, it keeps up on the cell's nucleus. When pigment piles up, the skin becomes tanner or darker. A longer stay under the sun gives faster and more tanner. Most tanning oil has high SPF and it may take more time to get tan. But, using coconut oil can help you tan very faster because it has low SPF due to this melanin production is high and fast.
Pick The Right One For Tanning
If you want to enjoy the advantage of coconut oil for tanning, it is most significant to find a proper one. While most people don't think about there are several types of coconut oil available in the market today. They are non-organic, unrefined, refined, organic, virgin, and extra virgin oil. These oils get vary due to their process of extraction. To get the desired result, you may choose unrefined, virgin, or organic coconut oil. These types have the most nutrients as well as very good for the skin. Need to be highly conscious of selecting natural and gentle products in order to exfoliate the skin. It will remove the dead cells on the skin and also render the smooth skin which can hold the tan.
Conclusion
Coconut oil is versatile oil which has a variety of properties that help to take care of the body. It's rich in skin nutrients like lauric acid and vitamin E which are highly helpful for the skin. Without any hesitation, you can use coconut oil for tanning, this oil doesn't have harmful ingredients and properties. It bestows a golden tanner within some minutes. Coconut oil alone cannot protect from the sun and it should not be used alone, if possible have it with sunscreens. If you sit for tan under the sun frequently will give serious long-term effects like skin cancer. So be careful and get a healthy tan over the body.
You Might Also Like: