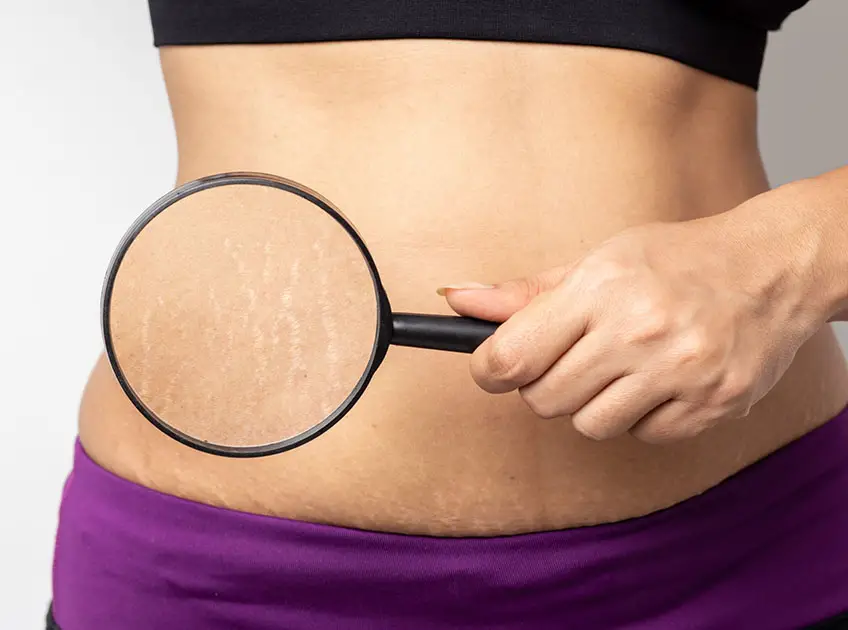 Stretch marks are scars on the skin which quickly stretch or shrink and generally appear during pregnancy. Sudden stretching of the skin to house the baby causes the collagen and elastin fibers to rupture and later when the skin is in the healing phase, the stretch marks remain. These can be the color of the skin, red or purple and slightly raised from the skin surface. Let us see how to make a DIY cream for reducing them.
DIY Coconut oil Stretch Mark Cream Recipe
1. Coconut oil Stretch Mark Cream
Ingredients:
Extra virgin and unrefined coconut oil-3 ounce
Vitamin E oil- 2 tbsp
Unrefined cocoa butter and shea butter- 3/4 ounce each
Water- 6 tbsp
Cypress and lavender essential oil- 20 drops each
Grapefruit and helichrysum essential oil- 10 drops each
Process of Making and Using:
In a double boiler on very low heat, add the coconut oil, shea butter, and cocoa butter.
Once the mixture melts, add water to it and mix until it smoothens.
It will have a creamy texture once it cools down.
On reaching the room temperature, add the vitamin E oil, grapefruit, helichrysum, and cypress essential oil.
Keep this cream in a dark glass container in a dark place.
For using the cream, take a quarter size amount and massage it in the stomach front, side and back, twice every day.
Benefits:
Coconut oil has essential vitamins, and it keeps the skin moisturized and healthy. Even if the stretch marks don't disappear, they will lighten. Dry skin is prone to stretch marks, so keeping the skin moisturized can be effective.
Shea butter locks in skin moisture soothe skin issues and have anti-ageing properties.
Cocoa butter keeps the skin soft and flexible.
Essential oils: Frankincense oil and Helichrysum reduces signs of scarring by rejuvenating the skin cells. Lavender can reduce ageing signs, scars and stretch marks. Cypress and grapefruit essential oil have anti-bacterial, anti-oxidant and anti-microbial properties. Similarly, rose essential oil helps in collagen production, which rejuvenates the skin and reduces the appearance of stretch marks.
Vitamin E oil has antioxidant, that protects the skin's collagen fibers, and maintains its elasticity.
Stretch marks can't be fully prevented but we can follow measures for reducing them. Besides using the DIY cream, it is important to drink sufficient water, and avoid gaining weight suddenly by following a nutritious diet, getting enough vitamin D by staying in the sun for at least 20 min every day, and consuming food having a good amount of Zinc.
You Might Also Like: