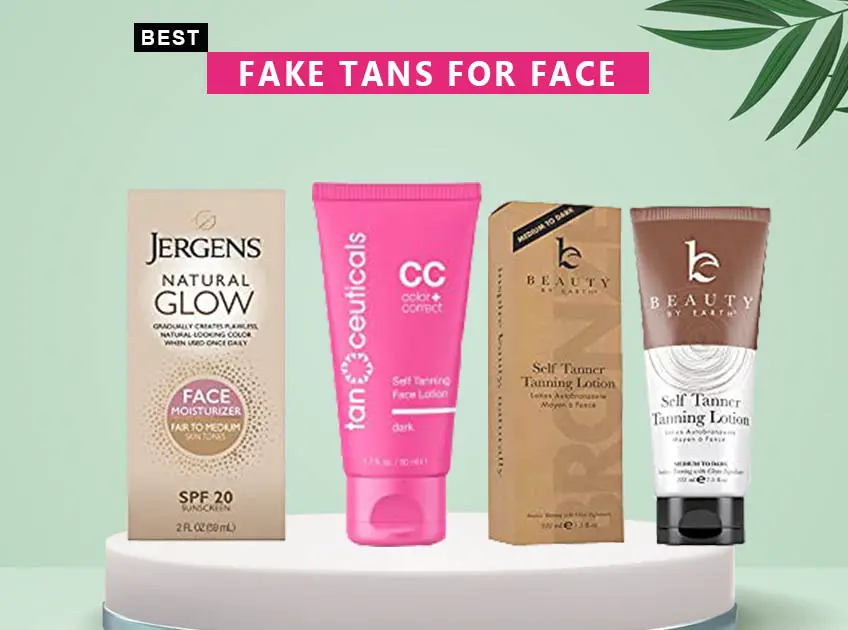 Want to look like the sun-kissed goddess without spending hours under the sun? No wonder the bronze skin looks stunning and can easily turn heads but basking under the sun for hours to get such a glow is not everyone's cup of tea. It is when fake tan comes to the rescue.
There are many fake tan methods, such as lying in the tanning bed and using self-tanners. These all come under indoor tanning and work wonders. When indoor tanning is done properly, it becomes difficult to differentiate it from sun tanning.
Fake Tans
If you don't want to expose the skin to the sun for hours, a fake tan is a right choice. While some self-tanners are for the body, some give great results for the face. And here we are talking about the best fake tan for the face.
Selected based on quality and performance, our list of the 7 best fake tans for the face includes products that are extremely healthy for the skin. They won't dry the skin or give a streaky or patchy tan. Also, most of them have organic ingredients that are completely safe for all skin types. Check them out!
[ Read: 7 Best Tanning Bed Lotions For Fair Skin ]
7 Best Fake Tans For Face
1. Sun-Kissed Look: Jergens Natural Glow face Moisturizer And Self-Tanner
Suitable for all skin types and doesn't create unflattering streaks on the face
Lightweight and oil-free formula to stay comfortable all through the day
Delivers a flawless color without causing an uneven tan
Easy application and fast results are ensured
It is non-comedogenic, thus doesn't cause breakouts
Keeps skin hydrated and nourished
What We Don't Like: The results are not long-lasting
[ Read: 7 Best Face Moisturizers For Black Men ]
2. Organic Ingredients: Golden Star Beauty Self Tanner Facial Serum

Give you a tanned goddess natural look
Infused with organic ingredients such as avocado oil, Oenothera biennis oil, aloe barbadensis leaf juice, and rose hips oil
It also contains organically derived DHA for an instant result
It doesn't deliver any fake tan smell
It is oil-free and doesn't feel greasy on the skin
What We Don't Like: You need to apply it evenly to avoid an orange tan.
[ Read: 5 Best Self Tanner For Beginners ]
3. Tropically Scented: St. Tropez Self Tan Purity Bronzing Water
Packed with 100% natural tanning actives to give an instant result
It also contains hyaluronic acid and non-pore-blocking skincare ingredients
It contains extracts of hibiscus and green mandarin water to deliver antioxidant properties
Do not let the skin get streaky or patchy tan
What We Don't Like: It may not suit sensitive skin; therefore, a patch test is recommended.
[ Read: 10 Best Face Tanner ]
4. Natural Looking Tan: Beauty By Earth Self Face Tanner
It contains natural ingredients like organic aloe vera and shea butter for soft and velvety skin
It also consists of Japanese green tea extracts, pomegranate extracts, and witch hazel for extra nourishment
Suitable for all skin types
Free of harmful ingredients like phthalates, parabens, and other chemicals
What We Don't Like: It is not good for acne-prone skin and may cause breakouts.
[ Read: 7 Best Body Butters for Black Skin ]
5. High Rated: Tanceuticals Self Tanning Face Lotion
It develops a natural-looking golden bronze glow on the face
It contains ingredients like E, argan oil, acai berry extract, and pomegranate extract for extra nourishment
Do not clog pores or cause an uneven tan
Thick consistency helps in deep nourishment
It is non-comedogenic and blends easily on the skin
What We Don't Like: Unpleasing and overwhelming smell.
[ Read: 7 Best Indoor Tanning Lotions For Face ]
6. Radiant Glow: Tan-Luxe The Face Illuminating Self-Tan Drops – Light/Medium
Infused with natural ingredients like raspberry seed oil, aloe vera, and vitamin E
Hydrates skin deeply and provide deep moisturization
It doesn't create patchy streaks on the face
Smells great and is free of harmful ingredients
What We Don't Like: It may clog pores, so not recommended for oily and acne-prone skin
[ Read: Best Smelling Self Tanner ]
7. Long-lasting Tan: Norvell Venetian Self Tanning Mist For Face
Formulated with natural color complexes and organic ingredients
It contains aloe leaf juice, cranberry fruit extract, tomato fruit extract, and vitamin E
Features the exclusive Ordonone Technology that eliminates typical tanning odor
It consists of a unique blend of anti-orange bronzer pigments to counter the orange tone
Non-comedogenic with a pleasing fragrance
What We Don't Like: The pump is stiff to use.
[ Read: Best Facial Tanner For Acne Prone Skin ]
Conclusion
These are the best fake tan for the face that gives the gorgeous bronze look in a jiffy. All you need is to apply them as per the instructions and see how amazing the result they deliver. Also, we suggest you perform a patch test to overrule the chances of any allergic reaction.
You Might Also Like: