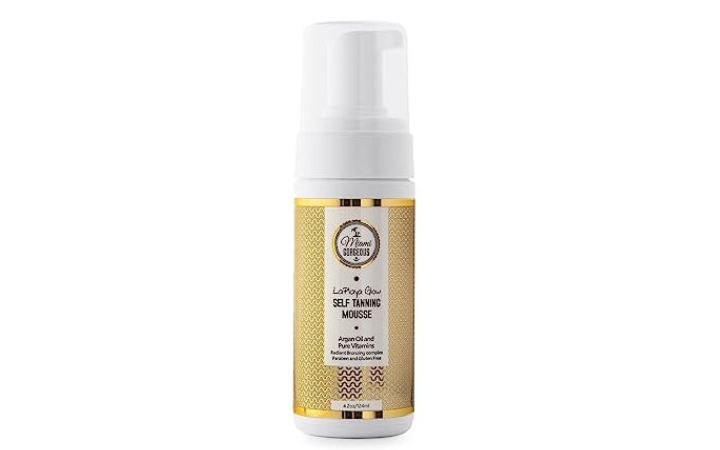 With an endless number of self-tanners available in the market, getting overwhelmed is obvious. Also, picking the right product gets more problematic if you are not aware of where to start.
We understand that choosing the best-suited self-tanner according to the skin type is not a cakewalk. It takes many trials and errors to find a suitable product. Sometimes we didn't get the right shade, and often we got an orange tan with lots of steaks.
Self Tanner
If you don't want your tan to look horrible and there is no time for multiple attempts, jump straight to the gorgeous bronze glow by checking out the best self-tanners for beginners.
Here we share tried, tested, and the best self-tanners for beginners to ensure stunning results.
5 Best Self Tanner For Beginners
1. Beauty By Earth Organic Self-Tanner
This self-tanning product from Beauty By Earth is one of the most recommended self-tanners for all the good reasons. This product is absolutely sensational when it comes to results.
Some of the features that make it highly appealing are-
It is completely organic
It is chemical and paraben-free
Generally, people opt for self-tanners because they want to protect their skin from harmful UV rays. But what's the use if you still use chemicals on the skin that may cause irritation, inflammation, and even premature aging?
Since this is an organic product, there is no such risk. The kit includes-
Applicator Mitt
Face Application Glove
Exfoliator Mitt
Self-Tanner
Waterproof Carrying Bag
So, even if you are a beginner, there is everything you would require for self-tanning. Moreover, it suits all skin types- oily, dry, sensitive, dark skin, fair skin, and normal.
The tanning solution is infused with different organic ingredients that moisturize the skin, making it soft and supple. It ensures keeping your fake tan last longer.
You can decide how deeper a tan you want by layering as much quantity of Beauty By Earth Organic self-tanner. Apart from developing tan, it also hides blemishes, veins, blotches, dark spots, or imperfections of any kind.
[ Read: 7 Best Fake Tans For Face ]
2. St. Tropez Self-Tan Bronzing Mousse
St. Tropez is one of the staples in the self-tanning industry for many good reasons. It is known for making high-quality self-tanners that give stunning results, making them the best for novices.
The self-tan bronzing mousse is very convenient to use and easy to apply. You can easily get the desired skin tone that looks extremely natural with this product.
Being a mousse, it doesn't take much time to dry and control the tan shade you need. Apart from the brand name, features that make it attractive are-
It dries quickly
Easy to control the shade
Free of paraben, sulfate, and phthalate
Consists of naturally derived DHA
If this is your first time with self-tanning, a classic would be the right choice. It comes with-
St. Tropez self-tanner
An application mitt
Tan daily moisturizer
Use it and self-tan your body with the perfect sun-kissed glow.
3. Miami Gorgeous Self Tanning Mousse
The self-tanner from Miami is another popular product that is one of the most beginners friendly. Since it is easy to use and foolproof, the results are guaranteed. Whether you are an expert in self-tanning or just a novice, Miami will be your BFF.
Giving a beautiful natural tan, this self-tanner also ensures keeping the skin nourished and healthy. It is infused with argan oil, coconut oil, jojoba oil, elderflower extract, and Vitamins A, C, and D- everything that contributes to skin health.
Some amazing features of Miami self-tanner are-
It is gluten and paraben free
DHA is eco-certified
The bottle you get contains enough quantity to self-tan your body ten times.
4. Bondi Sands Gradual Tanning Milk
The Bondi Sands Gradual Tanning Milk goes by its name and develops tan gradually. It gives beginners enough time to understand everything about tanning, especially since it is not an overnight journey.
You may need 1-2 applications of Bondi Sands Gradual Tanning Milk to develop the desired shade. Once the color develops, you can use this product as a daily moisturizer to hydrate the skin and maintain the tan.
It is one of the most feasible, most convenient, and excellent self-tanner for beginners. Make sure you exfoliate the skin before using this self-tanner to enjoy a tan that stays stronger and lasts longer.
The best part is it is not hyperpigmented, and the formula is mild, unlike many other self-tanners.
5. Vichy Capital Self Tanning Milk
Last but not least, the Vichy Capital Self Tanning Milk is another amazing self-tanner that goes well with all skin types. It is suitable for sensitive skin too.
A few things that make it the best for beginners include the following-;
It is dermatologist-tested
Paraben-free
Easy and convenient to use
With this self-tanner, you require application 2-4 times per week to develop and maintain a tan for longer. It means there is no need to exfoliate the skin every day, making it more feasible for people with a busy schedule.
You Might Also Like: