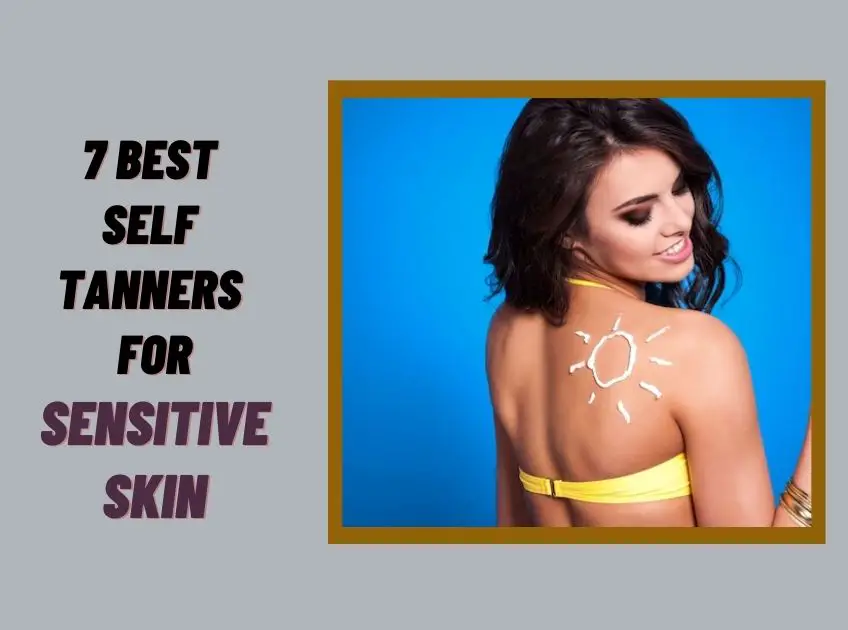 Finding the right skincare product for sensitive skin, also called problematic skin, is not a cakewalk. You never know what ingredient will trigger an allergic reaction and cause more harm than help to the skin. Many chemicals are unsafe for sensitive skin; therefore, selecting the right self-tanner becomes tricky.
Self Tanners
The best self-tanner for sensitive skin should be free from harmful and harsh chemicals. The more plant-based ingredients, the better it is. Here, we have listed the 7 best self-tanners for sensitive skin that suits such skin type without reacting negatively.
Check them out!
7 Best Self Tanners For Sensitive Skin
1. Plant Based Ingredients: Beauty By Earth Self-Tanning Lotion
It is a completely organic self-tanner, best for sensitive skin
Infused with all-natural and skin-hydrating ingredients
Suits all skin types
The presence of organic coconut oil, Japanese green tea, and shea butter makes skin nourished and moisturized
Do not let any streaks, orange hues, dark spots, or blotches on the skin
It is buildable and helps achieve the right shade
Free of parabens, phthalates, and other chemical-based ingredients
What We Don't Like: It contains the typical smell of self-tanner.
2. 100% natural and safe: Skinerals Californium Sunless Tanning Mousse
It is a 100% natural and safe organic tanner mousse
Helps to make the skin tone a few shades darker
The results last for a week
Also, it protects the skin from harmful UV rays
Prevents premature aging
Infused with Indian gooseberry, acai berry, fig extract, green tea, white tea, and goji berry extracts
Ensures natural color development
Also contains aloe vera and glycerine for ultra nourishment
It is lightweight and comfortable for all-day wear
What We Don't Like: It takes time to dry completely.
[ Read: 7 Best Sunscreens For Sensitive Skin ]
3. Fast-drying formula: Coco & Eve Sunny Honey Bali Bronzing Foam
Helps to darken the skin in less than 2 hours
It doesn't feel sticky or greasy on the skin
The major ingredients are raw virgin coconut, plant botanicals, and amino acids
Makes skin deeply hydrated and well-nourished
Gives even-toned, smooth, and soft skin
Also delivers the benefits of antioxidants from fig, bananas, papaya, and cocoa
Improve the signs of aging
What We Don't Like: It might stain clothes, so you need to give them time to dry properly
4. Non-Comedogenic: St. Tropez Self Tan Purity Bronzing Water Face Mist
It offers instant hydration
The major ingredients are hyaluronic acid, hibiscus extracts, and green mandarin
Delivers anti-aging benefits and refreshes and revive the skin
Lightweight, transfer-proof, and non-comedogenic formula
Safe for acne-prone skin and does not cause breakouts
Sprays evenly on the skin's surface for an even tan development
It is easy and convenient to use
What We Don't Like: The smell is unpleasant to some users.
[ Read: 7 Best Facials For Sensitive Skin ]
5. Botanical Extracts: Tanceuticals CC Self-Tanning Body Lotion
Ensures giving a flawless-looking sunless tan
Do not cause orange tone or streaks, patchy or uneven tan
Infused with acai berry, argan oil, aloe vera, and mango seed butter
Also contains grape seed oil, pomegranate extract, macadamia nut oil, and shea butter
The presence of argan oil, sweet almond extract, cocoa seed butter, and vitamin E makes it even more appealing
Improves the overall appearance of skin with its luxurious formula
Ensures long-lasting and flawless results
What We Don't Like: It may make the skin slightly oily due to too many natural oils.
6. Organic Oils: Golden Star Beauty Self Tanner Dry Oil
It is infused with organic oils like argan oil, coconut oil, olive oil, jojoba oil, and avocado oil
Ensures the skin stays healthy and safe from the effects of harsh chemicals
Helps develop healthy tan gradually
Buildable glow and natural tan
The presence of organic aloe vera and hyaluronic acid makes skin hydrated and nourished
It is a lightweight lotion that dries quickly
Gives a streak-free and patch-free result
What we don't like: When applied improperly may result in an orange tan
[ Read: 7 Best Primers For Sensitive Skin ]
7. Organic Ingredients: Bahama Tan Sunless Lotion
Helps to develop a tan gradually
Gives greater control over the skin
Consists of ecologically certified and approved DHA
Gives a tinted tan in a jiffy
It offers full coverage tan
The result lasts for over 5 days
Consists of food-grade preservatives and organic ingredients
The infusion of shea butter, coconut oil, argan oil, and Monoi de Tahiti oil makes it even more appealing
Moisturizes skin and improves its texture
What We Don't Like: The result starts to fade quickly
Conclusion
If you have sensitive skin, we recommend performing a patch test to minimize the chances of an allergic reaction. Enjoy the sun-kissed glow with these best self-tanners for sensitive skin.
You Might Also Like: