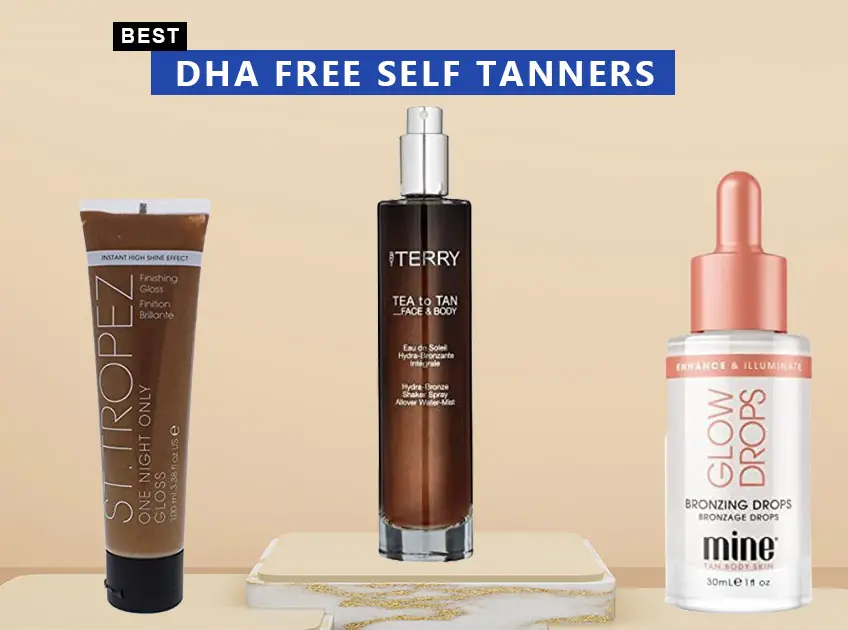 Self-tanners are popular as they allow you to escape the scorching sun and still get tan. The major and active ingredient in self-tanner is DHA- dihydroxyacetone.
Self-tanners are available in different forms- lotions, creams, and sprays, and DHA is the major ingredient in each one of them. As you apply self-tanner, DHA comes in contact with the dead skin cells in the uppermost layer.
It interacts with the amino acids and darkens the skin cells, thereby developing tan. No matter how effective and useful self-tanners may seem, they are not skin-friendly.
DHA Free Self Tanner
Besides causing skin irritation, allergies, and sensitivity, self-tanners are also responsible for premature skin aging. Fortunately, we have DHA-free self-tanners that can prevent exposure of your skin to this harmful ingredient and keep the skin safe.
What Counts As Being The Best DHA free Self tanner?
A DHA-free self-tanner can be called the best if it-
Suits the sensitive skin
Give the gorgeous sun-kissed glow
Doesn't consists of any harsh chemicals
Do not cause skin allergy or irritation
A good DHA-free self-tanner would not harm the skin and develop a golden bronze tan.
Since most self-tanners consist of DHA, it is difficult to find one without one. Here, we have listed some of the most effective and the best DHA-free self-tanners or self-tanners that are made with naturally derived DHA. They are gentle on your skin while still giving it a beautiful glow.
Check them out!
10 Best Self Tanner Without DHA
1. Isle Of Paradise Instant Wash-Off Body Bronzer
It is a sparkling body bronzer lotion and one of the best wash-off self-tanners. Formulated with light-reflecting particles, it helps to give a radiant, sparkly glow.
This self-tanner is not only easy to apply but remove as well. You need to rinse it off with warm water, and you are all set with fresh skin.
What We Like
Works well in all skin tones, making it a perfect choice for all skin types
Ensures streak-free and blotch-free tan
Consists of skin-loving ingredients to tan the skin
Usually, the result of this product would last for 24 hours or until you don't wash it off
What we Don't Like
You need to let it fully dry to prevent transferring to clothes and making them stained
This Product Best for
People looking for an organic self-tanner that gives a long-lasting result.
2. Terry Bronzing Tea To Tan Spray
It is an amazing tea-infused bronzing spray that helps you get a beautiful and radiant shine and glow. It is different from most DHA-free self-tanners as it provides a shimmery effect.
The light reflecting effect it delivers makes the skin look amazing- something everyone will love. You can use this product on your body and face. It blends easily and can be added to your normal makeup routine.
What We Like
Infused with tea extracts to develop gorgeous tan
Provides a shimmery effect and radiance glow
Main ingredient is cherry essence which protects the skin from free radicals damage
Keeps skin safe from premature skin aging
What we Don't Like
Shimmery effect is not preferred by all
This Product Best for
People looking for a DHA-free self-tanner that provides radiance glow and shimmery effect to the skin.
3. St. Tropez One Night Only Bronzing Gloss
This high-shine bronzing gloss is something you all would love to use for all occasions. It looks gorgeous in the evening when dim light falls on your skin and gives a subtle sun-kissed glow.
It is not only free of DHA but paraben and sulfate as well, making it a great choice for everyone. The quick-drying formula that doesn't make the skin sticky is the plus point of St. Tropez One Night Only Bronzing Gloss.
What We Like
Paraben and sulphate free
Quick-drying formula
Develops tan gradually without compromising skin health
Delivers subtle glow with high shine
What we Don't Like
Skin may feel slightly sticky, so apply very lightly
This Product Best for
People looking for a self-tanner with high-shine bronzing gloss.
4. Glimmer Goddess Organic DHA Free Self-Tanner
This product uses natural erythrulose instead of DHA to darken the skin cells. It gives a healthy glow without using any chemicals. Natural erythrulose from fermented raspberries helps to develop a darker tan on your skin in a gentler and gentler way.
What We Like
Builds tan gradually over 24 hours
Completely free from toxins that can cause skin irritation
Consists of hydrating almond milk and almond oil, shea butter, sunflower oil, avocado oil, and vitamin E
Develops tan while nourishing the skin
What we Don't Like
This Product Best for
People who want natural oils and fruits extracts in the tanner to keep skin deeply nourished.
5. Ed Hardy Butter Me Brown DHA-Free Bronzing Lotion
Stimulating melanin activity, the Ed Hardy Butter Me Brown DHA-Free Bronzing Lotion is one of the best DHA-free self-tanner.
It gives a noticeable brown skin tone without harmful chemicals. Infused with macadamia nut and almond oil, it leaves the skin nourished and protected. The skin gets and feels soft and smooth.
What We Like
Also contains caffeine and green tea extracts that make the skin youthful and tight
Helps to achieve dark skin tone without compromising your skin health
What we Don't Like
It may take a few days to develop the desired shade
This Product Best for
People with mature skin who want to tighten the skin and make it look youthful.
6. Glimmer Goddess Organic Self Tanner
To get a healthy golden glow, choosing Glimmer Goddess Organic Self Tanner will ensure great results. It is a completely chemical-free, all-natural self-tanner that can help you get the desired skin shade.
Being organic, you can't doubt its authenticity. Moreover, it is vegan and builds tan gradually, giving you enough control to get the desired tan.
What We Like
Infused with hydrating Almond Oil, Shea Butter, Safflower Oil, Cocoa Butter, and Vitamin E
Consists of natural Erythrulose (from fermented raspberries) to aid in getting dark skin shade
Packed with vitamins that restore elasticity & moisture
Keeps skin hydrated and younger looking
What we Don't Like
It takes 3-5 days to develop color
This Product Best for
People looking for a self-tanner which is vegan.
7. The Organic Pharmacy Self Tan
Giving a natural-looking tan, the self-tanner from Organic Pharmacy is the best for all skin types. It blends effortlessly with the skin and delivers a sun-kissed glow.
The best part is you won't get a streaky or blotchy tan, unlike most self-tanners. Since it consists of natural ingredients, it stays gentle on the skin and conditions it.
What We Like
Consists of Ecocert-approved DHA, derived from natural sugar beets
A blend of Shea Butter, Coconut Oil, and Sesame Oil helps to lock in moisture
It has an apricot the provides a fresh and mild fragrance
Leaves skin bronzed and moisturized
What we Don't Like
It is advised to get a patch test as it may give a rash to sensitive skin
This Product Best for
People looking for a tanner that has natural and skin-loving ingredients to lock in moisture and prevent skin from getting dry.
[ Read: 7 Best Self Tanners For Sensitive Skin ]
8. BeetTan Organic Self Tanning Lotion
It is a perfect indoor sunless tanning cream that consists of natural ingredients to keep the skin gorgeously tanned. It provides a tan gradually and naturally for all skin types.
Apart from developing tan, this self-tanner also ensures keeping skin hydrated and well-moisturized. It stays gentle on the skin as it is infused with some great skin-loving ingredients.
What We Like
Provides gradual, natural tan for all skin tones
Consists of naturally-derived DHA (beet extract)
Caffeine Extract, Kukui Nut oil, and Niacinamide provides smooth skin and hydration
Also has anti-aging components to tone and firm the skin
What we Don't Like
The tropical scent is not very pleasing
This Product Best for
People looking for a self-tanner that develops tan gradually.
9. Beauty by Earth Self Tanner Tanning Lotion
Some brands can be trusted without any second thoughts, and this self-tanning lotion from Beauty By Earth is one of them. It is an amazing product with healthy ingredients that keep skin soft and supple.
It is suitable for olive skin or skin that tans easily. The special formula leaves you with a natural glow and radiance.
What We Like
Formulated with organic aloe vera, shea butter & many botanical extracts that benefit and hydrate the skin
It doesn't consist of dyes or toxins
Suitable for sensitive skin to get the glowing complexion
What we Don't Like
Allergic reactions may happen, so better perform a patch test before slathering it all over the body
This Product Best for
People looking for a self-tanner suitable for olive skin tone.
10. MineTan Self Tanner Tan Drops
It is an ultra-premium self-tanner that doesn't consist of chemical-based DHA. Instead, the presence of natural DHA makes it suitable for all skin types.
Moreover, it is infused with seven luxurious oils that feel gentle on the skin and provide deep nourishment. To add to it, there is Vitamin C for extra moisturization and glowing skin.
What We Like
Contains a nourishing blend of coconut oil, macadamia nut oil, jojoba oil, argan oil, rosehip oil, grapeseed oil, and avocado oil
It is Sulfate Free, Gluten Free, Alcohol-Free, Aluminum Free, and Paraben Free
Ensures no orange tones or fake tan smell
What we Don't Like
Bronzers and tanning actives can be nasty on sensitive skin
This Product Best for
People looking for a self tanner with skin nourishing properties.
You Might Also Like: