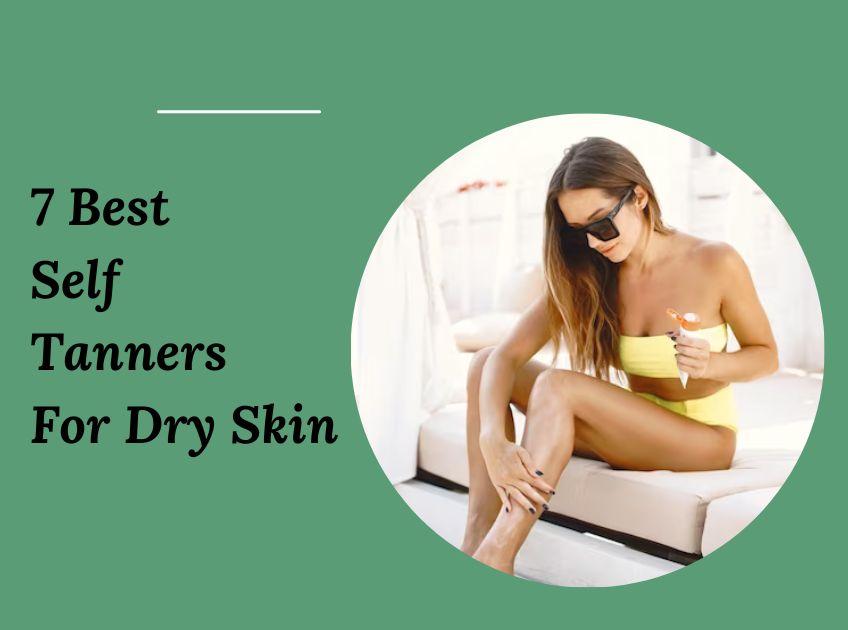 Beautifully tanned skin looks stunning, but basking under the sun and exposing the skin to harmful UV rays for long hours may also result in different skin issues. A self-tanner comes in handy if you want to achieve the sunkissed goddess look without sitting under the sun.
Even though you can find different self-tanners in the market, you need to use a product mindfully.
Some self-tanners may end up with bright red skin that goes back to pasty white in a few days. At the same time, some self-tanners make the skin dry and dull.
Self Tanners
Therefore, choosing the right self-tanner and ensuring that it works well for your skin type is a must. Here, we have listed the seven best self-tanners for dry skin that not only gives a gorgeous tan to the skin but also makes it deeply hydrated and nourished.
Check them out!
7 Best Self Tanners For Dry Skin
1. Organic Ingredients: Bahama Tan Sunless Lotion
It helps to develop a tan gradually
It gives greater control over the skin
Consists of ecologically certified and approved DHA
It gives a tinted tan in a jiffy
It offers full coverage tan
The result lasts for over five days
It consists of food-grade preservatives and organic ingredients
The infusion of shea butter, coconut oil, argan oil, and Monoi de Tahiti oil makes it even more appealing
Moisturizes skin and improves its texture
What We Don't Like: The result starts to fade quickly
[ Read: 10 Best Organic Self Tanner ]
2. Quick-drying Formula: Botanic Tree Self Tanner
Made with 100% organic ingredients
Suits all skin types, including sensitive skin
It contains botanical extracts from apricot, grapeseed, and passion fruit
Also infused with moringa, linseed, coconut, and avocado
The presence of vanilla, rosemary, arnica flower, and avocado makes it appealing
Offers instant moisture to the skin, making it soft and supple
It is 100% vegan and cruelty-free
What We Don't Like: Improper application may result in blotchy and uneven tanning
3. Advanced Color Complex: Naturena Self Tanner Mousse
Features lightweight formula with skin-nourishing properties
Infused with jojoba oil, argan oil, coconut oil, rosehip oil, grapeseed oil, and avocado oil for ultra nourishment
The presence of an Advanced Color Complex helps skin to become flawless
It gives a sunkissed, bronze finish instantly
It ensures a long-lasting tan
It has not fake tan smell
Best for dry skin due to its extreme skin hydrating properties
What We Don't Like: According to some users, it has a mild tan smell.
[ Read: 5 Best Home Remedies for Dry Skin on Face ] 
4. Offers Sun Protection: Jergens Natural Glow Daily Moisturizer
It can be used as a daily moisturizer
Keeps skin well-nourished and deeply hydrated
It helps in developing a natural-looking tan
Offers broad-spectrum sunscreen protection with SPF 20
Oil-free yet keeps skin soft and supple
Protects skin from harmful UVA and UVB rays
It does not clog the pores or breakouts
Also, it consists of nourishing emollients
Darkens the skin tone gradually
Combats premature skin aging
What We Don't Like: It may cause skin irritation; therefore patch test is recommended.
5. Best for Instant Tan: Supergoop! Healthy Glow Sunless Tan
Protects the skin from harmful UV rays with SPF 40
It contains botanicals and moisturizers for a natural glowing tan
It helps develop a flawless tan with the desired shade
Nourishes the skin perfectly
It can be used in two different ways
Free of paraben and phthalates
What We Don't Like: It may make skin feel oily and sticky.
[ Read: 5 Best Self Tanner For Beginners ]
6. Best Gradual Tanner: Coppertone Glow Protect And Tan
Offers the best tanning and sun protection with SPF 45
It helps build a summer glow
Nourishes the skin after each use
Gradually darkens the skin tone
It gives control over how deep or dark color you desire
What We Don't Like: It takes time to develop a tan; you need patience.
7. Best for Dry Sensitive Skin: Lancaster Sun Beauty Melting Tanning Milk
It helps to achieve a sunless tan without harming the skin
It is a water-resistant SPF 15 self-tanner
Develops a stunning tan without damaging it from UV rays
Keeps skin healthy and nourished
Features Infrared Technology that protects skin from the sun
Ensures no skin damage
Tan Activator Complex ensures an even tan with a radiant glow lasting longer
Smells great
What We Don't Like: It may feel sticky on the skin.
Conclusion
Even though these are the best self-tanners for dry skin, we still recommend you perform a patch test before slathering it all over the body to subside the chances of any allergic reaction.
You Might Also Like: