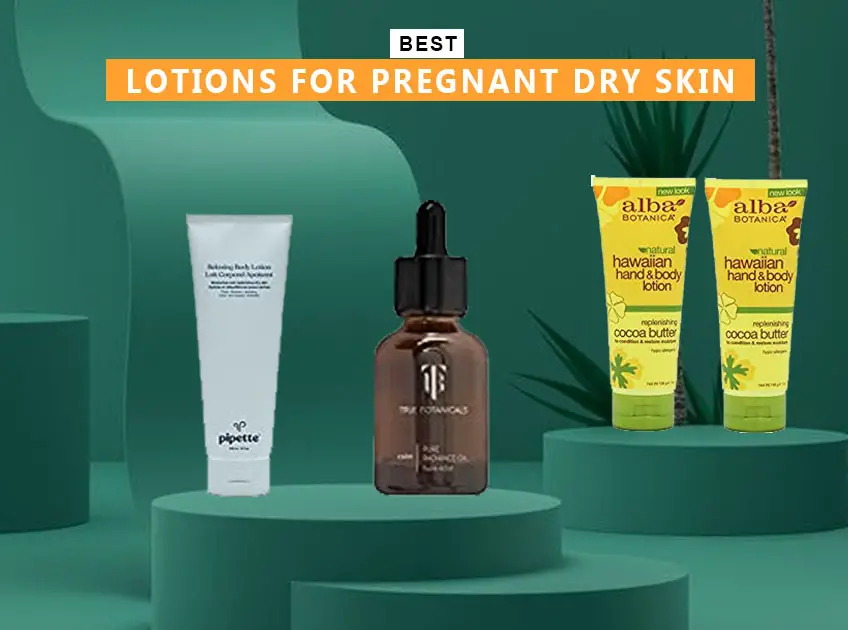 Pregnancy brings multiple changes in the body, including the skin. As a result of the hormonal surge, the skin reacts; differently, which may cause different skin issues. Dry or greasy patches, dark spots, stretch marks, newly sprouted moles, an itchy belly, and more are common signs and symptoms of pregnant skin.
Pregnant Dry Skin
Fortunately, many lotions help eradicate these dry skin issues and other skin concerns with pregnancy and help give soft, healthy, and supple skin. Here, you can find the 7 best lotions for pregnant dry skin that we have selected based on their performance and quality. Moreover, we have taken the ingredients into account while compiling the list.
Check them out and enjoy soft, supple, and hydrated skin throughout pregnancy.
7 Best Lotions For Pregnant Dry Skin
1. Smoothing and Brightening Serum: Glo Skin Beauty Hydra-Bright Alpha Arbutin Drops
It is infused with skin-nourishing ingredients such as alpha arbutin and azelaic acid
Gives instant radiance to the skin and combats hyperpigmentation
The powerful blend of gentle lactic acid and azelaic acid makes this serum a good choice for a pregnancy-safe boost of radiance and clarity.
It can be added to the foundation to get an instant glow
Effectively helps reduce dark spots and hyperpigmentation.
What We Don't Like: It is pricey.
[ Read: 7 Best Moisturizers For Brightening Skin ]
2. Best for Ultra Sensitive Skin: Neutrogena Hydro Boost Gel-Cream with Hyaluronic Acid for Extra-Dry Skin
The major ingredient is hyaluronic acid, a powerful component with super-hydrating properties
It offers instant hydration and boosts the skin's health
Also, it works on other skin concerns like hyperpigmentation and pregnancy blemishes
Free of dye and is non-comedogenic, thus suits sensitive skin and acne-prone skin
What We Don't Like: It is not suitable to use around the sensitive areas around the eyes.
3. Hypoallergenic and EWG Verified: True Botanicals Pure Radiance Oil
It is one of the best pregnancy-safe skincare-calming face oil
Infused with skin-loving ingredients like chamomile, calendula, and cold-pressed cucumber seed oil
It also contains 27 plant actives that help reduce skin sensitivities
Useful for those with rosacea-prone skin, but suits all skin types
It helps to lock in moisture and boost your natural pregnancy glow
What We Don't Like: It is expensive.
4. Sun Protection: EltaMD UV Clear Broad-Spectrum SPF46
Infused with zinc oxide that helps sidestep pregnancy-triggered melasma in the third trimester
Reduces the appearance of dark patches on the forehead, cheeks, and upper lip
It can be used daily as a broad-spectrum facial mineral sunscreen
The gentle and mild ingredients stay kind to the sensitive skin
It is a lightweight, oil-free formula that absorbs quickly and leaves zero residue
Also, it contains the pregnancy-safe ingredient niacinamide, which reduces discoloration and redness
What We Don't Like: It got an EWG rating of 3.
[ Read: What UV Index Is Good For Tanning ]
5. Plant-based Ingredients: Pipette Relaxing Body Lotion
It is packed with squalane that hydrates skin intensely
Derived from natural sugarcane and other plant-based emollients
It feels soft and nourishing to the skin
Free from synthetic fragrances and is EWG safe
It is hypoallergenic
What We Don't Like: Overwhelming fragrance.
6. Tropical Smell: Alba Botanica Hawaiian hand & body cocoa butter lotion
It consists of the goodness of cocoa butter, jojoba oil, macadamia oil, cocoa butter, and shea butter
It offers instant and long-lasting hydration and stays gentle on the skin
The rich formula penetrates and absorbs easily and quickly by the skin
It is hypoallergenic and does not cause any allergic reactions, thus suitable for sensitive skin as well
Enriched with a heavenly tropical smell.
What We Don't Like: Overpowering smell. Also, the product is pricey.
[ Read: 7 Best Cocoa Butter Lotions For Black Skin ]
7. All-In-One Solution For Dryness: Hempz Original Herbal Body Moisturizer
Enriched with omega-6 and omega-3 fatty acids to manage dry menopausal skin
It contains shea butter to provide excellent hydration to the skin and protect it from sun damage
Delivers Vitamins A, C, and E to the skin acts as a shield and protects the skin from damage-causing oxidants
Suitable for drying winter season and for flaky skin issues
It also treats atopic dermatitis and prevents skin damage
The refreshing fragrance makes it even more appealing
What We Don't Like: It may trigger an allergic reaction to sensitive skin.
Conclusion
These are the best body lotions for pregnant dry skin with skin-calming and soothing effects. Enjoy the goodness of these amazing lotions and flaunt your healthy skin throughout your pregnancy journey.
You Might Also Like: