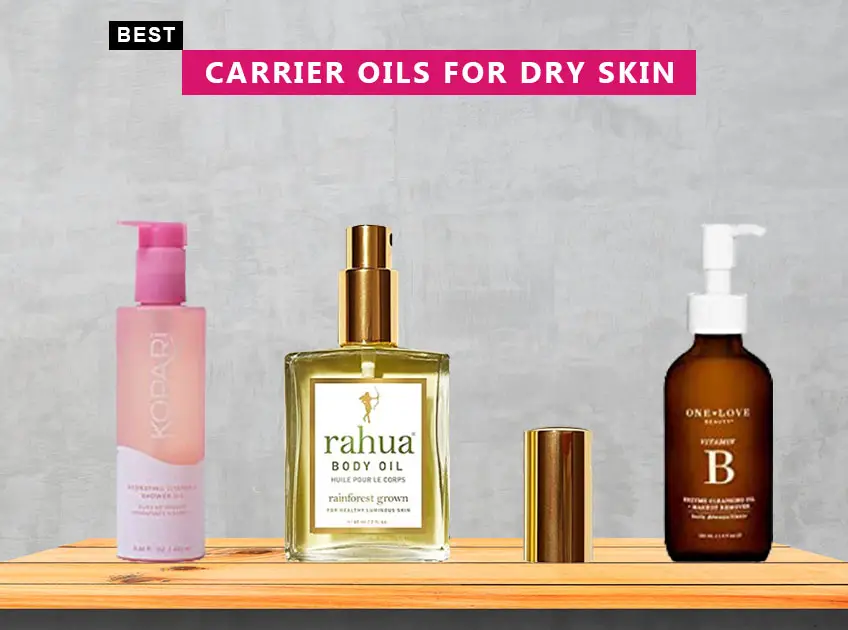 Certain carrier body oils have to be a part of the daily skincare routine besides lotions and creams. This is because the oil can be an amazing addition and even sometimes a substitute for skin moisturisation. It can have outcomes that you cant have generally other moisturising products.
Carrier Oils
You can eliminate dryness or just lock in the moisture by applying it on damp skin post-shower. The lightweight body oils available today are fast-absorbing and don't cause the unwanted greasiness of conventional oils. Read on to check out some of the best carrier oils for your dry skin.
7 Best Carrier Oils For Dry Skin
1. Kopari Sudsy Shower Oil for boosting collagen production
What do We like?
Vitamin E in this oil nourishes and soothes the skin.
Collagen production is promoted through oleic acid.
Results in silky smooth skin.
Has the goodness of coconut oil, avocado oil and passion fruit seed.
Bottle with pump for convenient use.
Long-lasting effect.
What We Don't Like?
Could have a better hydrating effect.
[ Read: Vitamin E Oil for Skin: Everything You Need to Know ]
2. Rahua Body oil with the goodness of Omega-3 fatty acids
What do We like?
Spray-on oil makes it easy to apply.
Lightweight but still keeps the skin hydrated.
Its ingredients are free from chemicals.
Repairs and damaged skin.
Leaves your skin hydrated.
What We Don't Like?
The fragrance doesn't last long.
3. Everyday oil Mainstay blend for a hydrating effect
What do We like?
It conditions and seals the moisture of the skin without clogging the pores.
Keeps the skin hydrated.
Reduces chances of acne formation.
This is a blend of coconut, olive, argan and jojoba oil, that can be used on the face, hair and body.
What We Don't Like?
The hydrating effect could have been better.
[ Read: 7 Best Carrier Oils For Acne Prone Skin And Scars ]
4. Bio-Oil enriched with Vitamin E
What do We like?
It is non-comedogenic.
Effective on scars and stretchmarks
Can be used on sensitive and dry skin.
Recommended by dermatologists.
It has a powdery scent and silky feel.
What We Don't Like?
Not very effective on stretch marks.
[ Read: Best Setting Powder For Dry Skin ]
5. Herbivore Botanicals Jasmine body oil for skin glow
What do We like?
Has nourishing anti-oxidants and vitamins for healthy skin.
Comes with an amazing floral scent.
Keeps the skin moisturised for a long time.
Natural, vegan and cruelty-free.
Omega-3 fatty acids keep the skin hydrated and glowy.
What We Don't Like?
The price is on the higher end.
6. One Love beauty vitamin B oil for hydrating and cleansing the skin
What do We like?
Adds a sheen to the skin.
It has shea oil which is rich in vitamins A and E.
The Vitamin C in the oil has papaya enzymes that exfoliate the skin gently.
Has a hydrating effect.
Ease of use with pump-top applicator.
What We Don't Like?
Its price is on the higher end.
[ Read: 10 Best Exfoliant For Dry Skin ]
7. Moroccan body oil- a quick-absorbing formula
What do We like?
Gets absorbed on the skin quickly and locks in moisture.
Has a soothing effect on dry skin.
Makes the skin feel soft and silky.
Argan, olive and avocado oils are infused into the product which imparts a delicate signature Moroccan oil scent.
What We Don't Like?
Some might not like the fragrance.
[ Read: Home Remedies for Dry Skin on Face ]
Choosing The Best Oil For Dry Skin
While choosing any oil for dry skin, you need to check the ingredients first. Olive and Avocado oil are the best and most impactful ingredients for dry skin. If it has olive oil, that is perfect for providing nourishment and anti-ageing effects. This even corrects dry skin issues such as eczema, rosacea and psoriasis. Similarly, Avocado oil can penetrate deep into the skin and stimulate collagen formation, keeping the skin supple and healthy.
Conclusion:
While purchasing a carrier oil for the body, there are a few points to remember. The first is to check if it is lightweight so it gets absorbed in the skin quickly. It should have an appealing scent that suits your mood and results in a soothing effect. Finally, the ingredients should address skin dryness or any other concern that exists. Keeping these points in mind, we have all the above products that you can safely try for tackling dry skin issues and having healthy skin.
You Might Also Like: