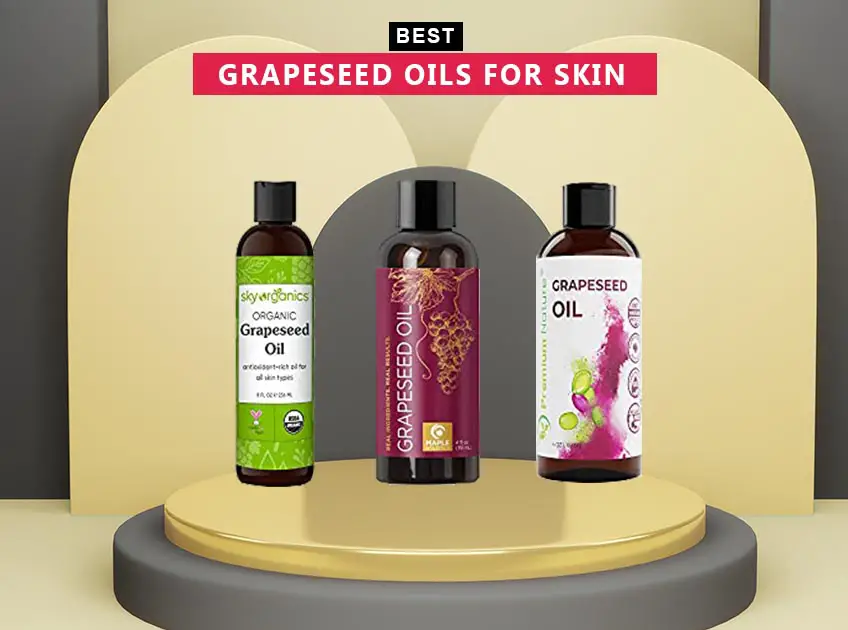 Grapeseed oil contains various essential nutrients that nourish the skin. It is loaded with linolenic acid, vitamin E, omega 3 and 6 fatty acids and antioxidants that keep up the skin's health. Issues like itching, redness, and skin irritation are well managed because of the anti-inflammatory properties of the oil.
This oil lightens the skin and can also be beneficial for the hair. Read on to check some of the best grape seed oils available online for hair.
7 Best Grapeseed Oils For Skin
1. Noble Roots grapeseed Oil for flawless skin
Why Do We Like It?
It gets absorbed into the skin easily.
Reduces inflammation and redness, hence a great facial oil.
It can be used as a makeup remover.
Pores are tightened and skin is lightened by it.
It reduces the appearance of scars.
Vitamin E, phenolic anti-oxidants, and omega-6 fatty acids have a nourishing effect on the skin.
What Do We Dont Like About It?
Might not work on skin with existing skin issues like eczema. Doctor's advice should be sought.
[ Read: 7 Best Facials For Sensitive Skin ]
2. NOW Solutions Grapeseed Oil for smooth and silky skin
Why Do We Like It?
Perfect for sensitive skin but can be used on any skin type.
Makes the skin silky and smooth.
Lightweight and odourless. It efficiently prevents the dryness of the skin.
Doesn't clog the pores and cause acne.
What Do We Dont Like About It?
A little more hydrating effect could have been better for dry skin.
3. Premium Nature Grapeseed Oil for healthy and glowing skin
Why Do We Like It?
It is a natural cosmetic that gets absorbed by the skin easily.
Keeps the skin moisturised.
All nutrients are intact as it is made using a cold-pressed technique.
Tightens the skin and makes it appear more radiant.
Doesn't cause any staining.
No interference with essential oils, neither it change them.
Doesn't have any strong odour.
What Do We Dont Like About It?
Becomes sticky after some time and the ball applicators get clogged.
4. Maple Holistics Pure Grapeseed Oil for an anti-ageing skin Care
Why Do We Like It?
It has all nutrients intact as a cold-pressed method of preparation has been used.
Vitamin E in it has a nourishing effect on dry skin as well as hair.
Keeps the skin moisturised.
No additives or fillers.
What Do We Dont Like About It?
The price is on the higher end.
[ Read: 5 Best Home Remedies for Dry Skin on Face ]
5. Mary Taylor Naturals Organic Grapeseed Oil for well-nourished hair
Why Do We Like It?
It is an organic, cold-pressed grapeseed oil that has all the nutrients intact.
No chemicals have been used.
Vitamins, fatty acids and antioxidants in the oil keep the skin healthy.
Don't leave the oil greasy after application.
What Do We Dont Like About It?
It is odourless and hence might be disliked by those looking for an oil that has a pleasant scent.
6. Majestic Pure Grapeseed Oil that absorbs easily and keeps hair nourished
Why Do We Like It?
Vegan-friendly.
Gets easily absorbed into the skin.
Doesn't contain any harmful chemicals.
Cruelty-free.
Has anti-oxidants and oligomeric proanthocyanidin complexes which are natural plant compounds having anti-carcinogenic, antiviral and anti-inflammatory effects.
Comes with a pump that is easy to use.
What Do We Dont Like About It?
Its scent might not be appealing to all.
[ Read: 7 Best Grapeseed Oils For Hair ]
7. Sky Organics Organic Grapeseed Oil for a healthy complexion
Why Do We Like It?
It is an organic grapeseed oil that is USDA-certified and cold-pressed, ensuring that no nutrients are destroyed
during the manufacturing process.
Brightens and clarifies the skin.
Gets absorbed into the skin easily.
Locks in the skin moisture, keeping it soft and supple.
Cruelty-free.
Lightweight and not greasy.
What Do We Dont Like About It?
The lack of a pump in the bottle makes it difficult to use.
Conclusion:
Various skin care products have organic ingredients in them for bright and glowing skin, one of which is grapeseed oil. Best products of skin care are often infused with grapeseed to keep the skin nourished and healthy. Besides using such products, it is crucial to have a healthy diet and include exercises in your daily routine to make the skin beautiful inside out.
You Might Also Like: