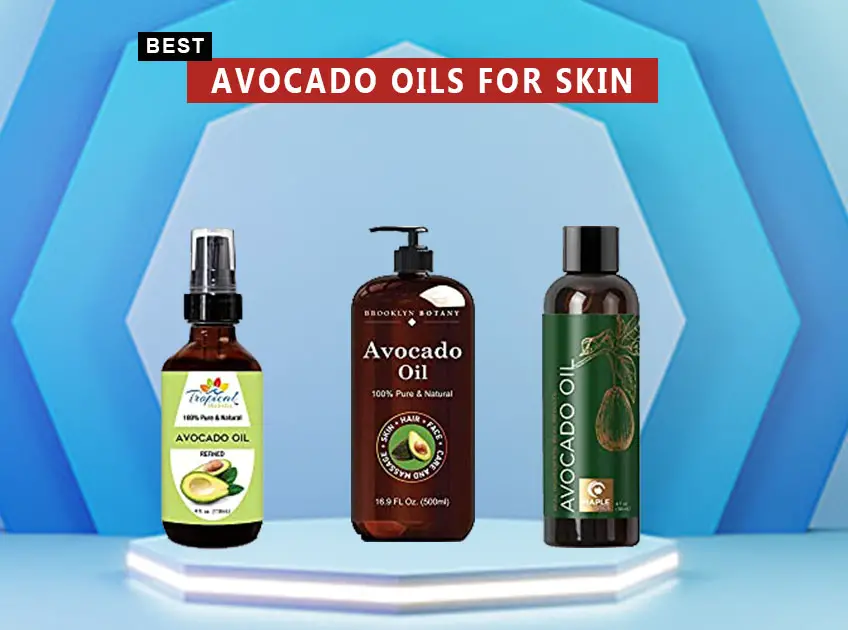 Loaded with anti-inflammatory, antioxidant, and emollient properties, avocado has gained huge popularity as a skincare product in the recent past. Avocado has been used in preparing different dishes due to its multiple health benefits. But today, avocado oil is equally in demand as it enhances skin health tremendously.
It helps to reduce signs of aging and keep skin ultra-nourished and deeply hydrated. Besides healing dry and dull skin, it can also protect from harmful UV rays, ensuring soft, supple, and nourished skin inside and out. Moreover, it is effective against skin issues like eczema, acne, seborrheic dermatitis, or psoriasis; therefore, highly recommended by dermatologists too.
Avocado Oils
Since there is a plethora of options in avocado oil, you may get confused about what to pick. Therefore, here we have listed the 7 best avocado oil for skin that makes skin healthier, soft, and supple.
Scroll down and check them out!
7 Best Avocado Oil For Skin
1. 100% Pure & Natural Avocado Oil: US Organic Unrefined Virgin Avocado Oil
It is a great source of essential fatty acids, antioxidants, minerals, and vitamins
Infused with Vitamin E that helps promote skin health
It is USDA-certified organic oil, made with a cold-pressed method to preserve its integrity
It comes with an eye dropper for easy application
What we don't like: It contains a strong fragrance that might feel overpowering.
2. Fast-absorbing Formula: Nature's Truth Cold Pressed Skin Care Avocado Base Oil
The skin absorbs the oil quickly, leaving it deeply nourished and moisturized
It helps to hydrate the skin, replenishing the lost moisture
It brings a silky-smooth texture to the skin, giving a spa-like feel at home
Free of paraben, gluten, and artificial fragrance
What we don't like: It is advised to perform a patch test before slathering all over the body.
3. Best For Aromatherapy: Brooklyn Botany Avocado Oil For Skin, Hair And
It is cold-pressed, professional-grade avocado oil, suitable for aromatherapy
It is 100% pure and natural
Absorbs deep into the skin, delivering all the essential nutrients and making it healthy
Free of alcohol, paraben, sulfate, and other nasty ingredients
What we don't like: It may feel little sticky on the skin.
4. Nutrient Rich And Hydrating: Now Solutions Avocado Oil
It features GMP-certified formula that ensures the product is safe, potent, and stable
Nutrient-rich and highly effective for dry skin, scalp, and hair
It creates a protective barrier on the skin, preventing moisture loss
It is non-GMO, UL Certified, and vegan
What we don't like: The medicinal scent of this oil is not liked by all.
5. Humectant Moisturizer: Maple Holistics Avocado Oil For Hair, Skin, And Nails
Suitable for dry and chapped skin
Penetrates deeply into the skin, improving collagen production, thus best for mature skin
A good source of antioxidants thus fades the signs of aging
It helps eliminate dark circles by minimizing capillary leakage
What we don't like: The texture of the oil is greasy, and it takes time to absorb properly to the skin.
[ Read: Benefits of Avocado Oil for Hair and Skin ]
6. Best For Age Spots: Artnaturals Usda Organic Avocado Oil
It delivers a good amount of minerals, vitamins, and antioxidants to the skin
Rich in essential oils and omega3 fatty acids
Works great for heels, cracked knees, and elbow
Free of gluten, hexane, sulfate, and other nasty chemicals
What we don't like: The fragrance may feel overpowering.
7. Premium Quality: Tropical Holistic 100% Pure Refined Avocado Oil
Formulated to suit all skin types, including sensitive skin
Repairs dull and dry skin and nourishes it deeply for a youthful glow
Free of additives and preservatives
Rich source of vitamins A, B, D, and E
Antioxidants helps repair skin damage, bringing radiance to the dull skin
What we don't like: It may smell awkward after a few months and the texture is also little greasy.
[ Read: The 5 Best Vitamins for Healthy Skin ]
Conclusion
Even though you use avocado oil for preparing tasty and nutritious meals, the effect of it on the skin, hair, nails, and scalp is tremendous. With astounding antioxidant, emollient, and anti-inflammatory properties, it helps maintain skin health.
Moreover, it protects skin from free radicals damage, ensuring long-lasting younger looking skin. Since avocado oil has so many benefits, including it on the beauty shelf is a wise decision. Buy any avocado oil we have listed and maintain your skin's health forever.
You Might Also Like: