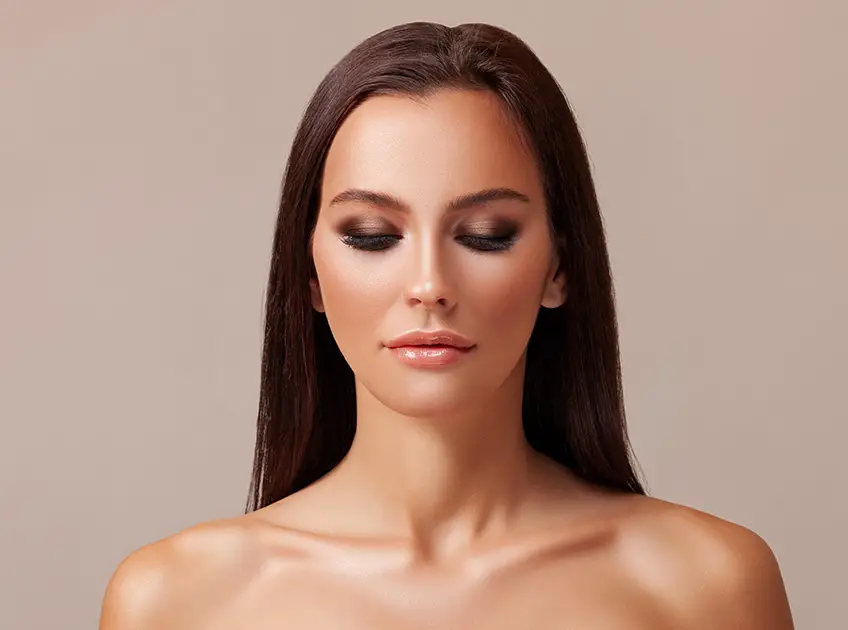 "Ummm your face looks different, What's this?
" Different? How?"
"It looks flaky all over"
"Arrghhh yet another failed attempt of my 'No Makeup' Makeup look"
Have you experienced the same ever? Trying to doll up for that perfect evening, and it backfired with a rough and dry-patchy face instead of a soft and smooth glam. Yes, Most of us have experienced it.
We get that dry and cracked look after makeup mostly due to the following factors:
Absence of hydrating nutrients and moisturisation on the skin.
Use of wrong makeup and beauty products.
Flawed application of the cosmetics also makes the face look dull and tired.
No need to be so hard on yourself ladies. Here we bring some of the best ways to get the shiny smooth finish on your face after makeup.
12 Best Tips To Prevent The Dry And Flaky Look After Makeup:
 1. Use The Right Cleansing Products
Knowing your skin type and choosing products according to it, is a must. If you have dry skin use cleaners which contain natural lipids such as ceramides. Ceramides moisturise and provide a strong skin barrier protecting the uppermost layer of the skin from external factors like free radicals and pollution.
 2. Do Exfoliate Your Skin
We ignore our skincare regime due to our busy schedules and try to fix it with makeup. But if your skin is not exfoliated properly the foundation tends to form a flaky layer on the face. Exfoliators unclog the skin pores, remove the dead cells from the surface of your skin and also even outs the skin tone. Exfoliation is done in three ways: chemical exfoliation, physical exfoliation or, by using an exfoliation tool. It is suggested to use chemical exfoliators as physical exfoliators can be harsh on your skin.
3. Moistutrise , Moisturise and Moisturise
Skin that lacks hydration seems to be dry, dull and patchy and can make the makeup look flaky. A good moisturizer consisting of hyaluronic acid, a naturally occurring substance of skin helps in restoring the moisture of the skin and keeps it soft and supple.
Do not apply thick moisturizers as they may take time to blend with your makeup.
4. Use The Primer and Make your skin an Ideal hydrated Canvas
Primer helps to form a smooth base for your makeup and makes your skin look flawless. Though it is not a necessary step, a hydrating primer can keep your makeup stay all day long without giving your skin a rough feel. Do choose the primer according to your skin type.
5. Use Water-based Foundations
Heavy foundations can make your skin appear dry and can also enhance the fine lines on your face. Water-based foundations have a lightweight formula which gives the skin a smooth and shiny finish. Avoid using silicone and oil-based foundations as they can cling to dry patches on the skin.
6. Use Correct Tools to Apply Your Foundation
If your want to avoid the cakey look on your face, using a beauty blender helps a ton.
Dot the water-based foundation all over your face but do not blend it. Use a beauty blender and get it wet. Squeeze the excess water and make it damp. Then use the beauty blender in the bouncing motion all over the dots of the foundation so that it sits perfectly on your face.
7. Applying Waterproof Concealer is a Must
After moisturizing your face and using a lightweight foundation, use a concealer to hide your dark circles, age spots or any other blemishes on the skin. This will help you to avoid the flaky and dry look, instead of using a heavy foundation. Set everything with a setting spray for a long-lasting look.
8. Use A Cream Blush
Cream blush gives a more natural look than the powder one and sinks easily onto the skin. Just tap it on your cheeks and temples of the face and you are ready with that rosy juicy look.
9. Apply Cream Highlighters
Want a dewy and intense look within seconds? Use a cream highlighter on the high points of your cheeks, on the bridge of your nose and on the brow bone and get that glowing skin without any flakiness.
10. Do not forget the Lip-Care
Before applying that gorgeous shade of lipstick, do not forget to exfoliate your lips to avoid that dry and chapped feel. Apply a thin layer of lip balm all over the lips before you start with your makeup to help nourish your lips till you get ready.
11. Use Hydrating Setting Sprays
If you want a soft, smooth and radiant look, use a good hydrating setting spray according to your skin type. It keeps the skin feeling fresh and seals your makeup for the entire day.
12. Lastly, Avoid Heavy Makeup
Heavy and full coverage foundations are mixed with coloured pigments. If not applied correctly to your skin, it can make your skin look patchy and dry.
Makeup is not everlasting. A healthy lifestyle and proper skin regime lead to healthy-looking skin. Your smooth, healthy skin and good makeup products according to the skin type are the secrets to avoiding that dryness and roughness on the skin.
So eat well, moisture your skin daily and do not forget to apply your sunscreen before stepping out.
Happy Skin, Happy Us :)
You Might Also Like: