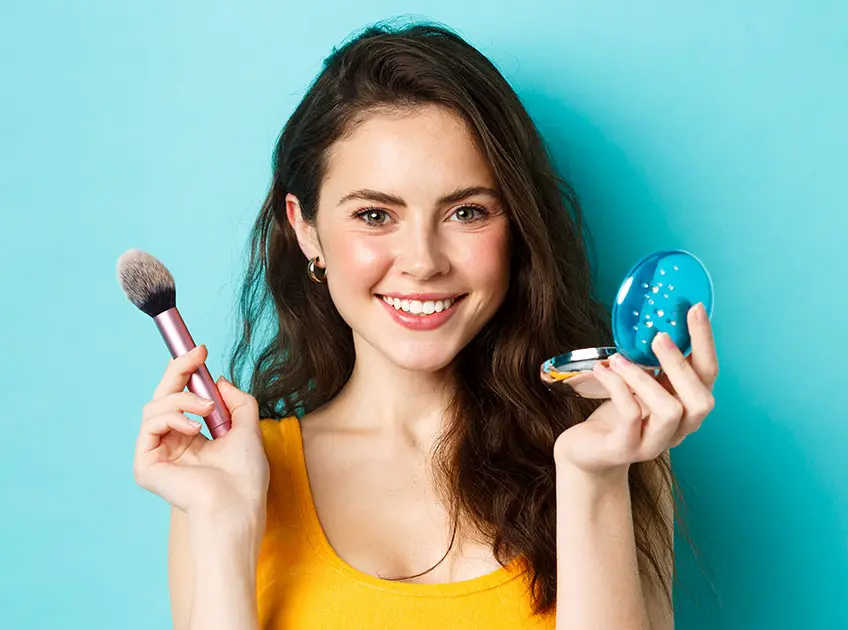 Hey there Beautiful ladies!!! Well we can never deny that Makeup not only enhances our natural beauty, it even boosts our confidence.
Sometimes on a sweaty summer day or a drentchy rainy day, Makeup doesn't stay for that long even if you are a pro self makeup artist. It is natural for your makeup to rub off after a while but there are ways to diminish your makeup from rubbing off.
Here are certain tips and tricks below to help you from keeping your foundation or concealer from rubbing off and have your makeup kept in its own lovely place.
10 Best Keep Makeup From Rubbing Off
1. Cleanse Your Face Well
It is always suggested to cleanse your face with a good cleanser that removes all the excess oil,dirt and dead skin cells from your face. It helps in cleansing the skin pores, thus making the skin surface smooth for makeup application.
2. Use A Good Toner
Toner refreshes and balances out the pH of the skin after cleansing and exfoliating the skin. It gives the skin a brighter and smooth look and helps the cosmetic products to stay longer on the skin with ease.
3. Use A Primer At the Start
Using a primer on your eyes and face before applying your makeup helps it to last longer. Primer smoothes and softens out the skin pores and also reduces the oil production in the face. It also refines the skin texture thus making the makeup application easy and smooth.
4. Use A Lightweight Moisturizer
If you apply the foundation or a concealer on a dry skin, it can make the skin look cakey. A good light weight moisturizer also works wonders to the skin before applying makeup. Moisturizer hydrates the skin and eases out the skin surface and smoothes it to even out the foundation or concealer application.
5. Lessen The Use Of Face Powders
If the makeup is not applied properly, the skin oils can loosen the face powders while applying the foundation. It can add abrasion to the surface of your skin and make the face look flaky, dry and rough.
6. Avoid Using Too Many Cosmetics
Using too many makeup products on your face can also lead to rubbing it off too early. You need to give time to each layer of the cosmetics to dry off well or else it creases or clumps up into lines and wrinkles on the face. Always apply makeup in thin layers.
7. Use Setting Spray On Your Eyeshadow Brush
One of the best tricks to keep your eye makeup firm on the lids is to dip the eyeshadow brush with a priming spray. It helps to keep the eyelids pigmented for long and also gives the eyes a metallic and glossy look.
8. Try To Use Water-Proof Makeup Products
waterproof mascaras
Waterproof makeup formulas are the best if you don't want your makeup to transfer on your clothes or reposition no matter what. Choose and to keep the eyes smudge-free all day long and avoid that "panda effect" on the face.
eyeliners
9. Apply Your Pretty Lip-Color The Right Way
If you want that smooth finish on your lips after applying that matte lipstick, always try to apply it in layers. After applying your lipstick blot it with a tissue. Put the tissue over your lips and dust a layer of setting powder with a brush on the top of it. Repeat the process until you get the desired effect. This is how the powder absorbs the excess moisture of the lipstick and keeps it in place.
10. Set Your Makeup With A Non-Sticky Setting Spray
Always use a setting spray or powder to keep your makeup intact. A good non-sticky setting spray prevents the makeup from smearing off and helps keep off the creases on the face. It is advised to spray once in every hour for best results.
Our skin is sensitive to all the dirt and pollution whenever we are out of our house and it needs effort to keep the makeup flawless for long hours. Makeup sets well on a smooth face so do not wear makeup while you are sweaty or dirty. Also, it is suggested to avoid makeup while exercising or if you are going to the gym.
It is not easy to wear makeup on a dry and rough skin. Your Skin needs to be pampered once in a while so that it is always prepped for an amazing makeup look. So we need to take care of the skin before and after the makeup application process.
Happy Skin, Happy You 🙂
You Might Also Like: