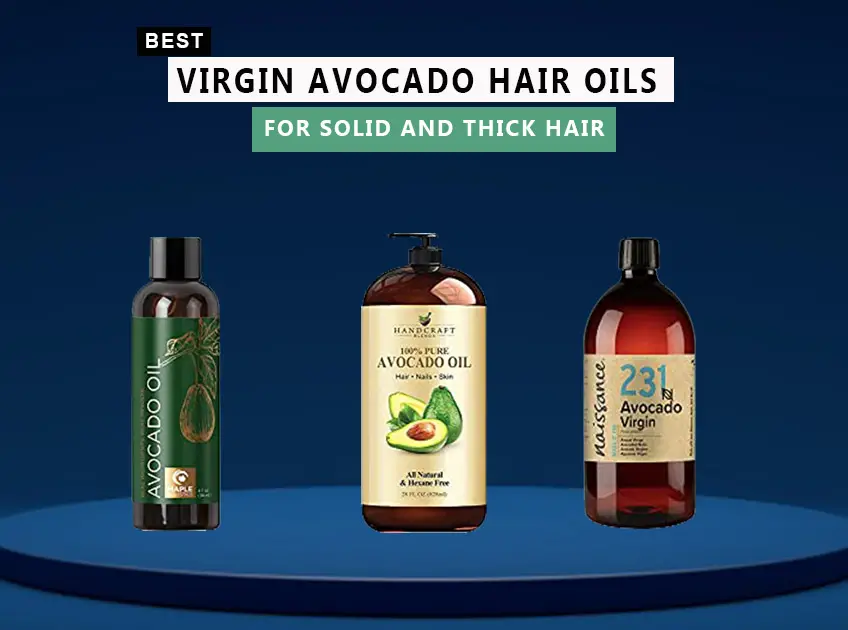 Avocados have an impressive use for hair care and beauty. It is rich in locking pores of the scalp, which seals the cuticles and prevents moisture loss.
The chemicals and toxin-free avocado oil are produced to give out healthy hair. It contains high fat, vitamin E and vitamin D, minerals, and antioxidants for solid hair. In addition, the crucial new-generation follicles are stimulated with the use of avocado oil.
Pure Virgin Avocado
Hair specialists and research says that avocado treats the hair in all the best possible ways and prevents hair breaks at the base.
7 Best Avocado Hair Oils For Solid And Thick Hair
1. Natural Avocado Hair Oil: Maple Holistic Avocado Oil
Completely honest with botanical extracts
Safe from nasty chemicals and is safe to use
100% natural cold press oil, which helps in nourishing and growth.
It helps in rejuvenating the split ends and helps in hair growth by boosting immunity.
What we don't like:
Even though the product claims to have all the natural ingredients, most customers feel the oil's stickiness.
2. High-quality Pure Avocado Hair Oil: Majestic Pure Supernatural Avocado Hair Oil
Made with handpicked raw materials for natural extract
Reduces external damages like dandruff and split ends.
Ideal for aromatherapy that makes it feel fresh
Free from toxic chemicals and preservatives.
What we don't like :
Most of the buyers feel the rusty smell while applying the oil.
Very luxurious but not a moisturizer as it dries up sooner
3. Nonstick Formulated Avocado Hair Oil: Handcraft Blends With Chemical-free Oil
It is a traditional process without using any external additives.
Controls dandruff and deeply moisturizes the hair
It contains B2 and B3, which nourishes the hair and skin
It also contains nutrients like magnesium which helps in preventing hair fall.
What we don't like:
Mostly jojoba oil smell is seen, so those who are allergic to the fragrance can add some essential oils and apply them.
[ Read: Essentail Oils for Hair Growth ]
4. Organic Virgin Avocado Hair Oil: Naissance Avocado Oil
100% Pure extraction from the pulp of avocado
Preservatives, chemicals, and enzymes free oil
True to the natural source and freshness of the avocado
Unrefined oil for healthy hair growth
What we don't like:
Using directly pure avocado oil may feel itchy, so mix it with any carrier oil and apply.
5. Hydrating Avocado Hair Oil: Premium Nature Pure Avocado Hair Oil
100% pure and natural plant extract,
The oil penetrates deeply for solid hair roots.
Softens and soothes the scalp, especially who have dry flakes
It enhances the hair texture and lowers the risk of hair breakage due to high fatty acids
What we don't like:
Most customers are still determining the smell of avocado oil, a natural dilution of avocado's essence.
6. Intensely Hydrating Avocado Hair Oil: Well's Avocado Oil For Healthy Hair
The source of avocado pulp extracted.
Repairs dry hair, split ends, and dry scalp
Prevents hair fall and promotes hair growth
The fresh feel of avocado aroma
What we don't like:
It is a bit pricier than expected.
[ Read: Home Remedies for Dry Itchy Scalp ]
7. Rejuvenating Avocado Hair Oil: La Tourangelle Unrefined Avocado Hair Oil
Strengthens and revives dry strands
Most decadent oil that maintains hair tensile with adequate elasticity
Pure refined avocado oil with the repair of dull hair
Increases collagen production that prevents in free – radical damage
What we don't like:
Avocado hair oil is hypersensitive, so people prone to sensitivity should try a patch test on this product.
Conclusion
After extensive research, we have enlisted these authentic and trustworthy brands of avocado oil, which could help you to get smooth and shiny hair. They also help to get glowing skin.
You Might Also Like: