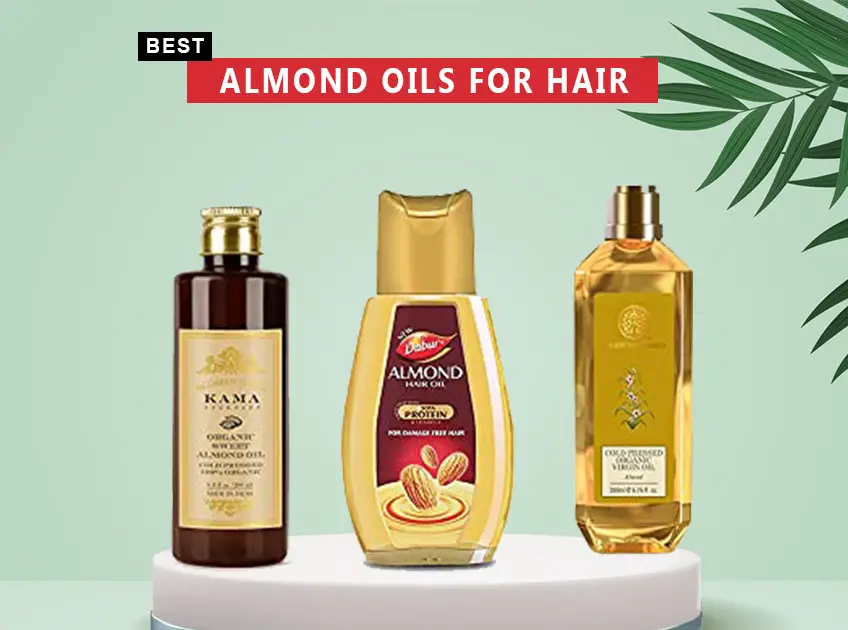 Almond oil is rich in nutrients like potassium, zinc, fatty acids and vitamin E. It is a wonderful oil with several benefits, besides general well-being. You can use it on the skin and hair to prevent radical damage as it is rich in antioxidants.
Almond Oils
It strengthens hair, acts as a shield against sun damage, reduces frizz, prevents inflammation and promotes the growth of hair. The linoleic and oleic acid in it repairs damage by lubricating the hair.
Read on to know about the top 7 almond oils.
7 Best Almond Oil For Hair
1. Dabur Almond Oil Enriched With Vitamin E
Compared to other hair oils, Dabur almond hair oil is enriched with twice vitamin E.
The lightweight oil nourishes the scalp and strengthens hair.
It prevents frizz and promotes hair growth.
It is non-sticky and repairs damaged hair by balancing the hair's protein with soya protein.
What we don't like:
Some people might not like the string scent of the oil.
There is some amount of mineral oil added to it.
[ Read: Vitamin E Oil For Hair – Benefits and How to Use It ]
2. Bajaj Almond Oil For Smooth And Lustrous Hair
This almond oil nourishes the hair and significantly reduces breakage.
During cold and dry seasons, it doesn't let the hair strands become rough and dry.
The non-sticky texture makes the hair healthy and imparts a lustrous look.
What we don't like:
The oil's fragrance could be too strong for some users.
[ Read: OZiva Biotin Review For Healthy And Lustrous Hair ]
3. Patanjali Pure Almond Oil With Multiple Health Benefits
Hair becomes strong and healthy.
It is edible and boosts brain power.
Skin remains nourished.
It is good for heart health.
Bones become stronger.
It relieves constipation.
What we don't like:
Its price is on the higher end.
[ Read: 5 Homemade Hair Serum Recipes for Healthy, Nourishing Hair ]
4. Forest Essential Almond Oil With No Artificial Fragrances
This is an ultra-smooth cold-pressed oil, with all the nutrients intact that soothe and nourishes the skin.
The natural fatty acids and infused nutrients keep the skin hydrated.
It has a non-greasy and lightweight texture.
There are no artificial fragrances added to the oil.
What we don't like:
The price of the product is on the higher end.
[ Read: How to Use Essential Oils for Hair Growth and Benefits ]
5. Hamdard Sweet Almond Oil To Lock To Control Frizz
This is 100% pure almond oil
This light-weight oil nourishes the hair with antioxidants, vitamins(A, B, D and E), omega-3 fatty acids, and proteins.
It is edible and can be given to babies as well.
The natural moisture of the hair is locked with sweet almond oil, which also prevents frizz and reduces the itchiness of the scalp.
What we don't like:
Its price is on the higher end.
[ Read: 7 Simple Home Remedies For Dry Itchy Scalp ]

6. Kama Ayurveda Sweet Almond Oil Rich In Antioxidants
This ayurvedic sweet almond oil contacts Centella Asiatica which are rich in antioxidants and have a soothing impact on the skin.
The nourishing properties of this fast-absorbing and non-sticky oil reduce fine lines of skin with consistent use.
It can be used to treat dehydrated under-eye skin.
What we don't like:
The price of the product is on the higher end.
[ Read: 16 Effective Tips For Healthy Hair ]
7. Wishcare Sweet Almond Oil Healthy Hair And Glowing Skin
This is a cold-pressed almond oil that keeps the skin healthy and prevents damage from UV rays.
Massaging it on the scalp promotes blood circulation and encourages the growth of smooth and healthy hair.
You can even use it for massaging babies for stronger muscles and keep the skin smooth and moisturised.
What we don't like:
Its availability in drugstores is quite limited.
Its price is on the higher end.
[ Read: How to Protect Hair from Sun Damage ]
Conclusion
There are various brands of almond oils in the market. The best way to choose one is to go for the cold-pressed oils and those having no other oils added to them. Such pure almond oils might be expensive but investing in them will be worth it as they will have immense benefits for your skin and hair health in the long run.
You Might Also Like: