We all yearn for healthy and shining hair. While some people are blessed with them, some need to make extra efforts to have them. Over time, the hair loses its volume and shine due to various reasons. To maintain the natural beauty of hair and combat common hair issues like hair fall, premature greying, and frizz, taking plant-based collagen could be fruitful.
Oziva Biotin is aN amazing plant-based collagen that comprises Sesbania Agati, Bamboo Shoot, Amla, and many other natural ingredients that promote hair growth and prevent hair issues.
Oziva Biotin Review
Oziva is one of the most trusted brands when it comes to plant-based collagen products. It is because each of their products is certified clean by US CLP & Certified Vegan by Vegan Society of UK.
Talking about the Oziva Plant-Based Biotin for stronger and voluminous hair, the product comprises 100% natural Sesbania Agati leaves that are known to promote hair growth and control hair fall. Apart from taking care of hair, the product also helps in maintaining healthy skin and nails.
When a plant-based product offers so much, we can't help but use them to get beautiful hair, healthy skin, and shining nails.
[ Read: Biotin for Hair Growth ]
Product Description
Oziva Plant-Based Biotin Product for Healthier, Shinier, and Stronger Luscious Locks
Easy to use, this product needs to be taken 2 scoops in water daily. Using it for at least 3 months will give an astounding result, and you will not be able to stop using it.
Apart from providing healthy and shiny hair, the product also focuses on improving the texture of your nail. Moreover, it makes the skin radiant and youthful.
Being a versatile collagen-boosting product, it acts like an anti-aging product too that improves stamina and works on energy metabolism. It promotes healthy blood cells and ensures you attain an active lifestyle. It also works wonders for neural health.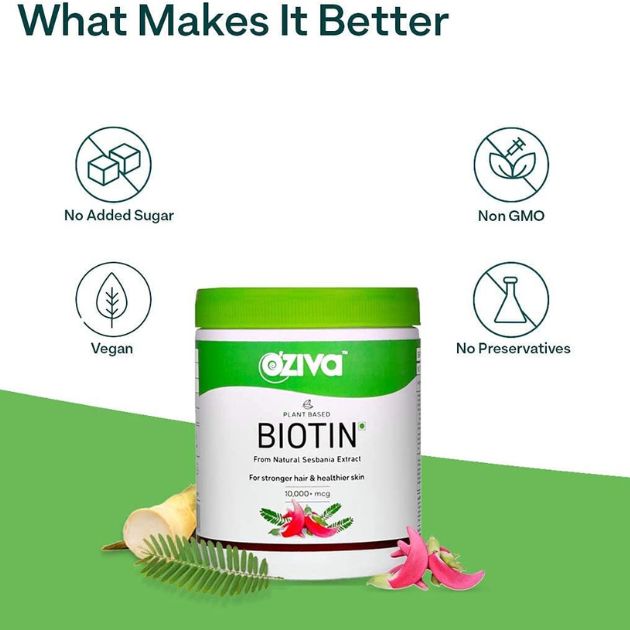 Nutrition Facts
The major ingredients of Oziva Biotin include the following-
Sesbania Agati– Sesbania is high in protein that promotes the health of hair and skin by increasing collagen production. It also works wonders for skin and nails.
Bamboo Shoot– It is a natural source of silica that helps in improving the texture of hair. The hair gets shiny and silky, looking healthier than ever.
Amla– Being a rich source of Vitamin C, Amla is a magical ingredient for hair and skin. It purifies the blood, helps to flush out the toxins, and nourishes the hair. Amla is a wonder ingredient that promotes hair growth.
Pomegranate– The presence of anti-oxidants in pomegranate makes the skin youthful. It diminishes fine lines and wrinkles and acts as an anti-aging product. At the same time, it promotes healthy hair growth.
[ Read: 7 Best Almond Oils For Hair ]
What We Like
The presence of plant-based natural collagen-boosting ingredients in Oziva Biotin makes it the best.

Completely natural with no synthetic isolates that are created with chemicals and solvents.

Readily absorbed by cells.

It is a gluten-free, soy-free, and non-GMO product.

No artificial sweeteners

Certified Clean by US CLP & Certified Vegan by Vegan Society of the UK

What We Don't Like
The only drawback of Oziva Biotin is you need to take three months to see the results. Being a plant-based product, it takes time to process things and make them work according to your body. So you need to be patient to see the desired results.
How Much Does Oziva Biotin Cost?
The regular price of Oziva Biotin is check here. However, you can get it at a discounted price from the website. Different offers run in Oziva that can help you get this amazing product at a lesser price.
Make sure you always purchase the product either from the website or from a trusted source like Amazon. It will ensure that the right product reaches you.
Alternative Products
Conclusion
Oziva Biotin is one of the most effective products that can help promote healthy hair growth. The best thing about it is the presence of all-natural ingredients that make it free from any kind of side-effect.
With no added sugar and preservatives, it scores more. If you are looking for the most trusted plant-based biotin product, go for Oziva Biotin without any second thoughts.
Read More:
Oziva Skin Vitamins
Oziva Glutathione
Oziva Matcha Plus
Oziva Face Wash
Oziva Anti Aging Serum
Oziva Face Serum
Oziva Hair Vitamins
Oziva Hair Mask
Oziva Hair Oil
Oziva Protein Powder For Hair Growth