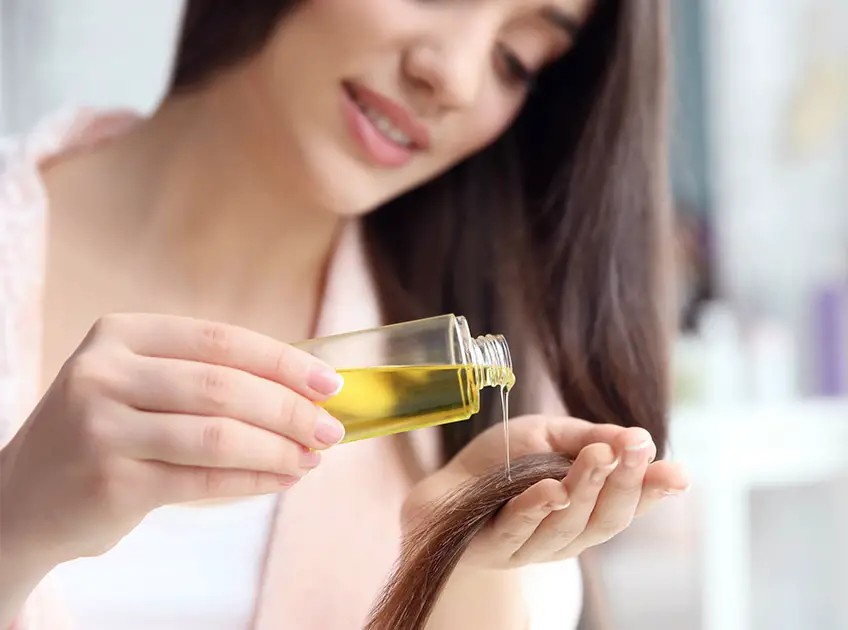 Everyone loves hair that looks refreshing and frizz-free but exposure to dust pollution makes it appear dull. Also, we cant always visit the salon to maintain the look, as the consistent use of styling tools is harmful. In such a scenario, natural ways of taking care of hair to keep it healthy and glossy are the best. One such way is using Vitamin E, which can keep your hair smooth and frizz-free. Read on to know more.
Benefits of Vitamin E oil for Hair
1. Keeps The Hair Voluminous: Hair growth is promoted by vitamin E hair oil. It even enhances the texture and volume of the tresses. Anti-oxidants in the oil prevents hair damage and thus keep them healthy.
2. Reduces Hair Loss: Certain lifestyle factors cause the hair follicles to weaken but vitamin E prevents the follicles from breaking, resulting in supple hair that looks gorgeous. Scalp remains nourished and tresses are strengthened.
3. No More Dry Hair: Vitamin E oil soothes dry hair and makes them silky. The natural moisture keeps the hair shiny and avoids frizziness.
4. Rejuvenation of Scalp: The natural conditioning characteristics of vitamin E moisturizes the skin and keep the scalp healthy when massaged regularly in a circular motion for 10-15 minutes. This prevents flaky scalp and gives a rejuvenating experience.
[ Recommended: Homemade Vitamin E Hair Mask Recipes ]
5. Say Goodbye to Split Ends: Split ends are one of the major issues which cant be resolved after numerous treatments or DIY remedies. But with regular use of Vitamin E oil, the damaged ends can be prevented, ensuring natural hair growth.
Process of Using Vitamin E oil for Hair
Here are the steps of using vitamin E oil.
1. Apply Diluted oil on The Scalp:
Take a small amount of oil and dilute with career oils such as lavender or coconut oil. Use your fingertips and palm for gently massaging the oil on the hair and scalp.
Instead of this, you can also add some drops of vitamin E oil to a shampoo or conditioner and use it evenly on your hair as usual.
2. Let The oil Sit on The Hair: This can be left for an hour or overnight. It can be rinsed after that.
3. Rinsing The Hair Thoroughly: Use some warm water for rinsing , to remove the dirt and build up. Then dry it as usual.
It is not easy to maintain the hair but with the vitamin E infused products, it can be kept healthier, and shinier. Everyone has different type of hair, so it is important to check with dermatologist in case of any issue on using the vitamin E oil. This happens for those with sensitive scalp. Others can use it regularly to avoid dull and frizzy hair.
Read More: