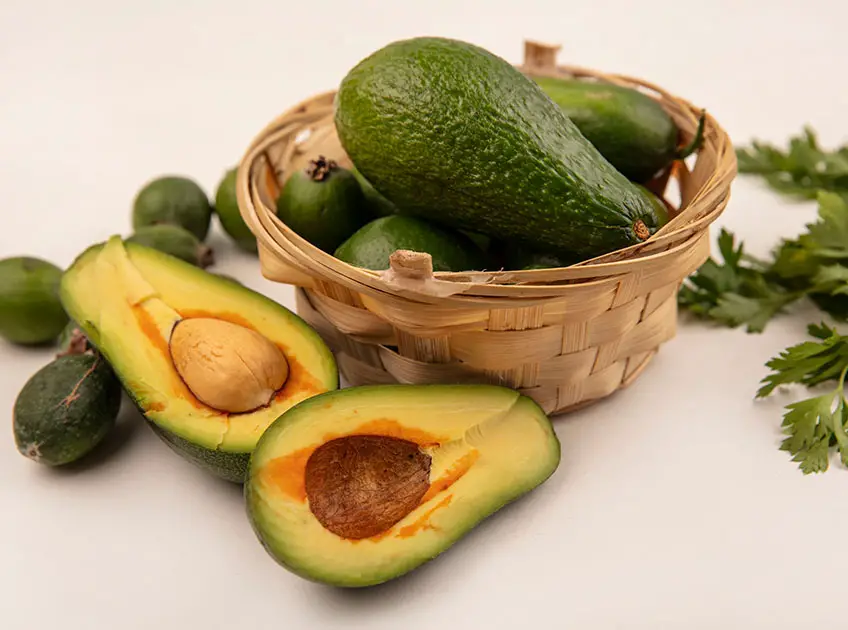 Avocado is a nutritious fruit rich in healthy unsaturated fats and vital nutrients, such as folate and vitamin K. These nutrients can contribute to children's development, growth, and overall health. The fruit has a pleasant flavor and creamy texture, and you can choose from various sweet and savory avocado recipes for children.
There are several avocado varieties out of which Hass avocado is most commonly consume. If you intend to add avocado to your child's regular diet, knowing more about this unique fruit can help you make an informed choice.
Health Benefits Of Avocado For Children
Avocado offers several nutrients, phytonutrients, and bioactive compounds that provide long-term health benefits (5). Some of those notable benefits are the following.
1. Provides Vital Vitamins and Minerals:
Avocado contains significant amounts of vitamin C, E, and folate. Besides, it contains high amounts of potassium and fair amounts of phosphorus and magnesium. All these nutrients are necessary for regulating body functions that facilitate children's healthy growth and sustenance.
2. Supports Gut Health:
One cup (150g) of avocado offers ten grams of dietary fiber. Fiber is vital for a healthy bowel movement, which keeps constipation at bay. Besides, it acts as a prebiotic that nourishes the gut microbiome, boosting health. Research shows that fresh avocado consumption is associated with increased good bacteria, resulting in health-promoting SCFAs (short-chain fatty acids) production.
3. Boosts Immunity:
Avocado contains vitamins, minerals, and bioactive compounds, such as carotenoids, lutein, and zeaxanthin, benefitting the body's immune response. Besides, oleic acid in avocado exhibits anti-inflammatory properties that can also enhance immunity.
4. Offers Healthy Fats:
Avocado has MUFA (monounsaturated fatty acids) and PUFA (polyunsaturated fatty acids) fats. Oleic acid (MUFA), a "good fat," makes most of the fruit's fat composition and promotes heart health. Besides, it enhances the absorption of nutrients and bioavailability of phytochemicals. Phytosterols are some other compounds in avocado that also support heart health over time.
Healthy Avocado Recipes For Children
Here are some healthy and yummy avocado recipes that children will devour happily.
1. Avocado and Cheese Sandwich
What You Need:
2 rye bread slices
1 cup baby spinach
1⁄2 cup mozzarella cheese (shredded)
1⁄2 cup goat cheese
1⁄2 cup avocado (chopped)
1tsp toasted sesame seeds
1tsp olive oil
1⁄2 tsp garlic (minced)
1⁄2 tsp Italian seasoning
Preparation:
Blend avocado, baby spinach, goat cheese, and garlic into a thick spread using a blender or food processor.
Layer a bread slice with the avocado spread topped with mozzarella cheese, sesame seeds, and Italian seasoning.
Cover the bread slice with another slice to make a sandwich.
Heat oil in a grilling pan over a low flame.
As the oil warms, grill the sandwich from both sides until they turn golden brown.
Transfer the sandwich to a plate and serve warm with a dip of your choice.
2. Avocado and Egg Sandwich
What You Need:
2 hard-boiled eggs (peeled and mashed)
1 burger bun
1 avocado (pitted and peeled)
3tbsp celery stalk (finely chopped)
2tbsp vegan mayonnaise or Greek yogurt
11⁄2 tsp fresh lemon juice
1tbsp fresh chives (finely chopped)
Salt and freshly ground black pepper, to taste
Preparation:
Put mashed avocado, mayonnaise, and lemon juice in a mixing bowl. Mix well until you get a homogeneous mixture.
Stir in eggs, celery, chives, salt, and pepper powder. Mix everything well.
Slit the burger bun and fill in the avocado mixture. Serve with homemade ketchup or dip of your choice.
You can add more veggies, such as onion, broccoli, and corn, to enhance this recipe's flavor and nutritional value.
3. Baked Avocado Fries
What You Need:
2 avocados (peeled, pitted, and sliced lengthwise)
1 egg (beaten)
1⁄4 cup all-purpose flour
1⁄4 cup Panko bread crumbs
1tsp chili powder
1tsp cumin
1tsp garlic powder
Salt and black pepper powder, to taste
Preparation:
Preheat the oven to 425°F (218°C).
Put the all-purpose flour, chili powder, cumin, garlic powder, pepper powder, and salt in a bowl. Mix all the ingredients well using a fork.
In a separate bowl, keep the beaten egg ready.
Now, one-by-one, place avocado slices into the seasoned flour. Then, dip each avocado into the egg and lastly into the bread crumbs, coating them uniformly.
Put these slices on a baking sheet and bake for 12 minutes.
Once done, transfer the avocado fries to a serving plate and serve with a dip or ketchup of your choice.
4. Baked Egg in Avocado
What You Need:
1 avocado (halved and pitted)
2 slices cooked bacon (crumbled)
2 eggs
2tsp fresh chives (chopped)
1⁄2 tsp dried parsley
Pinch of oregano and black pepper powder
Preparation:
Preheat the oven to 425°F (220°C).
Meanwhile, put the avocado halves in a baking dish and gently crack the egg into the avocado pit. Ensure the egg yolk stays intact.
Sprinkle sea salt, oregano, and pepper. Put the baking dish into the oven and bake for about 15 minutes until the eggs are set, and their crust appears golden brown.
Transfer the avocados to a plate and sprinkle cooked bacon over them. Serve warm with steamed veggies and garlic toast.
You can also add veggies to this recipe instead of serving them separately.
5. Avocado Pasta
What You Need:
1 cup whole wheat penne pasta (cooked)
1 cup baby spinach (chopped)
1⁄2 cup corn (boiled)
1⁄2 cup red bell pepper (chopped)
1⁄2 cup tofu (crumbled)
1 avocado (chopped)
2 garlic cloves (minced)
2tbsp olive oil
1tsp lemon juice
Salt and black pepper powder, to taste
Preparation:
Blend avocado, lemon juice, a tablespoon of olive oil, garlic, baby spinach, salt, and black pepper into a smooth paste using a blender. Add some water to adjust the consistency if required.
Heat olive oil in a saucepan and sauté bell pepper and crumbled tofu until the bell pepper turns tender and tofu turns light brown.
Pour in the avocado sauce and cooked pasta into the saucepan and mix well until the pasta is evenly coated.
Serve immediately with a cup of fresh orange juice or homemade lemonade.
You can sprinkle toasted sesame seeds before serving to enhance the dish's nutritional value.
Avocado is a nutritious fruit that can add value to your child's diet. You can feed ripe avocados to children by trying different sweet and savory avocado recipes. Focus on making avocado a part of the child's well-balanced diet so that they can reap most of the fruit's health benefits.
Image Credit: freepik
You Might Also Like: