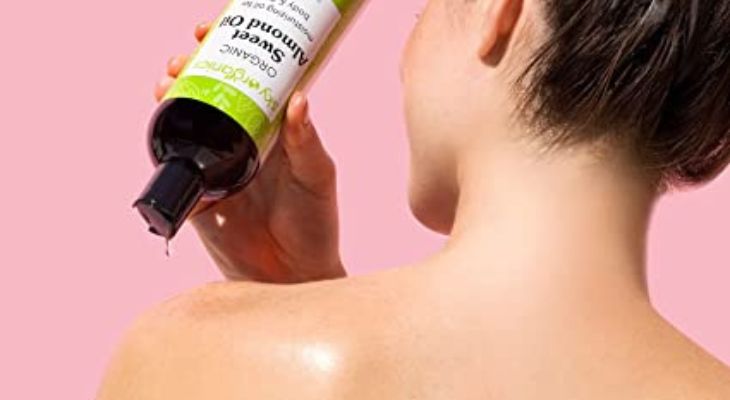 Almond is one of those plant-based ingredients that help the body and skin inside out. It is not only a tasty and nutritious nut but also comes with multiple benefits for the skin. Enriched with fatty acids, almond oil can do wonders on the skin.
People struggling with dry and flaky skin can benefit from almond oil. The healthy fat nourishes the skin deeply and provides intense moisturization. Furthermore, it helps to manage dark circles, puffy eyes, marks, spots, and scars on the face.
Almond Oils
The best thing about almond oil is it is gentle enough to use on the delicate skin of babies. Using almond oil regularly can help improve bone and muscle strength. Here are the 7 best almond oil for the skin.
7 Best Almond Oils for Skin
1. Complete Skincare Regimen: Sweet Almond Oil by Sky Organics
Helps you tackle your dry skin and leave you with soft, hydrated, and healthy skin
Derived from the seeds of the sweet almond tree, which adds to its purity and makes it 100% natural
It is organic, ethically sourced, vegan and cruelty-free
Fast-absorbing oil infused with rich fatty acids and vitamin E
Non-sticky formula and doesn't clog the pores
What we don't like:
Since it is non-greasy and oil-free, it may not offer long-lasting results, and you may need to reapply.
2. Best for Makeup Removing: PURA D'OR Organic Sweet Almond Oil
Cold-pressed almond oil can remove waterproof makeup and leave your skin feeling moisturized
Minimizes acne formation and treats dark circles
Enriched with vitamins A and E, helps give a youthful glow
Light-textured oil, suitable for sensitive skin
What we don't like:
You may find the smell of this almond oil overpowering.
3. USDA Certified Organic Oil: Mary Tylor Naturals Cold Pressed Sweet Almond Oil
Formulated with antioxidants, vitamins A, B, C, and E
Consists of proteins and essential fatty acids that help maintain the moisture balance of the skin
Cold-pressed almond oil that works great as a carrier oil
Free of additives, chemicals, and fillers that may cause skin irritation
What we don't like:
The consistency of the oil is sticky, and people with oily skin may not find it suitable for them.
4. 100% Pure Moisturizing Oil: NOW Solutions, Sweet Almond Oil
Promotes healthy-looking skin, perfect for nourishing and reviving any skin type
Easily absorbed and won't clog pores, promoting clear, soft, healthy-looking skin
NPA A-rated GMP certification, thus GMP Quality Assured
Ideal for the entire body and is derived from pressed almonds
What we don't like:
Even though it has GMP certification, the result won't be ever-lasting.
5. USDA Certified Organic Oil: Sky Organics Organic Sweet Almond Oil
Rich in vitamins A and E delivers long-lasting moisture and softness to the skin
Features silky, lightweight texture that absorbs into skin with ease, without leaving a greasy residue behind
100% pure Organic Sweet Almond Oil is retrieved through a process of cold-pressing
100% vegan and cruelty-free
What we don't like:
If you have sensitive skin, we recommend not to use this almond oil as it may cause skin irritation.
6. Scent-free Oil: Premium Nature Store Sweet Almond Oil
Penetrates deeply into the skin and dislodges dirt and debris accumulated in the skin pores
Infused with vitamins A, E, B, & D, and also Zinc, Calcium, which gets absorbed without blocking pores
Hypoallergenic, all-natural, and gentle enough to be used by all skin types
It is lightweight and odorless
What we don't like:
The consistency of Premium Nature Store Sweet Almond Oil is greasy. It may feel sticky on the body and face.
7. Revive Your Entire Body: Eve Hansen Organic Sweet Almond Oil
A perfect natural moisturizer, organic massage oil, body oil, hair treatment oil, cuticle oil, and face oil
Effective dry scalp treatment and dark spot corrector for the face
Repair and hydrate dry and irritated skin
Rich in Vitamins A, B, and E that improve skin and hair health
What we don't like:
Even though this almond oil is excellent in all aspects, it takes time to absorb into the skin.
Conclusion
Almond can is a magic potion for all skin types- dry, normal, combination, or sensitive. Until you use 100% pure and organic almond oil for the skin, no skin issues can hamper its health. So, choose wisely and revive your skin's health.
You Might Also Like: