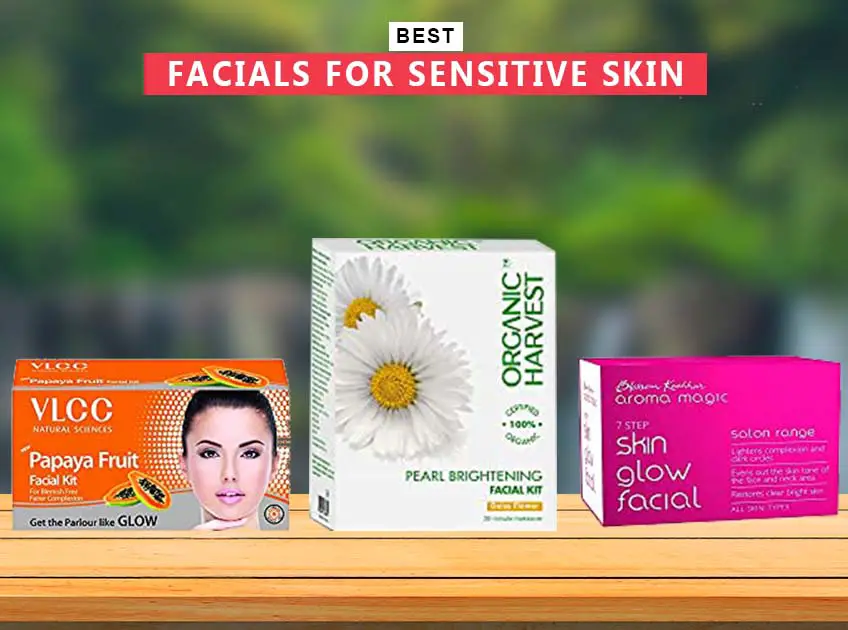 Sensitive skin often has issues like inflammation and irritation, hence it requires special attention. A facial kit with good ingredients helps in boosting the natural skin complexion while adding nourishment to the skin.
There are various facial kits for skin care available in the market and this could be confusing, so we have shortlisted some best ones for your sensitive skin. Read on to know more about them.
7 Best Facials For Sensitive Skin
1. VLCC Papaya Fruit Facial Kit for reducing blemishes and keeping the skin hydrated
Why Do We Like It?
Detoxes the skin.
Reduces blemishes.
Papaya, cucumber, peach, and orange are the natural ingredients that help remove dead skin cells.
Enhances the production of collagen.
Keeps the skin hydrated.
Reduces wrinkles and fine lines.
What Do We Dont Like About It?
Its price is higher compared to the quantity.
[ Read: How to Clean Your Face at Home – Best Tips & Tricks ]
2. VLCC Party Glow Facial Kit for a toned and uplifted appearance
Why Do We Like It?
Aloe vera and comfrey extracts in this facial kit helps in cleansing, toning and uplifting the skin.
It rejuvenates, restructures and repairs the skin with saffron and mulberry extracts.
Blood circulation increases and skin looks brighter.
Indian Berberry extracts help in exfoliating the skin.
Keeps the skin moisturised for a long time without a greasy feel.
What Do We Dont Like About It?
The price is on the higher end.
3. VLCC Natural Sciences Gold Facial Kit for skin detoxification and making it glow
Why Do We Like It?
Detoxifies skin.
Maintains the pH balance of the skin.
It has 24k gold extract that helps in cell regeneration.
Rose extract helps in pore minimization and soothing the skin.
Turmeric and aloe vera in it has anti-bacterial and anti-inflammatory effects on the skin.
Keeps the skin hydrated and prevents irritation.
Free from parabens.
What Do We Dont Like About It?
The fragrance could be too strong for some.
[ Read: How to Use Apple Cider Vinegar for Skin Rash ]
4. Organic Harvest Facial Kit For making the skin glow
Why Do We Like It?
Can be used on any type of skin.
Lightens and brightens the skin.
Free from parabens, sulphates, mineral oil and other chemicals.
Removes the dead skin cells.
It is vegan and Ecocert-certified.
What Do We Dont Like About It?
People with skin issues might face some reactions, hence consulting a dermatologist is important.
5. Aroma Magic Facial Kit for lightening the skin complexion
Why Do We Like It?
Reduces dark circles.
Makes the skin glow.
Aloe vera, extracts of rose, witch hazel, sandalwood and lemon has a soothing effect on the skin.
Refreshes dry and sensitive skin.
What Do We Dont Like About It?
Skin with pre-existing conditions might experience acne breakouts.
[ Read: Castor Oil for Skin Lightening ]
6. SKINBIBLE Facial Kit for keeping the skin clear and healthy
Why Do We Like It?
Suitable for sensitive skin.
Has patented plant-derived ingredients
Niacinamide in it brightens the skin.
Disrupts melanin production, resulting in the reduction of freckles and dark spots.
Dead skin cells are shed off as water-soluble AHA enters deep into the skin.
Sebum and wastes from blackheads/whiteheads in the skin are reduced by BHA.
PHA includes larger particles, which do not irritate the skin and remove the dead skin cells, keeping the skin
surface soft and moist.
Makes the skin glow.
Doesn't make the skin dry even after long-term use.
What Do We Dont Like About It?
The price is on the higher end.
7. Evan Healy Calming Blue Skin Care Set for perfect looking skin
Why Do We Like It?
Gently cleanses the skin.
Has an anti-ageing effect.
It has the balancing and soothing characteristics of lavender and chamomile, which maintains the skin's natural
moisture barrier.
Reduces fine lines and wrinkles.
Evens out the skin tone and makes it glow.
Reduces the appearance of pores.
Free from parabens, gluten, synthetic fragrances, GMOs, and cruelty-free as well.
What Do We Dont Like About It?
It has Kaolin clay which can have a drying effect on medium to dry skin types.
[ Read: 10 Best Toner For Sensitive Skin ]
Conclusion:
Some key point to note while purchasing a facial kit is understanding your skin type first so that the product won't cause any negative impact. Always opt for a product with natural ingredients that are hypoallergic, can correct pigmentation, and have a long-lasting impact on your skin.
You Might Also Like: