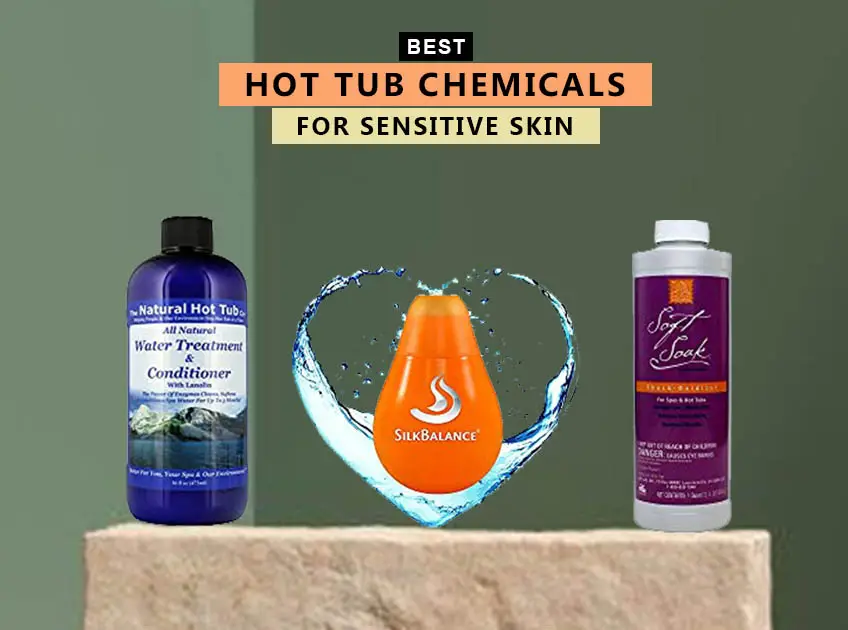 We love soaking in the hot tub and enjoying amazing 'me' time. However, people with sensitive skin need to take special care of the chemicals entering their hot tubs. A good long soak in the hot tub may take a toll if the chemicals inside it cause some allergic reactions.
Many cleaning solutions can irritate the skin and cause flare-ups. Even though feeling completely relaxed and light is only possible when you soak for a long time and clean yourself thoroughly but what's the use if you end up feeling itchy and getting red and rashy skin?
Hot Tub Chemicals
We understand how relaxing is a hot tub bath and, at the same time, how difficult it becomes to manage problems in sensitive skin. Therefore, we have listed the 7 best hot tub chemicals for sensitive skin.
All these products are selected based on their performance on sensitive skin. The presence of gentle ingredients and a complete lack of abrasive ingredients make these products unique and exclusive. Check them out!
7 Best Hot Tub Chemicals For Sensitive Skin
1. No Rash Treatment: iONRx Hot Tub Treatment
It is made specifically for sensitive skin to prevent rashes, itches, coughs, and sneezes
This safe and natural solution is made using patented technology
It is skin-friendly and helps make the skin thoroughly clean without causing any issue
Suitable for all types of hot tub systems- inflatable model as well as the fanciest spa
Free of chemicals, funky smells
What We Don't Like: It is not compatible with Bromine or enzyme treatments
[ Read: The 8 Effective Home Remedies for Itchy Skin ]
2. No Skin Irritation: SpaPure Simply Soft Solution
It uses a powerful blend of polymers and enzymes that reduces the effects of hard water, chlorine, and other chemicals on the skin.
Reduces the amount of free chlorine in the hot tub, thus eliminating skin irritation by
Suitable for all types of spas, including softeners or salt systems
Does not change the pH level in the hot tub
What We Don't Like: It does not come with a safety seal
3. Mild Treatment: Peak Products SilkBalance Natural Hot Tub Solution
Adjusts water's properties by removing excess metals and minerals and remaining mild
It contains mineral salts that leave you feeling refreshed and invigorated
Offers a sparkling clean and pH-balanced hot tub, suitable for people with sensitive skin
Naturally cleans and balances the water
The gentle ingredients support soft and supple skin
It can be used long chlorine and bromine water
What We Don't Like: It is pricey.
[ Read: How to Get Healthy Skin Naturally at Home ]
4. Soft and Gentle: SpaGuard 43006 Soft Soak Hot Tub and Spa Shock and Oxidizer Cleaner
It is ideal for those looking to sanitize their tubs without using chlorine or bromine
It does not degrade with sunlight or temperature, nor it alters water pH.
The polymeric action relieves the tub's built-in filter and prolongs its lifespan.
It is non-corrosive and stains free
Controls bacteria present in the hot tub
There are no harsh chemicals
What We Don't Like: It does not work alongside bromine cleaners.
[ Read: 7 Best Sunscreens For Sensitive Skin ]
5. Long Lasting Results: The Natural Hot Tub Company Water Treatment and Conditioner
It helps manage dry, irritated, and itchy skin
The product softens the spa water with its powerful blend of enzymes
Best for sensitive skin and protects it from flare-ups
Stabilizes water pH and reduces the need for any harsh chemicals to sanitize the hot tub
It contains medical-grade lanolin, an ingredient that leaves even the driest skin feeling soft and supple after a hot tub soak
Offers a luxurious experience every single time
Compatible with other cleaners like bromine, chlorine, UV systems and ozonators
Results last for three months
What We Don't Like: You need to circulate it for at least eight hours a day and five days in a row; that could feel like an extensive process.
6. Sanitizer and Oxidizer: Kills Germs: Spa Essentials 32362000-02 Concentrate Granules Hot Tube Bromine
It is a fast-dissolving brominating granule that acts as a sanitizer and an oxidizer
It helps kill and control bacteria, keeping the water safe for sensitive skin
It offers water that's a pleasure to soak in
Contains 82.5% Sodium dichloride-s-triazinetrione, 14.7% Sodium bromide
What We Don't Like: The result may not last long.
[ Read: 10 Best Toner For Sensitive Skin ]
7. Alkalinity Reducer: AquaAce Spa Hot Tub pH Down
It lowers pH and maintains the right alkalinity in the spa and hot tub water
It helps keep your spa water pH balanced between 7.2-7.8, ideal for sensitive skin
Also, it prevents scaling and cloudy water caused by high pH
It features a convenient quick-dissolving granule
What We Don't Like: It does not offer lasting results.
Conclusion
These are some of the best hot tub chemicals for sensitive skin that ensure no irritation, redness, or inflammation. Get them and enjoy some gala time in the hot tub.
You Might Also Like: