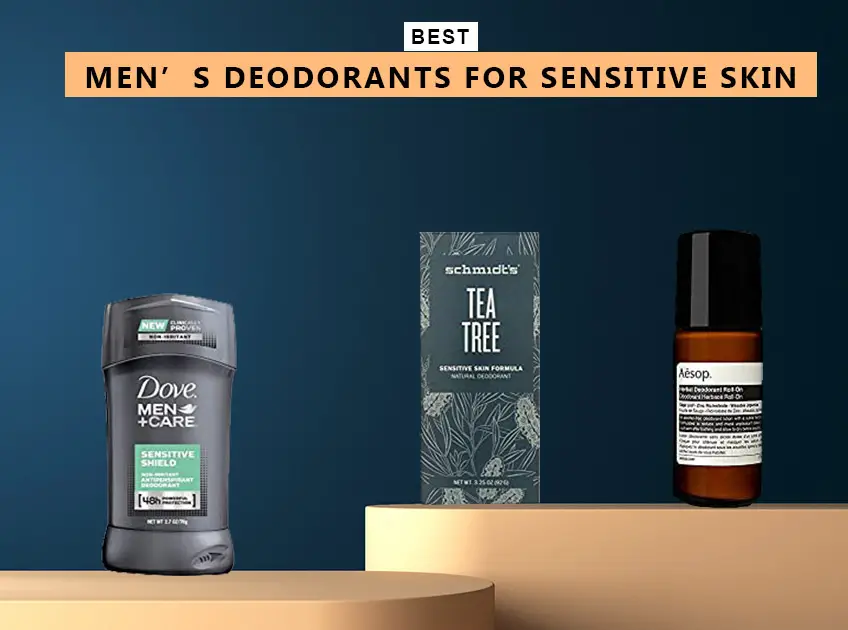 Fearful of your body odour? dealing with the issue of sensitive skin? Frequently, a deodorant that works for your friends and family can irritate and sting your pits. It's important to check the ingredients when looking for the best men's deodorant for sensitive skin and to stay away from products that might aggravate it.
Natural deodorants and conventional antiperspirants both contain common components that can be troublesome. Consider items like aluminium, fragrance, baking soda, and alcohol. So how can you discover a deodorant that is effective and won't bother your skin?
Men's Deodorants
Not that we are making any claims, but here is a list of some of the best deodorants available for people with sensitive skin, organized by category. Check them out below:
7 Best Men's Deodorants For Sensitive Skin
1. The best roll-on in the market: Ban Roll On Purely Gentle Antiperspirant
Some of the roll-ons can leave a faint white mark on the clothes but not with Ban Roll-On Purely Gentle Antiperspirant.
Key ingredient present is Kihahda extract that eliminates the underarm bacteria which cause it to stench.
It is fragrance-free, chemical free and dye free.
Provide 24-hour protection from odours and moisture
Without leaving any white markings, glides on clear and stays clear.
What We Don't Like: The roll-on liquid is half the size of a bottle, so use it wisely.
[ Read: Irish Spring Men's Deodorant Soap Bar Review ]
2. Best Natural deodorant: Necessaire The Deodorant Eucalyptus
The formula contains elements that help in soothing sensitive skin.
Contains Zinc, Silica, and clay in a mix to absorb wetness under the arms and other parts of the body that has crevices.
Has a blend of mandelic that helps smooth the skin of the underarms and crevices in combination with lactic alpha-hydroxy acids.
It is Hypoallergenic, Dermatologist-Tested and Non-Comedogenic
What We Don't Like: It is more expensive than others.
3. For sensitive antiperspirant: Dove Men +Care Sensetive Shield
This is not just a deodorant but also an antiperspirant that can help you to stop sweating altogether.
With its triple-action moisturizing properties, you can have more comfortable underarms by retaining skin moisture & preventing irritation.
Protection from odour and moisture for 48 hours and has clinically proven non-irritant formula.
Fresh, aromatic, and woody elements are dynamically blended to create a scent that lasts long.
What We Don't Like: Since it contains aluminium, some people may be allergic to it.
[ Read: GOGRS Armpit Sweat Pads Review ]
4. Tea Tree Oil Infused: Schmidt's Sensitive Skin Tea Tree Oil Deo
Has good sensitive skin formula helps you stay fresh and eliminate odours.
Since it has antibacterial properties, you can count your blessing as Schmidt's Deo is infused with Tea Tree Oil for sensitive skin.
Certified vegan product that does not contain any animal products, parabens, or aluminium.
No artificial smell; enhanced with natural minerals and scented with essential oils.
Non-greasy and non-sticky. Easily absorbed; only a tiny amount is needed for application.
What We Don't Like: Tea tree oil might not be best suited for everybody.
5. Travel friendly: Aesop Deodorant Roll-on
Contains only essential oils such as rosemary, eucalyptus, and sage that help neutralize the odour.
The key ingredient is naturally derived vetiver root also helps in giving a lively and fresh fragrance.
Can last up to 24 hours and will not leave stains on clothing.
Alcohol-free, vegan, and cruelty-free product.
What We Don't Like: Quite expensive than other options.
6. Aluminum Free: Native Deodorant Eucalyptus & Mint
Contains probiotic elements that battle odour all day long and is cruelty and paraben free.
For fragrances, it contains eucalyptus and mint extracts that keep the bacteria away and leaves a fresh hinting smell.
Also has shea butter, tapioca extract, and coconut oil that keep sensitive skin moisturized.
Effective and all-day odour prevention and a smooth application that feels non-greasy.
What We Don't Like: It may cause irritation to some folks.
[ Read: 7 Best Moisturizers For Brightening Skin ]
7. For Maximum Protection: Herban Cowboy Unscented Natural Deodorant
Protection that lasts without using harsh synthetics.
Unscented. free of alcohol, metal, and dyes.
Recommended for anyone who perspires a lot and does manual labour in their line of work, and not just those with sensitive skin.
Apt fit for people who invest a lot of time in gyms, and outdoor activities and have physical work on daily basis.
What We Don't Like: The strong fragrance may not be for all.
Conclusion:
For a male with sensitive skin, it might be difficult to find a deodorant that will keep him smelling fresh all day. Given the range of sensitive skin products available, you should be able to find something that keeps you smelling wonderful and your skin happy. Keep in mind that you should consult a dermatologist about what suits your skin the best. In the case that side effects develop, stop using the product right away and seek medical attention.
You Might Also Like: