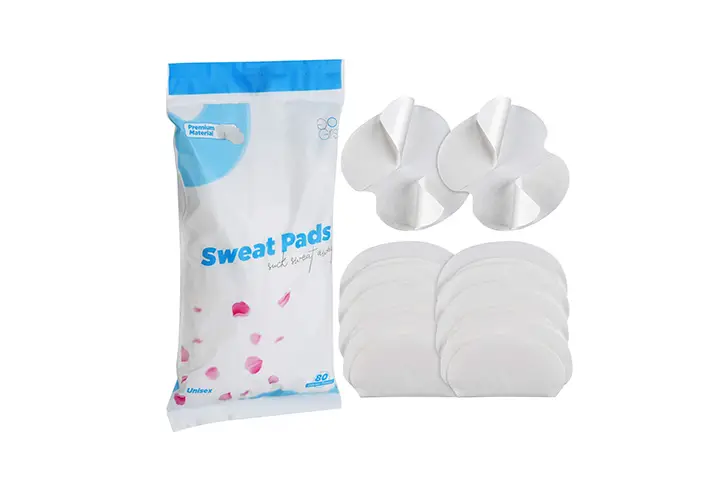 We sweat too much if the weather is hot and humid, where we cannot avoid our sweaty under arms, we also find yellow colored patches at the under arms on our favorite dresses. TO escape from such difficulties GOGRS armpit sweat pads are there.
Many of us will use deodorant, antiperspirant. These are not enough to keep your underarms to stay dry throughout the day. But GOGRS sweat pads can make you stay dry the entire day.
GOGRS Armpit Sweat Pads
How it Works:
These armpit sweat pads are made of a soft, high quality non-woven fabric and it is chemical free.
And it has a protective film barrier that traps perspiration.
These Premium sweat pads can absorb 30 ml of liquid, therefore it eliminates armpit sweat and odour.
All pads are made of high-quality microfiber cotton with no allergens.Wearing these sweat pads is very easy and feels comfortable all day long.
Attach the pad to your garment and let it sit for 5 minutes. Stay dry and feel fresh the whole day.
Pros:
They are easy to use and act as a sweat shield.
They help us to prevent our clothes from getting sweat stains.
You no need to worry about raising your hand during a meeting or presentation.
You can use them daily if you are sweating heavily.
These pads are easy to use and invisible.
Cons:
These premium pads are adhesive, and will not work on silk or wool garments.
For too short sleeves pads may be visible.
Rating: 4 out of 5
These premium armpit sweat pads prevent underarm sweat and odour. These pads are for men and women.
Feel Dry Feel Free and comfortable with these sweat pads.
Frequently Asked Questions (FAQ's)
Q. Are these scented?/What scent?
Ans: No, they are not scented.
Q. I am not a heavy sweater , how many days do I change into new ones?
Ans: It's recommended to use a new one (or a pair) per day.
Q. How are these pads packed?
Ans: It's not always necessary to use a pair at a time, we packed all the pads individually.
Q. Is it really 100% cotton?
Ans: It's microfiber cotton. It's just like a part of your cloth, it feels natural.
Q. Is it bulky?
Ans: It's thin and light. Won't feel a thing at all.
Alternate Products:
You Might Also Like: