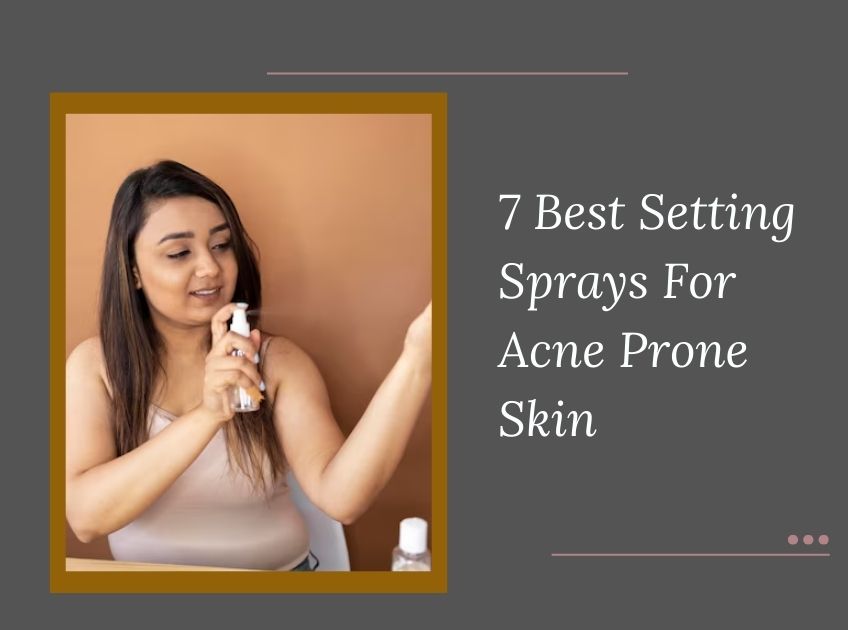 Acne-prone skin gets breakouts easily. It doesn't take much time for such a skin type to get red and irritated and develop acne. Setting sprays are useful makeup products that help keep skin matte and control oil production, thus reducing the chances of breakouts.
Using the best setting spray for acne-prone skin ensures controlled oil production, making the pores less likely to become clogged. At the same time, it does not let the makeup melt.
Acne Prone Skin
If you are dealing with acne-prone skin and looking for the best setting spray, you are at the right place. We have carefully selected certain products and curated a list with the 7 best setting sprays for acne-prone skin.
Check them out!
7 Best Setting Sprays For Acne Prone Skin
1. Ultra-Mattifying Finish: e.l.f. Matte Magic Mist & Set
The major ingredients are Arctium Majus Root, Vitamin B, Vitamin E
Offers an ultra-mattifying finish and suits all skin types.
It helps calm skin inflammation and soothes irritated skin
Infused with antioxidants that ward off free radicals
It also contains Arctium majus root, known for its shine-reducing powers.
It consists of vitamins B and E to add an extra layer of antioxidants to the skin
It helps control excess oil production
Decreases inflammation and protects against free radicals
What We Don't Like: It contains synthetic fragrance.
[ Read: 7 Best Face Oils For Acne Scars ]
2. Brightens Complexion: NYX Matte Finish Fini Mat Makeup Setting Spray
The key ingredient is Niacinamide which promotes a brighter complexion
It helps balance their skin's oil production and prolong the life of their makeup
It helps makeup stay set for a whopping 16 hours
Promotes a brighter, more even complexion
Feels comfortable, mild, and breathable on the skin
What We Don't Like: It may not suit certain skin types.
3. Mattifying Setting Spray: Urban Decay All Nighter Ultra Matte Setting Spray
The key ingredient is aloe vera leaf juice and Tocopherol
One of the best mattifying setting sprays for acne-prone skin
It is a lightweight, smudge-proof, and transfer-resistant setting spray
It contains a patented Temperature Control Technology to lower the temperature of makeup, resulting in less melting
Soaks up excess oil, even over full-coverage makeup
Offers 16-hour wear time
What We Don't Like: It contains fragrances that may trigger allergic reactions to certain skin types. Also, it comes in large packaging, not suitably fitting most bags.
[ Read: 8 Effective Home Remedies for Acne and Pimples ]

4. Effective and Affordable: Rimmel London Stay Matte Fix & Go 2-in-1 Primer & Setting Spray
The key ingredients are Cucumber Extract, Urea, and Sodium Hyaluronate
It is a dual-function product that works as a primer and setting spray
It mattifies skin to reduce oil
It contains ingredients like sodium PCA and urea that gently hydrate skin throughout the day
Reduces redness and skin inflammation
Soothes irritated and inflamed skin
What We Don't Like: It contains fragrance.
5. 100% Natural And Safe: Simplified Skin USDA Organic Bulgarian Rose Water
Infused with organic-certified rose water sourced from Bulgaria
It can be used as a setting spray, as a mist
It helps control oil, tone skin, and clean pores
Keeps the greasiness at bay and extends makeup wear hours
Best for sensitive acne-prone skin as a makeup remover too
Free of alcohol, paraben, sulfate, and gluten
Ultra hydrating and revitalizing for the skin
What We Don't Like: It may not hold makeup for too long.
[ Read: 7 Best Makeup Removers For Acne-prone Skin ]
6. Fast Drying Formula: Bella Jade Makeup Setting Spray
It is a feather-light, fast-drying, and non-sticky spray
It gives makeup an airbrushed and flawless finish
The fresh, invigorating smell
It contains organic white tea leaf extract, organic green tea extract, and organic rooibos extract
Boosts hydration and refreshes the skin in just a spritz
Suitable for all skin types
Free from artificial fragrances, phthalates, parabens, sulfates, and petrochemicals
Also, offer anti-aging benefits
What We Don't Like: It may not extend makeup wear for long hours.
7. Lightweight and Comfortable: Maybelline Facestudio Lasting Fix Makeup Setting Spray
Best for acne-prone skin and helps keep the makeup intact for up to 16 hours
Features maximum matte effect, which is lightweight and breathable
Keeps the skin look shine-free
Offers long-lasting results with a fresh and flawless look
What We Don't Like: Overwhelming smell.
Conclusion
So, these are some of the best setting sprays for acne-prone skin. Even though these are tried and tested on problematic skin, we suggest you perform a patch test to ensure it is not causing any skin concern.
You Might Also Like: