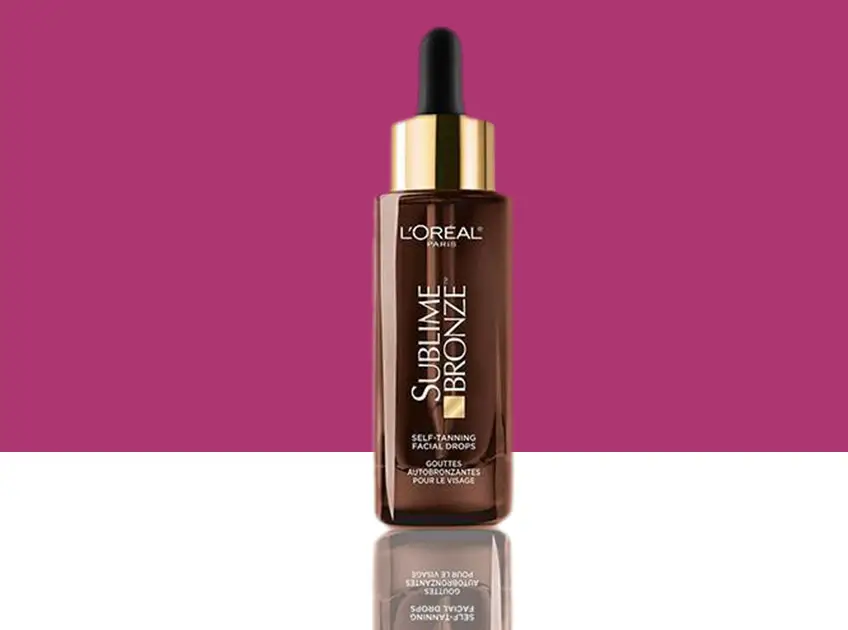 UV exposure makes skin prone to damage. You can experience this damage in different forms, among which sunburn, dry skin, and premature aging are the foremost.
If your skin is already not in a very healthy state and is prone to acne, using the best facial tanner for acne-prone skin will come in handy. While you can find many self-tanners for the body, only a few of them are made especially for the face.
Facial Tanner
People with sin concerns should always go for self-tanners to help them develop a tan without compromising their skin health. So today, we have hand-picked some best facial tanners for acne-prone skin that can help them give the sun-kissed glow in an instant.
Check them out!
10 Best Facial Tanners For Acne-prone Skin
Here are some of the best facial tanners that will give you stunning golden bronze skin without irritating or causing acne or breakouts.
1. L'Oreal Paris Sublime Bronze Self-Tanning Facial Drops
When it comes to skincare, you cannot doubt L'Oreal. It is one of the most popular skincare and makeup brands offering high-grade products.
The self-tanning facial drops from L'Oreal help to bring the desired shade to the face without making it prone to acne. Just a few drops can do wonders on the skin.
All you need is to add a few drops to your daily moisturizer and see how beautifully it transforms your skin. It is ideal for all skin types and helps to get a sun-kissed glow.
If you want a darker hue, add the number of drops to the moisturizer and let it do its work. The best part is you can use it daily to maintain the tan. Just experiment by adding a different number of drops to understand how it works.
It consists of moisturizing glycerin and hydrating and plumping sodium hyaluronate that helps the skin to retain water.
It is perfect to create a natural-looking tan without any steaks or patchy orange tones.
What We Like
Suitable for all skin types
Non-sticky and non-greasy formula
Easy application
Affordable
What We Don't Like
This Product Best for
People looking for some non-oily and non-sticky formula.
2. Dr. Dennis Gross Skincare Alpha Beta Intense Glow Pad Self-Tanner for Face
It is another best facial tanner for acne-prone skin. Using this single self-tanner gives you two benefits- it helps to develop even tan and bust acne with its exfoliating acids like salicylic acid, glycolic acid, and lactic acid.
It consists of ingredients like soy proteins and microencapsulated DHA that ensure streak-free and even tanning.
The presence of active Vitamin D gives a natural-looking color and supports the antioxidant formula. Besides, acids like lactic acid and glycolic acid balance the skin's pH and make it healthier than ever.
From exfoliating the skin to making it get rid of blackheads and sun spots, this product is the ultimate facial tanner. Vitamin E in this tanner works as an anti-aging ingredient, and pro-vitamin B5 works as a humectant, moisturizing and soothing the skin thoroughly.
What We Like
Good for anti-aging benefits
Delivers even tan
Suitable for all acne-prone skin
Ensures healthy-looking radiance with stunning tan
What We Don't Like
This Product Best for
People with mature skin as it consists of anti-aging ingredients.
3. St. Tropez Self Tan Purity Bronzing Water Face Mist
St. Tropez is a popular name when it comes to tanning solutions. This amazing bronzing water face mist is formulated to provide a sunless tan to light and medium skin tones. You won't experience streaking, transferring, or unpleasant smell.
The fine mist coming through this tanner gets applied to the skin evenly for the best result. At the same time, the mist hydrates the skin deeply and locks in some extra moisture to prevent the skin from getting dry.
The best part is you can use it under or over makeup to get a natural-looking glow. Everything about this product is excellent, from the addictive tropical scent to the lightweight formula, making it one of the best self-tanners for acne-prone skin.
What We Like
Easy, quick, and convenient to apply
Suitable for neck and face
Spreads evenly to develop an even tan
Doesn't clog pores
What We Don't Like
Smell may feel overpowering
This Product Best for
People with light and medium skin tones to help develop dark tan.
[ Read: 10 Best Self-Tanner For Pale Skin ]
4. Sol By Jergens Deeper By The Drop Self Tanning Drops For Face And Body
Jergens never leaves any stone unturned to impress its customers with the quality of its products. This amazing self-tanning drop for the face and body is no exception as they help to build a stunning tan without causing breakouts.
Getting flawless customizable color is now possible with Jergens's self-tanning drop. It is an oil-free formula that brings glory to the skin. You can add a few drops with your moisturizer and apply it evenly on the face.
The more drops you apply to your face, the better shade you can develop. It is advised to always start with just 3-4 drops and see how it gives results on your skin. For deep bronze shade, 11-15 drops can be applied.
What We Like
Suitable for all skin types
Doesn't clog pores or cause breakouts
Give radiance glow to the skin
What We Don't Like
May irritate sensitive skin
This Product Best for
People looking for facial tanner with skin-lovinng ingredients to keep acne out of sight.
5. Jergens Natural Glow Face Daily Moisturizer with Sunscreen Broad Spectrum SPF 20
This facial tanner comes in two different shades- fair to medium and medium to deep- and helps people develop the desired skin tone easily.
Since it has broad-spectrum UVA and UVB protection, you can also use it as a daily moisturizer. It will help to develop tan and maintain it for longer.
Take a small amount on your hands and massage gently into the skin and around the hairline and jawline.
To gives the desired glow in a jiffy.
What We Like
Oil-free and non-sticky
Affordable
Ideal for acne-prone skin
What We Don't Like
This Product Best for
People looking for a facial tanner that also provides broad-spectrum protection from harmful UV rays.
6. Skinerals Californium Sunless Bronzer
The presence of natural skin-loving ingredients makes this sunless bronzer perfect for acne-prone skin. Moreover, it has antioxidants and a blend of essential oils, making it even more appealing for oily skin.
Everything in this sunless facial tanner, from fruit to plant extracts, makes it perfect for skin prone to breakouts.
What We Like
Gives a smooth and toned glow without causing acne
Consists of acai berry and fig extracts that reduce the blemishes and dark spots
Has light foam formula and dries quickly
100% nut-free combination
What We Don't Like
This Product Best for
People who want a facial tanner with plant extracts that are gentle on skin.
7. Miami Gorgeous LaPlaya Glow Self-Tanning Mousse
With natural ingredients and no harsh chemicals, this self-tanning mousse from Miami Gorgeous helps to develop an even tan. It ensures an instant natural bronze color that gives a naturally tanned look.
With abundant minerals and vitamins, it nourishes the skin deeply, which helps develop an even and streak-free tan.
What We Like
Packed with vitamins E, A, and B6
Consists of natural oils like coconut oil, olive oil, argan oil, and jojoba oil
Delivers fresh and radiant glow
Safe for all skin types
What We Don't Like
The overpowering smell is not very pleasing
This Product Best for
People who want to have a tanner packed with vitamins and minerals to keep skin healthy.
8. Bahama Tan Sunless Lotion
Bahama Tan Sunless Lotion is made with organic and all-natural ingredients that provide extra nourishment to the skin. The presence of ingredients like aloe vera gel, organic coconut oil, vegetable-derived glycerin, calendula flower extracts, chamomile flower extracts, natural coconut, and mango extracts keeps skin healthy and glowing.
The formula of the lotion is buildable and blendable, which boosts the skin's health. Moreover, it ensures perfect sunless tanning that looks completely natural.
What We Like
Consists of organic ingredients like shea butter, jojoba oil, canola oil, argan kernel oil, and monoi de Tahiti oil
It is non-comedogenic and non-GMO
Leaves your face feeling smooth and hydrated
Has a natural scent with no dyes
What We Don't Like
It takes time to dry completely
This Product Best for
People who are looking for a facial tanner with all-natural and organic ingredients.
9. Botanic Tree Organic Cosmetic Self-Tanner
It is a perfect self-tanner for people with acne-prone skin. Giving a natural sunless tan, it stays gentle on sensitive skin and doesn't clog the pores. Moreover, it doesn't feel oily or cakey.
The infusion of natural and skin-friendly ingredients like organic aloe vera leaf juice, shea butter, coconut oil, jojoba seed oil, apricot kernel oil, Montana flower oil, and rosemary leaf oil keeps the skin healthy.
What We Like
It is infused with extracts like vanilla fruit extract
Also consists of healthy oils like linseed oil, grape seed oil, passionfruit seed oil, coconut pulp oil
The formula is fast-absorbing and doesn't stain clothes.
What We Don't Like
It s recommended to perform a patch test before using.
This Product Best for
People who want a fast-absorbing self-tanner, composed with essential oils and fruits extracts.
10. Tanceutical Color+ Correct Self-Tanning Face Lotion
This amazing self-tanner is designed especially for face and acne-prone skin. It can be used on delicate areas like the neck and around the eyes.
It stays gentle on the skin and doesn't clog pores, giving a natural-looking tan. The exclusive formula ensures skin will remain smooth, soft, and natural-looking. It doesn't cause a streaky or patchy tan.
What We Like
Consists of ingredients like mango butter, acai berry, and vitamin E
It is non-comedogenic
It has a fresh and enticing coconut scent
Free from parabens or mineral oil
Blends and dries quickly
What We Don't Like
This Product Best for
People who want a facial self-tanner that doesn't smell like a typical DHA-infused tanner.
You Might Also Like: