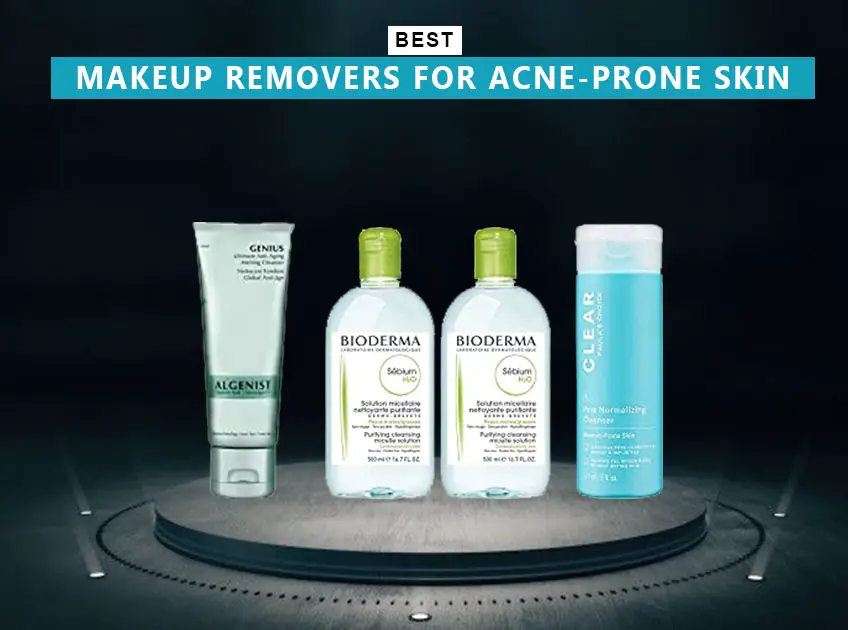 Acne and blemishes make the skin appear ugly and we have to resort to makeup products to cover them up. Also, special products are needed for acne-prone skin, so the condition doesn't worsen. The same goes for makeup removers as well. You need to use the right removers to let your bare skin breathe well after thorough cleansing.
Acne-prone Skin
Such products are specially formulated for removing dirt, and grime along with makeup. They unclog the pores and soothe the skin after the cleansing process. Read on to check some of the best makeup removers for acne-prone skin.
7 Best Makeup Removers For Acne-prone Skin
1. BANILA CO Clean It makeup remover for a soothing effect on sensitive and acne-prone skin
Why Do We Like It?
Doesn't strip off the natural moisture from the skin as it emulsifies with the water and dissolves the makeup.
Balm to the oil-like texture of the product has a double cleansing effect on the skin.
It has balancing ingredients which have a soothing effect on sensitive skin.
There are 7 natural stress-relieving herbs in the product that reduces stress and comforts acne-prone skin.
Lowers chances of breakouts, skin blemishes and redness.
Comes with a great smell.
Free from artificial colours, alcohol, sulfates, parabens, mineral oil and phthalates.
What Do We Dont Like About It?
Has a somewhat greasy feel.
[ Read: 10 Best Makeup Remover For Sensitive Skin ]
2. Paula's Choice Face Wash for a refreshed and clean-feeling skin
Why Do We Like It?
It has salicylic acid that dissolves the pore-clogging impurities.
Doesn't make the skin dry or cause any irritation.
It removes the makeup, dirt and sebum deposited on the skin and creates a soothing effect.
Calms down redness and irritation.
It doesn't contain artificial fragrances or parabens.
Cruelty-free.
What Do We Dont Like About It?
Those with extremely sensitive skin might not find it very useful.
3. Algenist GENIUS Ultimate cleanser for anti-ageing effect on the skin
Why Do We Like It?
It washes away the makeup and dirt from the skin gently by turning it into a milky emulsion.
Has a nourishing effect on the skin because it is infused with hyaluronic acid, avocado and microalgae oil.
It restores the pH balance of the skin.
Fine lines are reduced and skin becomes soft and bright.
Non-comedogenic and hypoallergic.
Lightweight formula that is gentle on the skin.
Vegan formula.
What Do We Dont Like About It?
Price is on the higher end with respect to the quantity of product.
[ Read: 7 Best Primers For Acne Prone Skin ]
4. DHC Pore Cleansing Oil for a revitalised feel on the skin
Why Do We Like It?
It removes sebum and stubborn makeup.
Helps in unclogging the pores and brightening the complexion.
Free from artificial fragrances and colours.
Protects the skin against free radicals because of the calendula extract.
Citrus extract in it has anti-oxidants which brighten the skin tone.
Doesn't leave any oily residue on the skin.
What Do We Dont Like About It?
It might irritate the eyes and hence it has to be carefully used.
5. Neutrogena Oil-Free Wipes for clear and rejuvenated skin
Why Do We Like It?
Dermatologically tested the product to eliminate dirt, makeup and impurities from the skin.
Travel-friendly as it is available in form of 25 pre-moistened wipes.
Naturally-derived pink grapefruit extract in it removes the impurities responsible for clogging the skin pores.
Makes the skin feel clean, light and rejuvenated.
What Do We Dont Like About It?
It has alcohol as its ingredient that could irritate sensitive skin.
[ Read: How To Get Rid of Open Pores Naturally at Home ]
6. Bioderma – Sébium H2O – Micellar Water for deeply cleansing and calming the skin
Why Do We Like It?
It contains zinc and copper which controls sebum production.
Skin gets mattified because of ginkgo Biloba in it.
The fatty acid in it deeply cleanses and calms down the skin without making it dry.
It is free from colours, parabens, soap, and oil.
What Do We Dont Like About It?
Can cause a burning sensation in the eyes, hence contact with the eyes must be avoided.
7. Eau Thermale Avene ake-up Remover for smooth, clear and hydrated skin
Why Do We Like It?
This formula doesn't contain any oil and hence is better for oily skin.
It can remove makeup and still leave the skin calm and hydrated.
You can easily spread the makeup remove to remove stubborn makeup, especially those for the eyes.
It has been dermatologically tested, hypo-allergic and non-comedogenic.
What Do We Dont Like About It?
Not effective in removing waterproof mascara.
[ Read: How to Remove Makeup the Right Way ]
Conclusion:
It is important to use special cleansing products to remove makeup in case of acne-prone skin. Such products are formulated for eliminating dead skin cells, flushing out impurities and cleansing the pores, all of which eliminate chances of breakouts. These have to be oil-free, alcohol-free and dermatologically tested for effective results.
You Might Also Like: