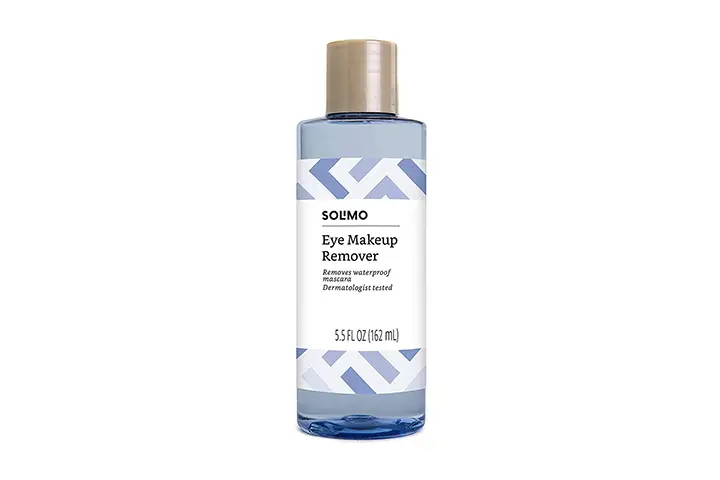 Removing makeup is less fun than applying it, especially when you remove your eye makeup it involves rubbing and shedding. In this process you lose a few lashes. Do away with such problems by acquiring Solimo Eye Makeup Remover.
Solimo Eye Makeup Remover
How it Works:
It removes eye makeup without harming your skin and lashes.
It is formulated to remove even stubborn eye makeup like waterproof mascara without oily residue.
For best results, shake well and apply gently pressing then swiping a saturated cotton ball across closed eyelids.
Pros:
It easily wipes your eye makeup.
Ideal for sensitive skin and contact lens wearers.
After removing it leaves your skin feeling moisturized and your lashes feel softer.
Gently removes the stubborn waterproof mascara.
Dermatologist tested.
Paraben and phthalate free.
Cons:
It takes a considerable amount of remover to do the job.so, the bottle won't last you for very long.
Rating: 4.4 out of 5
This eye makeup remover is formulated to remove even tough eye makeup like water proof mascara,dark eyeliners.For best results shake well and apply.
[ Read: 10 Best Makeup Remover For Sensitive Skin ]
Frequently Asked Questions (FAQ's)
Q. Can it be used to remove foundation?
Ans: I have used it to remove foundation, eyebrows you name it…. everything just slides off. Love this product.
Q. Is it paraben free?
Ans: Yes it is. I've bought this makeup remover twice. I'm not sure exactly what some of the other ingredients are, but definitely not parabens.
Q. Will this easily remove false lash glue?
Ans: Yes!!! It works great for lash glue!!
Alternate Products:
You Might Also Like: