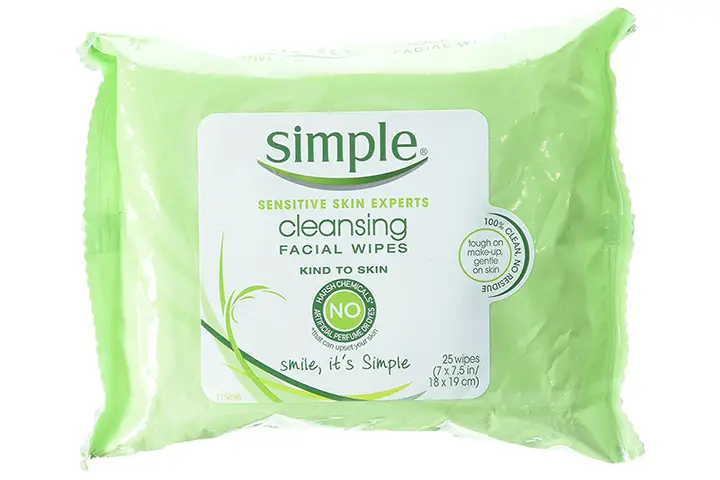 Don't give just a wipe to clean your face. Use Simple cleansing facial wipes to clean and remove your makeup.
It works gently on your face and harshly on makeup like mascara, eyeliner and foundation.
It removes makeup and impurities from skin, eyes and lips smoothly. It instantly refreshes your skin.
Simple Cleansing Facial Wipes
How it Works:
The aqua-lock of this product keeps every wipe fresh, even softer.
These compostable face wipes are made from soft renewable plant fibers and sustainable wood pulp.
It does not dry out, irritate skin or leave residue.
This product contains vitamin E which helps our skin from damage caused by free radicals.
Vitamin B5 helps to keep skin smooth and healthy.
Pros:
No artificial fragrances or dyes.
Does not have harsh chemicals that can upset your skin.
Removes foundation and skin products well.
No parabens, No added phthalates.
This product is PETA certified vegan and cruelty free.
No artificial dyes or perfumes.
After using it, the skin feels refreshed and soft.
Cons:
Waterproof mascara can't be fully removed.
Cleansing cloth is not very soft.
Rating: 4.8 out of 5
If your skin wants to be fresh, happy and healthier, wipe with Simple cleansing facial wipes. These are kind to skin and gently cleanses to refresh and moisturize your skin.
Frequently Asked Questions (FAQ's)
Q. Can it be used for personal body use other than face?
Ans: I would say yes. They are for sensitive skin and not abrasive so should work fine for all body parts. They also have almost no smell so that shouldn't be a problem.
Q. Is this 75 wipes total?
Ans: Yes, 75 total.
Q. What is the scent?
Ans: Mine has no scent.
Alternate Products:
You Might Also Like: