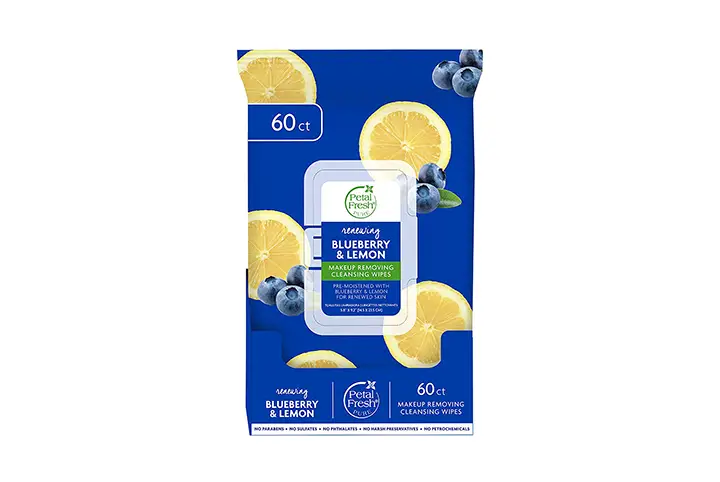 Revitalize yourself with Petal fresh renewing blueberry and lemon cleansing towelettes. They quickly remove dirt, oil and waterproof makeup. The luxurious soft wipes will give you a superior cleansing experience.
These wipes secure the sensitive skin and can be used on your face, hands and body. The natural fragrance of this product gives more refreshness.
Petal Fresh Renewing Blueberry & Lemon Makeup Cleansing Towelettes
How it Works:
These wipes are made with natural formula that is gentle enough for all skin types even around sensitive eyes areas.
They are made with certified organic ingredients so they keep your skin moisturized and nourished.
As they are infused with lemon and blueberry contains vitamin C, which is an antioxidant and decreases oil on the skin and reduces inflammation.
Blueberries are also high in antioxidants and fights with acne and premature aging.
These wipes are thicker than the other wipes which are available in the market.
So they effectively cleans your face and improves your skin tone.
The portable pack of this product helps to carry easily and the resealable pack helps to keep the wipes fresh and clean.
Pros:
Made with natural ingredients.
No sulfates and phthalates.
More convenient.
Skin safe product and works effectively.
portable.
Cons:
One wipe is not sufficient to remove tough makeup.
Rating: 4.4 out of 5
Best wipes made with organic ingredients which work gently on your skin and cleanses deeply and maintain refreshness hours. Using and storing is also easy because of the resealable pack. Each pack contains 60 cleansing towels.
Frequently Asked Questions (FAQ's)
Q. Are these wipes exfoliating kind or smooth?
Ans: Smooth, they smell really nice.
Q. Do these contain Alcohol?
Ans: No. They won't contain alcohol.
Q. Are these wipes gluten free?
Ans: They are not gluten-free.
Alternate Products:
You Might Also Like: