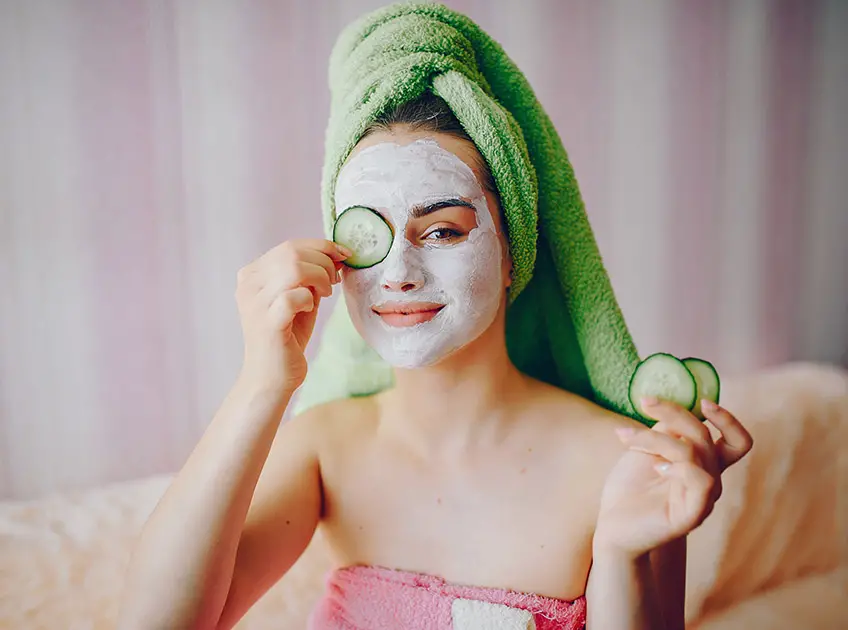 Face mask helps to make skin healthy. Different face masks are used for various purposes. While some help to give you a glow, others manage skin issues like acne, blemishes, spots, and pigmentation.
No matter why you use a face mask, applying the right mask in the correct way and at the right time ensures the best results.
If you wonder whether it is better to apply a face mask before or after the shower, it would generally depend upon the type of face mask and your skin type.
Let's learn about face masks, how to apply them properly, and what time will suit you the best- before or after the shower.
Face Mask Before Or After Shower?
Generally, people use a face mask as a weekly routine because it is time-consuming and may get messy. Even though a face mask helps boost the overall skincare routine, using it even once in a while gives beneficial results.
Face Mask Before And During Shower
Many people prefer using certain face masks like liquid face masks and mud face masks while taking a shower. It cuts down time and delivers benefits to the skin. However, there are a few catches.
When you apply a face mask while showering, your skin must be clean. To ensure this, you may wash your face in the sink and apply the face mask before entering the shower.
Or, you can wash your face in the shower, apply the face mask and let it stay for a few minutes. By that time, you can do the rest of your showering routine.
Even though using a face mask while showering seems convenient, it has some drawbacks too.
You won't be able to know if you have applied the face mask properly and evenly on your face and neck.
Water may run through the face mask before its finished setting, thereby not delivering all its benefits to the skin.
However, applying a face mask before a shower is beneficial if you have dry skin. It will help seal the moisture from your mask and the shower.
Make sure you apply enough moisturizer after coming out of the shower to lock in the moisture. An emollient-rich moisturizer will help abundantly and prevent skin drying.
Face Mask After Shower
Another option is to apply a face mask after taking a shower. This method has many benefits, and it works wonderfully, especially for oily and combination skin.
As you shower, the warm water and steam open the pores. If you are using a deep cleansing mask, like the one made with mud or charcoal, it will help greatly.
As the pores are open, the face mask will cleanse deeply and remove all the accumulated sweat, sebum, dirt, and grime- everything that contributes to breakouts and acne. It ensures deeper and better cleansing.
Face Mask Without Showering
If you are using a face mask at any other time than showering, there is no fuss. Just read the instructions written on the label and follow them.
If you are using a sheet mask, apply them before the rest of your skincare routine. As you remove the sheet, the residue left needs to be massaged on the skin. So, it is better to use sheet masks after showering to avoid rinsing away the residue accidentally.
Keeping Face Mask Overnight
An overnight treatment mask is another option that you can explore. However, these masks are made to use as an overnight treatment only. Apply them on the face, leave them overnight and rinse off with your morning face cleansing.
Generally, the overnight face masks are creamier and thicker than the normal face masks as they are designed for people with dry to normal skin types.
How To Apply A Face Mask Properly?
Face masks are designed for different purposes. Some dry out excess sebum as they are meant for oily skin, and others replenish lost moisture in dry skin. Besides, there are face masks that work as exfoliants and improve uneven skin tone, remove dead skin cells, and boost skin health.
Regardless of the type of face mask, one needs to follow certain steps to get the most out of a face mask.
Step 1: Clean the face with your usual cleanser.
Step 2: Apply the face mask in a thin and even layer around the entire face. Avoid eyes and lips. You can also apply a layer of face mask to your neck and décolletage.
Step 3: Let the face mask stay on your face until the time it is intended to be. Some face masks need to stay on the face only for a few seconds, while the others are until they dry. Check your face mask- is it drying, hydrating, exfoliating, or anti-aging, as it determines the time they need to be left on the skin.
Step 4: Rinse the face mask with warm water after the ascertained time. Do not use hot water. You can also use a soft washcloth to remove the mask easily.
Step 5: Follow up with your normal toner, serum, moisturizer, and sunscreen.
Final Words
Even though applying a face mask before or after a shower has its own benefits, the final choice comes down to personal preferences. Make sure you apply it in the correct way to get most of the benefits and enjoy healthy skin.
Image Credit: freepik
You Might Also Like: