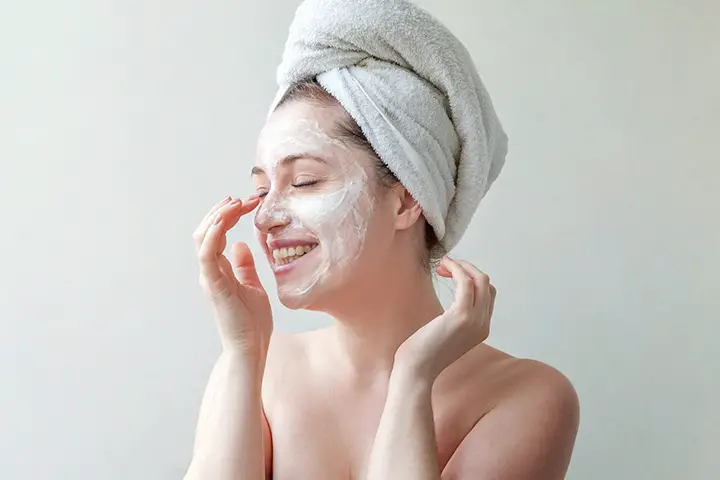 Stress and work pressure often leave us with little or no time for following a skincare routine for healthy skin. So we need to find an alternative to prevent the skin from deteriorating. Here comes the night care routine into play. So using some simple overnight face masks regularly can help the skin remain soft and supple. Read on to know more about the best face masks for healthy skin.
5 Best Overnight Face Masks For Healthy Skin
1. Olive oil Face Mask:
Olive oil moisturizes the skin. It can be mixed with night cream and applied to the face.
It can also be mixed with cucumber juice and applied on the skin using cotton pads, left overnight, and washed in the morning.
The cooling characteristics of cucumber have a soothing effect on the skin.
2. Green Tea and Potato Face Mask:
Green tea has a soothing effect on the skin and removes excess oil.
Take a tea bag, boil it in hot water to get freshly brewed tea.
Let it cool and combine potato juice in it.
Apply the mixture on the skin with cotton balls and leave it overnight before washing off in next morning.
[ Recommended: Homemade Face Masks for Acne ]
3. Honey and Oatmeal Mask:
Take 2 tablespoons of honey and oatmeal in a bowl, mix to form a paste.
This has to be applied to the skin and scrubbed off the next morning to get glowing skin.
This will remove the dead skin cells and keep the face moisturized.
4 Tomato Face Mask:
Tomatoes help in achieving naturally glowing and tinted skin.
Take a medium-sized tomato cut and dip in some raw milk.
Alternatively, the tomato and milk can be blended to form a paste which can be applied to the skin before bed and rinsed off in the morning.
This keeps the skin hydrated.
5. Watermelon Mask:
Watermelon is rich in vitamin A and C and helps to control signs of aging. It has a soothing effect on the skin and prevents tanning.
Grate some watermelon and strain out the juice.
With a cotton pad, apply it on the face before going to bed and rinse with water in the morning.
There are various readily available face packs in the market for use at night. Though these claim to work, they have certain chemicals which are not good in the long run. So, it is better to rely on homemade night masks as they can provide the best outcomes when used regularly.
Recommended Topics