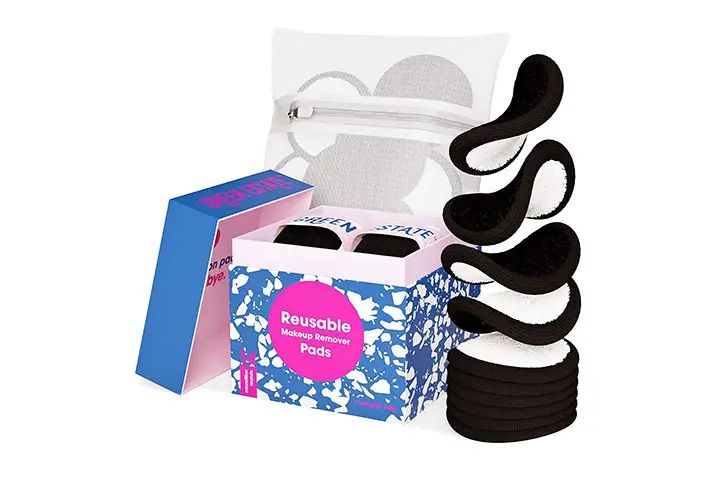 It is good for your skin to remove the makeup daily. Green estate reusable cotton rounds are the best makeup removing pads. These pads serve two functions.
The black side of the face pad removes makeup with just water and will not leave stains. The white side of the face pad is used to apply toner and moisturizer.
These makeup removing pads are gentle on the skin and perfect for sensitive skin.It washes away cosmetics, impurities and dirt from the surface of your skin, which could lead to irritation or cause your skin to age more rapidly.
Green Estate Reusable Cotton Rounds
How it Works:
These reusable cotton rounds are 2X thicker than the other makeup remover pads with special fray-proof edges designed for durability.
Even after laundering these pads will not lose their shape.
As these pads are reusable, one time investment is enough.
These 14 reusable makeup remover pads are the equivalent of thousands of disposable single use makeup wipes, pads or cotton balls.
Pros:
It is made with fray-proof so pads last longer.
Washable and reusable to help you to remove waste.
These pads perform multiple functions like clearance,tone and moisturize.
Easy to clean.
Affordable and eco friendly.
Every purchase gets a tree planted.
Cons:
Not good for cleaning lipstick or eyeliner.
Rating: 4.7 out of 5
These luxurious microfiber pads are incredibly soft, so they won't scratch or stretch your skin. These reusable makeup remover pads work so gently, effective and easy to clean.
Frequently Asked Questions (FAQ's)
Q. Do these work well without using makeup remover?
Ans: If used wet maybe, but ideally it would be used with a product. I use it in the shower with a cream make-up remover and after the shower with a toner. Saves me waste of cotton balls and then I throw them in the washer.
Q. Do they get clean if washed in cold water?
Ans: Yes. I washed mine with my dark clothes in cold water and they came out looking brand new.
Q. Can these be put outside to air dry or left out to dry itself?
Ans: Yes they are not that dense. I imagine they would air dry fine.
Alternate Products:
You Might Also Like: