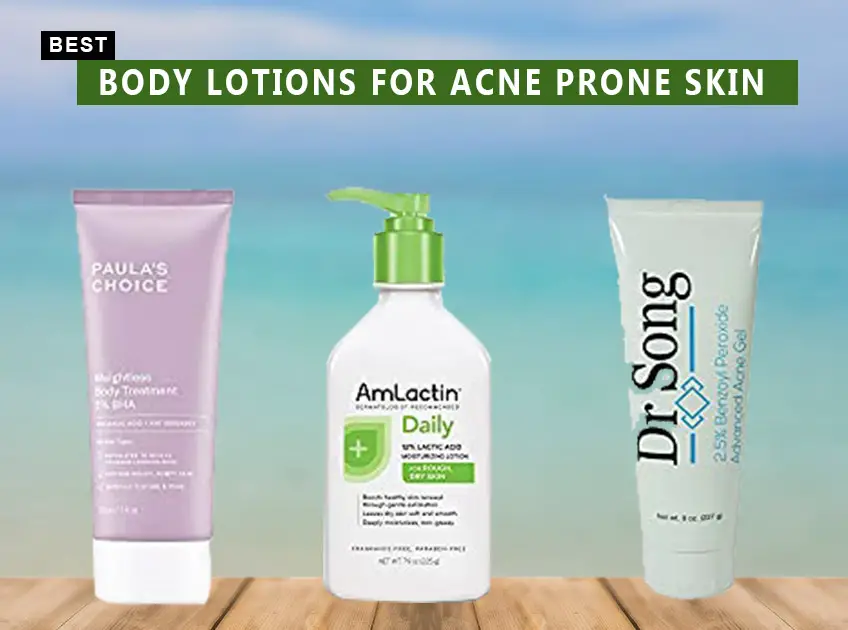 The struggle to maintain acne-prone skin is real. Generally, oily skin that produces more sebum is more prone to getting breakouts and acne. At the same time, some health issues like hormonal changes and certain medical conditions like PCOD also invite acne.
Although there are many treatment lines for acne, you can't always visit a dermatologist. It is when body lotions infused with ingredients like salicylic acid (a beta-hydroxy acid), benzoyl peroxide, retinol, and alpha-hydroxy acids such as lactic and glycolic acids help tremendously.
Body Lotions
These ingredients are highly effective in controlling acne and giving a healthy skin. The best body lotion for acne-prone skin must be noncomedogenic, lightweight and free of heavy and oil-based creams. It is because they can clog the pores, posing more harm than help.
Here we have listed the top 7 best body lotions for acne-prone skin. Check them out and say goodbye to acne and pimples.
7 Best Body Lotions for Acne Prone Skin
1. Dermatologist-Recommended: AmLactin Daily Moisturizing Lotion for Dry Skin and acne-prone skin
Lactic acid is the key ingredient which is a powerful exfoliator
It tends to be a bit gentler than another commonly used AHA, glycolic acid
Fragrance-free body lotion ensures keeping skin clear without causing redness or irritation
It helps with rough, dry skin, making it feel softer and smoother with consistent use
What We Don't Like: According to a reviewer, it smells like hot cocoa, so if you don't want to smell like chocolate, don't go for this product.
[ Read: How to Get Clear Skin Naturally at Home ]
2. Natural ingredients based: TreeActiv Store Acne Body Lotion
Exfoliates acne as it is made with natural acne-preventing and fighting ingredients
Infused with ingredients like witch hazel, tamanu oil, and salicylic acid that work great for every body part prone to acne
Additionally, it has aloe, jojoba oil, and tea tree essential oil that moisturizes and soothes the skin.
Hydrates the skin and improves the complexion
What We Don't Like: The artificial fragrance in this body lotion is the only downside of it.
[ Read: Can Fragrance Oils Be Used On The Skin? ]
3. Most Popular Body Lotion: CeraVe SA Lotion for Rough & Bumpy Skin
Includes salicylic acid, a beta-hydroxy acid that's typically the first line of treatment for acne
It goes deep into the pores to clear them out of breakout-causing dead skin and sebum
It is a noncomedogenic, fragrance-free lotion containing calming niacinamide, hydrating hyaluronic acid, and strengthening ceramides.
Nourishes the skin while simultaneously exfoliating it
What We Don't Like: This product is highly effective but takes time to show results. So, you need to be really patient.
4. Best Noncomedogenic Body Lotion: Aveeno Daily Moisturizing Body Lotion
Fragrance-free, noncomedogenic, and made with glycerin, dimethicone, and gentle oat to soothe and smooth dry, irritated skin
Protect and nourish skin while it's being treated with other acne products
Moisturizing without being oily, perfect for acne-prone skin
Free of fragrances, parabens, and dyes and is suitable for sensitive skin
What We Don't Like: It doesn't give instant relief to dry and itchy skin but is good for long-term use.
5. Effective Treatment for Acne: Dr. Song 2.5% Benzoyl Peroxide Acne Gel Treatment Lotion
It offers benzoyl peroxide spot treatment, helps treat current breakouts, and prevent future pimples from popping up
Reduces acne and whiteheads instantly
Formulated with Benzoyl peroxide
What We Don't Like: It can stain towels, bedding, and clothing, so let it dry completely before getting dressed or sliding into bed.
6. Best for (KP) Prone Skin: Paula's Choice Weightless Body Treatment
The feather-light body lotion is ideal for people who don't like the feeling of heavy products on their skin.
Made with 2% salicylic acid, and vitamin E for antioxidant protection
Infused with chamomile and green tea for calming and soothing skin
The lightweight lotion feels refreshing, soaking into the skin instantly without leaving behind a residue
What We Don't Like: It could dry the skin, so if you already have dry and acne-prone skin, it won't be a good choice.
7. Perfect Body Lotion For Bumpy Skin: Glytone Exfoliating Body Lotion
It contains glycolic acid to give your skin a glowing, bump-free appearance
Treats keratosis pilaris, as well as your breakouts anywhere on your skin
Moisturize and improve skin texture, as it exfoliates dead surface skin cells to reveal vibrant-looking skin
Improve skin texture to reveal vibrant-looking skin
What We Don't Like: It is mostly intended for use on the body because the percentage of acids would be too high for the more delicate skin on your face.
[ Read: Essential Tips to Glowing Skin for Brides ]
Conclusion
Make a patch test to ensure the body lotion works well for your skin type.
You Might Also Like: