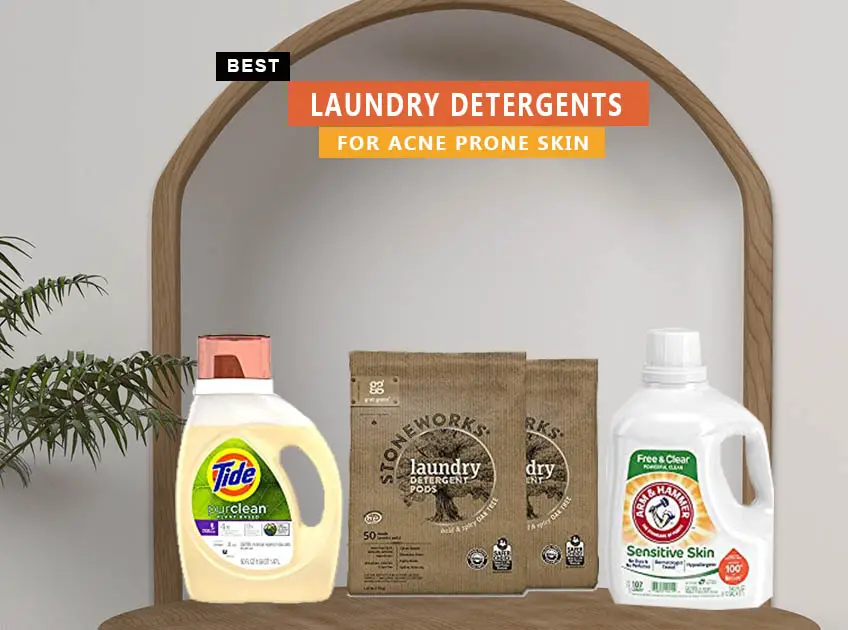 If you have sensitive skin, you can use specialized cleansers, lotions, and other gentle skin care products to reduce the frequency of your flare-ups.
However, laundry detergent is one item that is frequently forgotten when examining our homes for irritants. You might believe that the rinse cycle will completely get rid of all irritants when you wash your clothes and linens.
Occasionally, the ingredients in your detergent can irritate your skin, and minute amounts can linger on the fabric and cause later itching, hot or red skin, or even blistering.
Laundry Detergents
Now, when choosing a detergent, keep in mind that some formulations are made of plant-based ingredients and are very eco-friendly, while others are specifically created with new-borns or young children in mind. Some are liquid, while others are capsules or powder capsules.
Here is a curated list of laundry detergents for acne-prone skin.
7 Best Laundry Detergents for Acne Prone Skin
1. Budget Friendly: All with Stainlifters Free Clear Detergent
All Free Clear is a good option if you want to save money on laundry detergent because it has no fragrances or dyes and is reasonably priced.
Even though it is a liquid product, it's not messy to use and is a good option for anyone with eczema.
Given that it struggles to remove an oil or grass stain, it is probably best used for simple laundry loads.
What We Don't Like: It is of no use against hard stains and can give clothes a stiff feel.
[ Read: Top 10 Natural Remedies for Eczema Relief ]
2. The Overall Liquid: Tide Purclean Plant-based Laundry Detergent
It contains ingredients that are derived from plants and has a subtle honey-lavender scent.
Phosphates, chlorine, dyes, or brighteners are not included in the formula so it's skin-friendly.
It is gentle on the skin but equally effective at cleaning your clothes as the original formula.
This detergent is produced at a zero-waste facility that only uses renewable wind energy for its electricity.
What We Don't Like: The liquid's smell can be overbearing.
3. The one with natural fragrances: Grab Green Stoneworks Laundry Detergent Pods
Anyone with acne prone skin should use it because it has a naturally derived ingredient list without chlorine, dyes, optical brighteners, or phosphates.
One of five natural scents—rain, birch branch, oak tree, olive leaf, and rose—can be found inside the pods.
To ensure the best laundry detergent, the detergent selection has the ideal ratio of ingredients derived from plants and minerals.
What We Don't Like: It leaves a residue on clothes.
[ Read: Best Facial Tanner For Acne Prone Skin ]
4. For Sensitive Skin: Arm & Hammer Sensitive Skin Laundry Detergent
With less water being used in this formulation, you can anticipate effective skin-friendly cleaning from every bottle and fantastic wash day results.
This hypoallergenic laundry detergent for sensitive skin has been dermatologist-tested and is fragrance-, preservative-, and dye-free.
This liquid laundry detergent has been dermatologists evaluated, reviewed, and verified by healthcare professionals. It has also passed four different clinical tests.
ARM & HAMMER Sensitive Free & Clear is a liquid laundry detergent for sensitive skin that is free of dyes and fragrances but still effective against odours, stains, and dirt.
What We Don't Like: There are claims of stench from the detergent.
5. For Vegans out there: Grab Green 3-in-1 Laundry Detergent Pods
With no hassle from annoying zip closures, it has velcro closure bags that are practical and simple to use.
These pods work with all water temperatures in standard and HE machines and are free of any optical brighteners, chlorine, or dyes.
Their handy pre-measured pods are perfect for those who are allergic to fragrances because they are hypoallergenic, dye- and scent-free, and they are also convenient.
To ensure the best cleaning products without phosphates, phthalates, chlorine, toxins, dyes, or masking agents, its solutions are septic-safe and made from naturally derived plant and mineral-based ingredients.
What We Don't Like: There are claims that the pods may not dissolve properly.
[ Read: Top 10 Best Face Cleansers For Acne ]  
6. Environmentally Friendly: Seventh Generation Free & Clear Concentrated Laundry Detergent
As a USDA Certified Biobased Product, Seventh Generation's Free & Clear Laundry Detergent uses at least 97 percent biologically renewable plant-based ingredients.
You can really step up your eco-friendly laundry routine because it is safe to use with a high-efficiency washing machine.
It is made with plant-based ingredients, effective against typical stains, and compatible with HE machines.
What We Don't Like: There is no fragrance, so you'll miss out on the fresh laundry smell.
7. The Sustainable Option: Dirty Labs Bio Laundry Detergent
The formulation is carefully selected, it has nontoxic & biobased ingredients which makes it safe for acne prone skin and all types of clothing.
They significantly reduce their package sizes and, consequently, their carbon footprint by developing highly concentrated formulas.
Since aluminium can be recycled endlessly, their bottles are made of this metal. Their spout and cap are made of
BPA-free, clear PP and PE plastic. Responsible sourcing and direct extraction from nature are used to produce their materials.
What We Don't Like: The claim that its smell can be overbearing.
[ Read: 8 Effective Home Remedies for Acne, Pimples ]
Conclusion
If you or a member of your family has acne prone skin, it is crucial to read the laundry detergent's ingredient list. Any potential irritants in the formula will be disclosed in the ingredient list. So, when you purchase once again, remember this.
You Might Also Like: